Understanding the intricate relationships between companies in HubSpot CRM is crucial for account-based marketing (ABM). When company records are associated together in the CRM, businesses have a clear picture of how those entities are interconnected, which can significantly enhance marketing and sales strategies. However, when data flows into HubSpot CRM, these relationships are typically not in place. The result is a gap in your ABM efforts, and a lot of manual work to create and maintain these associations.
ZoomInfo, a go-to platform for company information, provides valuable data on company hierarchies and parent-child associations. This data can be a game-changer, offering insights into the complex web of relationships between companies. However, even with this data at hand, the challenge remains: How do you effectively establish these associations within HubSpot?
Manually creating these associations using the HubSpot user interface is an option, but it's not a scalable solution for the long term. It's a time-consuming process that becomes increasingly impractical as your database grows. And with no out-of-the-box solution for bulk company-to-company associations, companies are often left scrambling to make use of this data.
The need for a more efficient solution is clear. This is where the integration of ZoomInfo's data into HubSpot is a powerful tool. ZoomInfo takes care of the difficult task of identifying the hierarchy, and all that is left is to figure out how to automate the process of creating these associations. But that is often easier said than done.
What Company Hierarchy Information Does ZoomInfo Provide?
ZoomInfo, a leading provider of business contact and company information, offers comprehensive data on company hierarchies. This information is crucial for understanding the structure and relationships within and between organizations, which can significantly enhance your ABM efforts.
While the specifics of the hierarchy data provided by ZoomInfo may vary, it typically includes:
Parent company information: This is the data about the main or controlling company in a corporate structure. It's the company that has controlling interest in another company, which can be a subsidiary, smaller company, or a business division. ZoomInfo provides information for all parent companies as well as the "ultimate parent company" for each company record, which is the company at the top of a given hierarchy.
Subsidiaries and child companies: These are companies that are controlled by a parent company. ZoomInfo provides data on these child companies, helping you understand the breadth and depth of a parent company's reach.
Company relationships: Beyond just parent and child companies, ZoomInfo also provides data on other types of company relationships. This could include sister companies, partnerships, consulting agreements, divisions, and more.
Company size and revenue: Often, the hierarchy data also includes information about the size of the company (in terms of employees) and its revenue. This can give you a sense of the scale of the company within its corporate structure.
Industry and sector information: This data can help you understand the industries and sectors in which a company and its subsidiaries operate.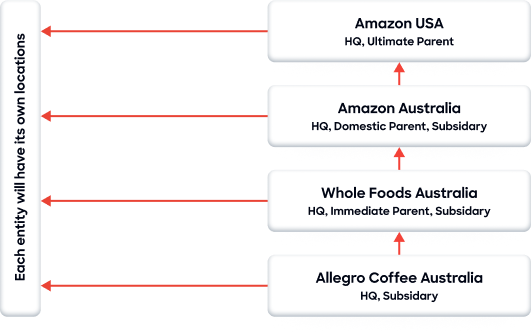 A visual representation of the data that ZoomInfo provides from its website
This data can be incredibly valuable when establishing parent-child associations in HubSpot. However, even with this data, the associations still need to be made within the HubSpot platform, which can be a complex process. Let's explore some of the ways that maintaining company hierarchies in your CRM can benefit companies and the ABM teams within them.
Why Is Maintaining Company Hierarchies Advantageous for Sales?
Company hierarchy is a pivotal tool that empowers sales professionals, especially those in enterprise sales and account-based programs, to refine and enhance their sales approach.
Integrating corporate hierarchy data in HubSpot can be transformative, delivering a range of worthwhile benefits:
Accelerate sales momentum

Understanding organizational structures is pivotal to boosting sales momentum. Engaging multiple departments early on can uncover diverse use cases, allowing your sales teams to create more momentum toward getting deals done.
Selling to multiple entities within a corporate hierarchy amplifies revenue potential.
Engaging with varied stakeholders can unearth influencers in each segment.

Gain market insights

Top-performing sales reps understand their market intimately. HubSpot's company hierarchy data can unveil crucial insights about the organizational layouts and trends of businesses in their target demographic.

Discover potential leads

Prospecting, an often taxing part of any sales role, becomes more manageable with company hierarchy data in HubSpot.
Examining company hierarchies can reveal untapped segments or opportunities within an organization.

Engage decision-makers to shorten sales timetables

Enterprise B2B deals typically involve several decision-makers and longer negotiating periods. Being able to quickly identify and engage with all relevant decision-makers can reduce your average time to deals closing.

Spot opportunities for cross-selling

Cross-selling requires balancing additional sales without overwhelming customers. Reliable HubSpot company hierarchy data can guide sales reps to be more strategic with their cross-selling efforts.

Improve account reporting and decision-making

With a better view of each account and the hierarchy it belongs to, you can generate more in-depth reports for ABM, improving decision-making at the highest level of your organization.
Incorporating company hierarchy data in HubSpot can be a game-changer, offering sales professionals a holistic view of their accounts and market, streamlined processes, and maximized opportunities.
Now let's explore why making these associations can be challenging, even with the data provided by ZoomInfo.
Why Making These Associations Is Difficult, Even Though ZoomInfo Provides the Data
While ZoomInfo provides comprehensive data on company hierarchies, integrating this information into HubSpot to establish parent-child associations is not a straightforward process. There are several reasons why this task can be challenging, including the lack of bulk-associating functionality, a single parent company association limit, and the absence of automation features.
No Bulk Company-to-Company Associations in HubSpot
HubSpot does not allow for complex company-to-company hierarchy associations to be made in bulk. Instead, these associations need to be made manually through HubSpot's user interface, or via a custom-developed solution that interfaces with the company's API.
But when you import company hierarchy data from ZoomInfo, this process is not a realistic long-term solution. A single organization's hierarchy may have dozens of different companies and thousands of associated contacts. Getting the structure right is imperative. And while ZoomInfo provides these detailed company structures, that data is not actually useful to your organization unless the associations are set within HubSpot.
Let's look at the manual process for creating these associations in Hubspot to understand why manually managing company hierarchies is not often a wise choice.
First, you have to open the Contacts->Companies page.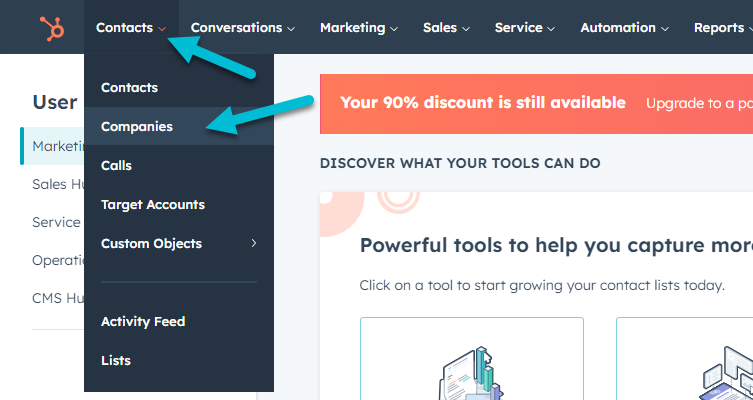 Then, you have to search for and select the company for which you would like to set associations within HubSpot.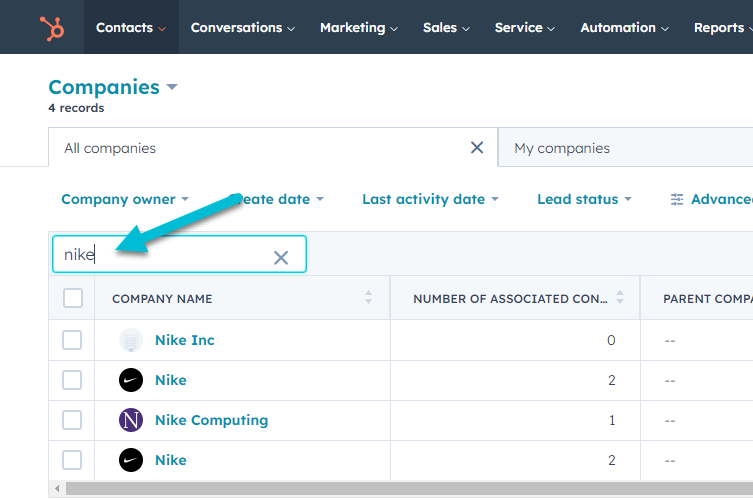 But this can be confusing. Often, companies in a hierarchy will have several similar names, making it hard to quickly identify the right company from the list. If you aren't sure which company record is correct, you'll have to open up all of the potential options and compare the data on the record to the data provided by ZoomInfo.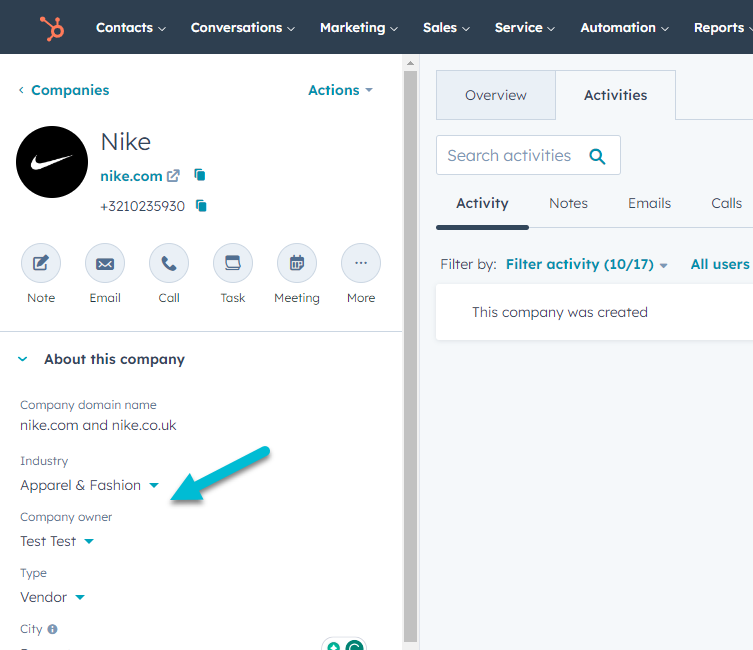 With the correct company record identified, you'll need to access the company hierarchy data provided by ZoomInfo, preferably on a separate window or screen.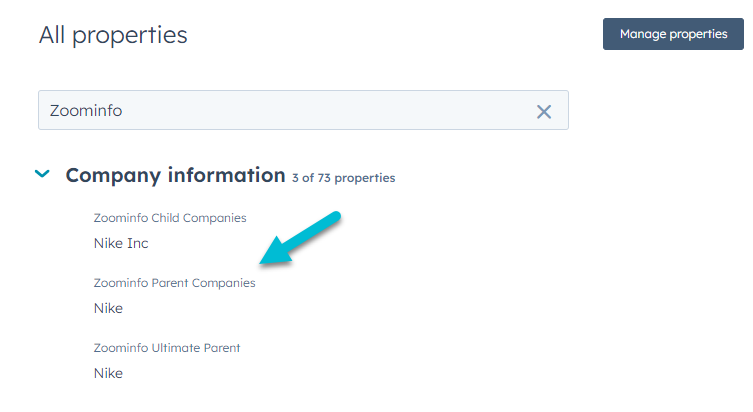 You'll then need to navigate to the Related Companies list on the right-hand side of the screen, where you can add child and parent companies.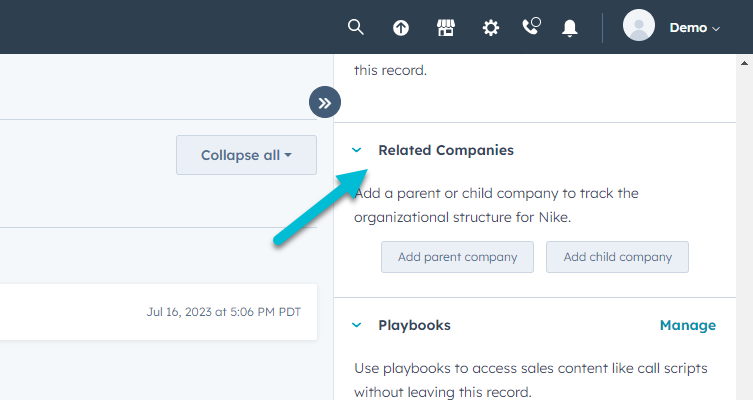 Click on the button to add a parent or child company. Here, you can search by name for the company record that you'd like to associate to the currently opened record.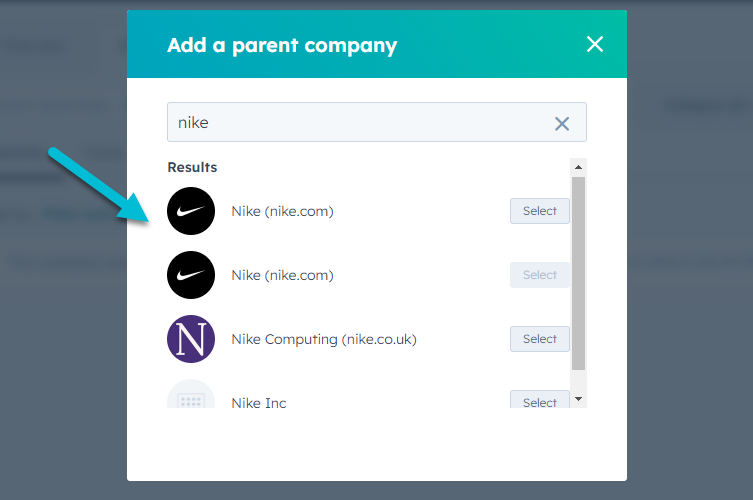 But even this process isn't so easy. You'll again run into the problem of many companies in a hierarchy having similar names in the system. You'd need to open and investigate individual records in a separate tab before making the association.
Once you've identified the correct child or parent company to associate, you can press the Select button to add the association.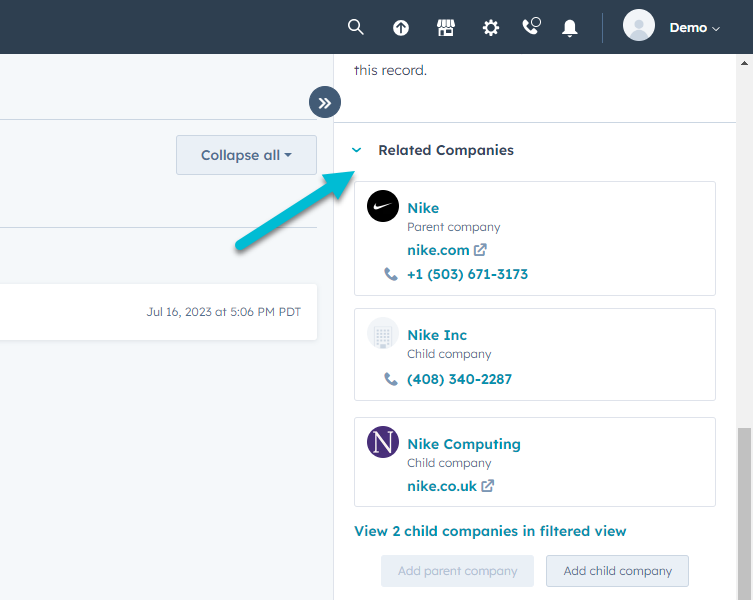 With all of the associations in place, you'll have successfully associated one single record into the hierarchy.
Then you'll have to do the same for every other company in the hierarchy, all while keeping an eye out for duplicates. That completes one company hierarchy in your system. But you'll have to do the same for every missing company hierarchy in your database. For big databases, this means manually updating associations for thousands of records. This approach is simply too time-consuming.
Lack of Automation
Once you have the hierarchy data provided by ZoomInfo, there is no automatic solution to use that data to create the associations within HubSpot. Company-to-company associations cannot be automatically created using HubSpot Workflows, leaving companies with no good options for automating the process using the standard HubSpot CRM features. This means that the process requires constant monitoring and management, which can be resource-intensive.
Single Parent Company Association Limit
In HubSpot, a child company can only be associated with one parent company. This limitation can pose a challenge when dealing with complex company structures where a child company has multiple parent companies. However, because ZoomInfo provides detailed account hierarchy information that often includes multiple-parent scenarios, this can provide another hurdle that leads to inaccurate hierarchies in your system.
How Insycle Helps You Leverage ZoomInfo Hierarchy Data To Make HubSpot Company Associations Automatically, in Bulk
Insycle, a comprehensive data management solution for HubSpot companies, offers a powerful way to leverage ZoomInfo's hierarchy data to establish parent-child associations in HubSpot in bulk and automatically. Insycle negates the need for laborious manual processes to create and maintain child-parent associations in HubSpot. This automation not only saves time but also ensures a higher level of accuracy in your ABM efforts. Here's how Insycle can help:
Bulk Associations Negate the Need for Manual Hierarchy Management
With Insycle, you can automatically detect and create relationships between child companies and parent companies in bulk, using the data that ZoomInfo provides. Insycle allows you to make associations using any field as a potential matching field for the associations, so you can use the fields provided by ZoomInfo to make associations in bulk.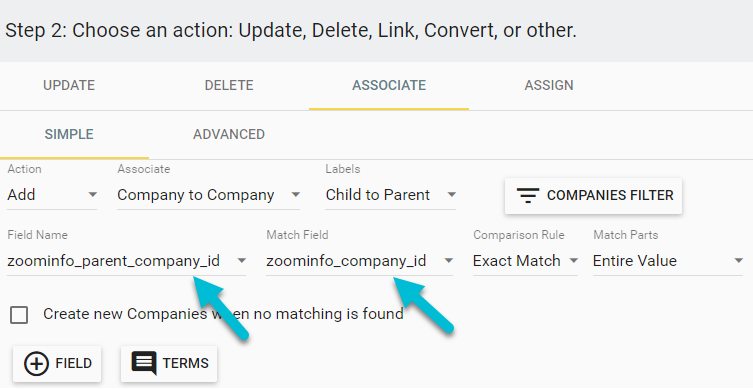 Copying Values Between Companies In a Hierarchy (Like Owners)
With Insycle, you can copy field values in HubSpot from one company to another, or to contacts. This tool can copy fields from parent company to child companies. For example, you could copy the company owner from a parent company to a child company, ensuring the same owner works the entire account hierarchy. And you don't have to copy owners necessarily; you can copy any field from one record to another, including custom fields.

The ability to copy values between child and parent companies is not possible through standard HubSpot Workflows and often presents a roadblock to effective ABM.
ZoomInfo Company Hierarchy Automation
Insycle's most powerful feature for dealing with these hierarchy issues is its ability to automate these processes. You can set these processes to happen automatically on a set schedule.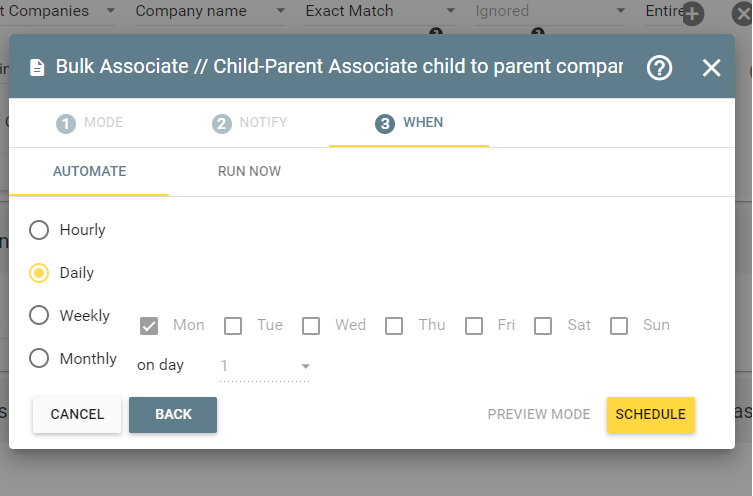 Or, you trigger them directly in HubSpot Workflows. This automation not only saves time but also ensures that your data is always up to date, with correct parent-child associations set immediately after the company record is created.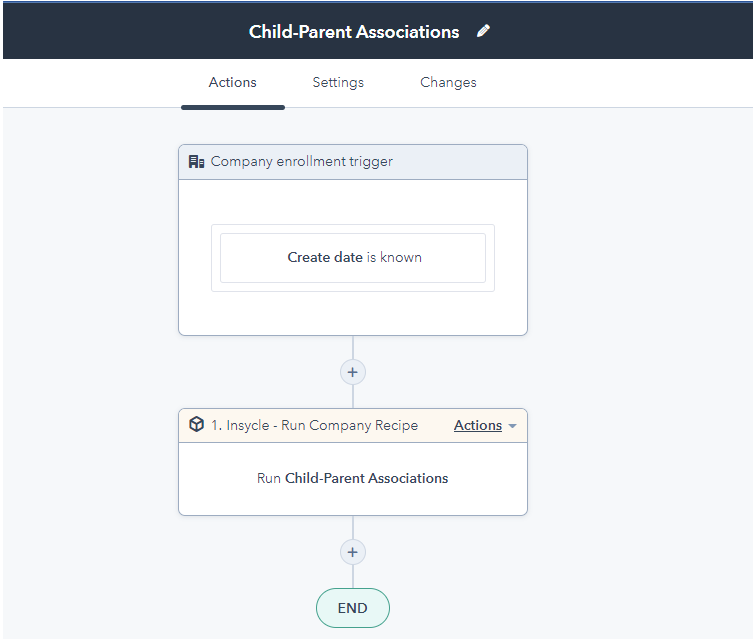 By leveraging the power of Insycle, you can effectively use ZoomInfo's hierarchy data to establish parent-child associations in HubSpot, enhancing your ABM efforts and improving your overall marketing and sales strategies.
Empowering Account-Based Marketing: Leveraging ZoomInfo's Hierarchy Data With Insycle for HubSpot
Establishing parent-child associations in HubSpot using ZoomInfo's hierarchy data is a crucial step in enhancing your ABM efforts. While the process can be challenging due to the volume and complexity of the data, solutions like Insycle offer an efficient and automated way to handle this task.
Insycle Is a Full Solution for HubSpot Company Hierarchy Management
Insycle's ability to create bulk associations, copy company owners between associated companies, and automate these processes can significantly streamline your ABM data management tasks.
Insycle Is More Than Just Company Hierarchy Management
But the benefits of Insycle go beyond just establishing parent-child associations. As a complete data management solution for HubSpot, Insycle offers a range of features to help you clean, manage, and analyze your data, ensuring that you can make the most of your CRM.
To learn more about how Insycle can enhance your ABM efforts, we invite you to explore further and see how Insycle's powerful tool can transform your data management in HubSpot.