So, you have a list of contacts that you would like to upload into HubSpot, but you're worried about duplicate data, overwritten records, and other common issues that come with importing contacts in HubSpot?
Or maybe you have a whole host of new data for existing contacts in your HubSpot database and you just want to upload the new data into the system, but are worried about overwriting records and losing critical data?
Don't worry, you're not alone.
HubSpot might serve as the main hub for your marketing and sales data, but it will rarely be the only system that a company uses to collect and store vital customer data.
Occasionally, you'll want to bring data in from an outside source. You'll have to import HubSpot contacts.
The HubSpot contact import feature is solid. It helps you to detect some errors. They provide some nice guides to help you safely import contacts.
But even when you follow best practices, you can still expect errors unless you have gone over your data with a fine-toothed comb. You'll always encounter common data quality issues.
But Insycle is the solution to these problems.
Insycle allows you to import contacts and update HubSpot contacts with ease while using in-depth data cleaning features to ensure that your data is pristine. Using Insycle, you can identify HubSpot duplicates before they hit your database and clean up common HubSpot data quality issues.
Why the Insycle Import+Compare Tool is Superior to Standard CRM Imports
Notice that the feature is called "Import + Compare," and not just "Import."
HubSpot, Salesforce, Intercom and any large CRM platform offers their own importing feature. However, most of the importing tools are quite limited. You can import contacts, and that's about it. Any data cleansing has to be done before import, or after import using the built-in tools, which are also quite limited.
Some of the ways that Insycle offers more power and flexibility over standard imports through HubSpot, Salesforce, and Intercom include:
Clean & Format Data Before It Hits HubSpot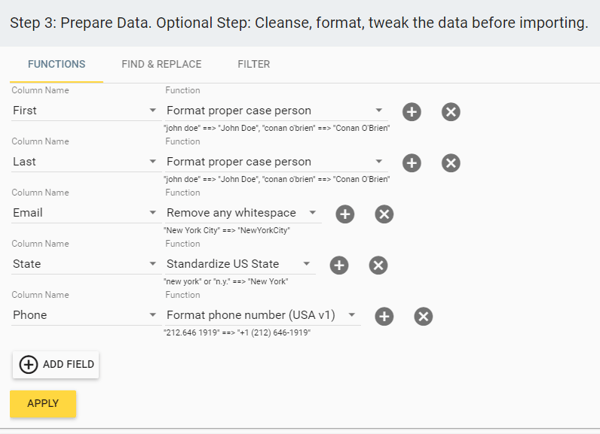 Using Insycle, you can ensure that your data is clean before it is imported into your HubSpot database.
All of the standard data cleaning features are available on the "Import+Compare" page and can be run on your .CSV data. Now you won't have to rush through cleaning your .CSV data in Excel before you import!
Using Insycle, you can format and standardize names, phone numbers, addresses, titles, and more before importing it into your HubSpot database. That way you can ensure consistency for these fields and avoid data messes that will just need to be cleaned up by-hand at a later date. You can also update records with imports through the tool.
Field Mapping Templates Save You Time

There is a good chance that when you import new data into HubSpot, there are a few common places it comes from. Maybe another piece of CRM software. Maybe another marketing tool. If you're tired of having to re-assign fields to the right fields in your HubSpot CRM every time you go to upload a new CSV — Insycle is the perfect solution.
You can create a field map template for any dataset that you import through Insycle. It will remember which .CSV fields correspond with specific fields in your HubSpot database, allowing you to skip the field mapping step altogether in future imports.
Let's dive head-first into the steps that you should follow to import new HubSpot data and ensure its cleanliness.
Validate Data to Ensure Consistency Before It Gets Imported
Avoid the all too familiar back-and-forth between Excel and your platform. Insycle allows you to validate data before importing it into your HubSpot, Salesforce, or Intercom database. Ensuring that your data is consistent before it hits your database will allow you to avoid confusing errors and avoid automation mistakes.
For example, you could validate picklist values to ensure they match existing values within HubSpot. For instance, if your picklist for countries within HubSpot is "United States," but you're importing data that uses "USA" instead, HubSpot would normally create a new picklist category for the new data. This could cause problems in reporting, forecasting, or automation.
Insycle is able to detect similar values and alert you to prevent and fix these issues before your data is officially imported into HubSpot.

Create, Update, or Append HubSpot Records
One huge benefit of the Insycle Import+Compare feature is the fact that you have flexibility in how the data is imported into your HubSpot, Salesforce, or Intercom database. You can update records and contact properties directly from the import.
If you've ever had a large .CSV of mixed data, you know what a pain it can be to extract the right portions of the data and import it into your database. Maybe you don't want to create all new records for every contact in your database, you only want to update existing contacts with new data.
Using Insycle, you can:
Create new records while identifying similar records to avoid duplicates.
Update existing records with new data.
Append new data to an existing record (fill blank fields)
Create new records for unique contacts and update existing records for contacts that are already in your database.
All you have to do is select the column header that you want to create, update, or append — and the corresponding Insycle template — and that clean data will update existing fields. You have complete control over your data and how it is used. This level of control just isn't possible through most standard importing tools.
Compare Imports to Existing Records
Have you ever imported a new dataset into HubSpot, only to realize that you've erased critical customer information because HubSpot automatically updates matching records?
It's a pretty common problem.
To avoid it, you have to go through your datasets and make sure that you remove all records that match an existing record in your database. That can be a long, arduous process through Excel.
But Insycle can help.
Insycle allows you to compare all fresh data imports to currently existing records in your database. You'll be able to see what records match existing records in your database and see what data will be changed.
Now let's take a look at the steps that you'll take through Insycle to import, cleanse, format, and prepare your data for HubSpot.
Navigate to the "Import + Compare" Page
First, we have to navigate to the page for the import and comparison tool.
You can find a link on the Dashboard, where you click "Get Started" on the "Import & Update Existing" tab.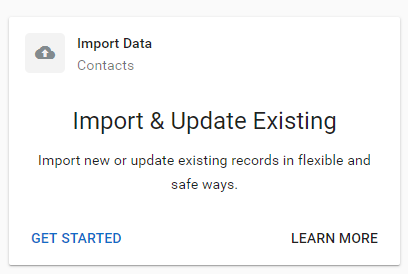 Or, you can find it in the sidebar under "Contacts" (Or Companies, or Deals depending on your data), and click on "Import + Compare."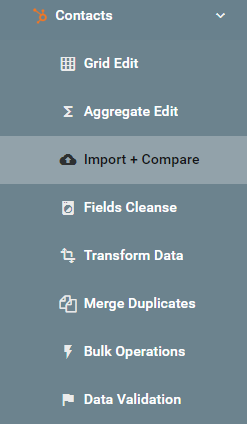 Import Your .CSV File
Once you're there, you'll be taken to a screen asking you to import your .CSV file.
Click on "Choose" and select the .CSV file that you would like to import:

Step #1) Map & Identify Fields
Next, the system will prompt you to match the fields from your new data set to the fields contained within HubSpot. If some fields aren't perfectly matched with the HubSpot database fields, you'll be prompted to pair the two with a red exclamation point next to the field:

Once you have the CSV fields properly matched to HubSpot fields, you can then save the field map as a template so that you can use is every time that you import data from the same source.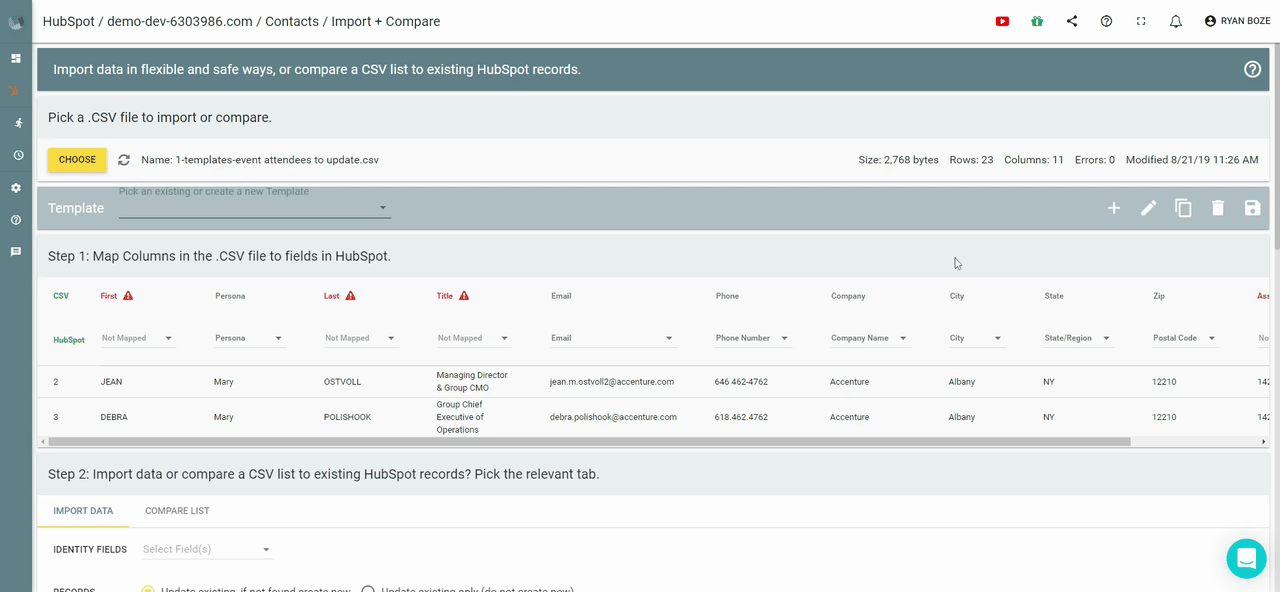 The field mapping template features allow you to save time on setting your fields every time that you go to import new data.
This ensures that you won't miss out on importing some contact list .CSV file data into HubSpot or fill your database up with the wrong data in the wrong fields.
Step #2) Compare and Import Data

Below Step 2, you'll see two tabs — "Import Data" and "Compare List".
Let's start with "Compare List."
"Compare List" allows you to see if any records already exist in your HubSpot database.
Click on it. Then, you'll be prompted to choose the "Identity Field" that Insycle will use to find matching records in your HubSpot database.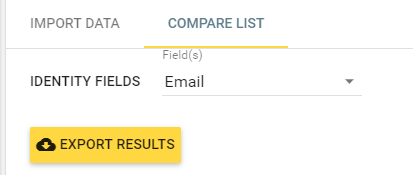 Click "Export Results," and a .CSV file automatically start downloading.
When you open up that .CSV file, you'll see a field titled "HubSpot Exists." Records that are marked "TRUE" already exist within your connected HubSpot database.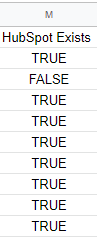 Then, you can import your data. Here is what you'll see when you click on the "Import Data" tab:

Like you did in the "Compare List" feature, you'll have to name the identify field that Insycle will use to match records in your database.
Then you have some options.
You can tell Insycle to use your dataset to update existing records and create a new record if there is no match, or simply skip over contacts that don't exist in HubSpot and only update existing records.
Then, you tell Insycle whether you would like to update, append, or overwrite existing fields within those records.
Update: Read values from the CSV and write them into HubSpot fields. But, if a value in the CSV is empty, it will not write it to HubSpot. Don't worry, it will not erase your data accidently...
Append: read values from the CSV but before writing them to HubSpot it checks whether HubSpot has any value already. If a value exists in HubSpot it will skip and not update it. For example, let's say that HubSpot contact has phone number 212-123-1234 and the CSV has a different phone number 212-234-2345 for that contact, it will not update the original value. Only if the existing value in HubSpot is blank it will write the CSV value.
Overwrite: Replace data in existing fields with new data from your import as-is. Old data will be wiped away and replaced with new data, including empty CSV values. It's useful for wiping existing values, just make sure it's the intended result.
These options give you complete control over how your new data import will be added to your existing HubSpot database. You can keep the data that you want to keep, replace outdated data, or simply add new information to contact and company records.
Step #3) Prepare and Cleanse Data
Now that we've decided how we want the data to be imported, we can prepare and cleanse the data before it ever hits your HubSpot database.
You can do this using the pre-built function templates or any custom data cleansing templates that you have created within Insycle. You can even cleanse custom property data!
Here's an example of a string of functions that help to properly format first name, last name, email address, state, and phone number for all contacts included on the import.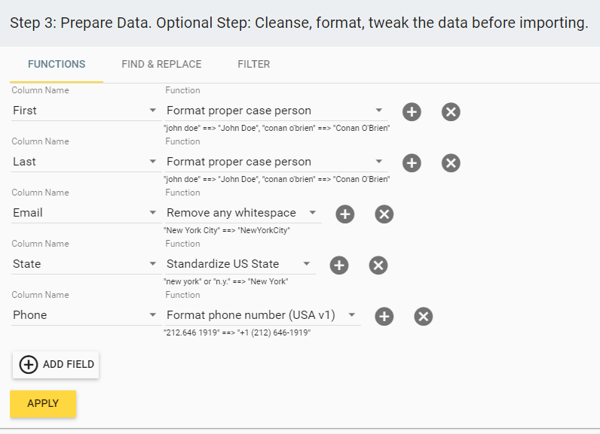 Email addresses will no longer have any whitespace. Phone numbers will be properly formatted. States will be standardized. First and last names will have proper case.
This is extremely powerful, as it ensures that all of your data is properly formatted and ready to use in your marketing and sales campaigns as soon as it hits your database.No more complicated VLOOKUP Excel functions or digging through your data by hand to fix complicated formatting errors!
In this step, you can also run "Find & Replace" and data filtering tools to prepare your data for HubSpot import.
Step #4) Manage Data & Set Associations
In this optional step, you can bulk update fields, set associations between contacts, companies, and deals, or add your import data to an existing or new list.

With "Bulk Set" you can bulk update a specific field.
One common use case for this feature is to bulk assign prospects to a specific sales rep.

In this "Associations" tab, you can associate contacts to companies or contacts to deals using fields within your dataset.

This makes it easy to ensure that you have the right associations in place from the time that you import your data and do not have to waste valuable time doing this by hand.
In the "Add to List" tab, you can add your data import to a list so that you can reference it at a later date.

Then, you can use the "Date Format" to import dates using international date format to ensure that all date data is correctly updated.
Now you just have to review your data and import it into HubSpot.
Step #5) Review, Edit, and Import Your Data
Before you import, Insycle will give you a complete look at your data. You'll be able to scroll through the whole data set to check it out by hand.
If you see any errors in the data, you can edit them right there in the HubSpot import contacts screen. You get a top-down view of how your new HubSpot contacts will be integrated into your database.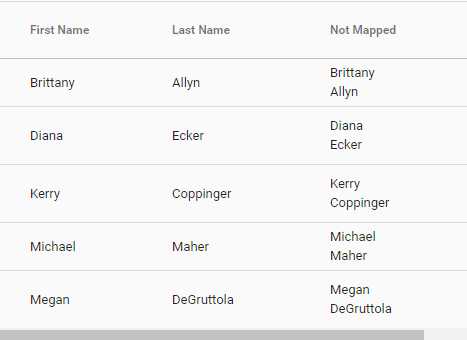 Here, you'll also be able to filter your data. You can see records that contain valid data, those that contain warnings, and — post-import — rows that have been imported successfully and those that were imported with errors.

Being able to filter data in this way makes it easy to spot fields and records that might lead to import errors and other mistakes.
Then, you can select your records individually, or import them as an entire dataset.

Insycle — Powerful, Safe, and Simple HubSpot Contact List Imports
Insycle makes it easy to import new data while keeping your current data safe. With Insycle, you can import contact list .CSV files, format fields email address and phone number, and put continuous data cleansing on autopilot.
It gives you complete control over your data while allowing you to run bulk cleaning and formatting functions that save you time and money that you would normally spend editing complicated data sets by hand.
Want to give it a try for free today?
Fill out the form below to start your FREE 7-Day Trial.