Whether we're talking about HubSpot, Salesforce, Intercom, Pipedrive, or any popular modern CRM — few customer data problems have more real-world impact than improperly associating, or failing to associate, the people/contacts in your system and the companies they belong to.
The worst part? Most companies don't even know how much this is dampening their effectiveness. It's a silent killer among any company with a large customer database and no real customer data management plan to speak of. According to research from IBM, data quality problems cost U.S. businesses more than $3.1 trillion each year.
Improperly associated contacts in your CRM can lead to many problems. Your marketing teams will miss out on opportunities to deliver high-level personalization for those prospects. Both your marketing and sales teams will find themselves unable to segment unassociated leads using associated company data. Marketing and sales automations and workflows may be broken, causing embarrassing mistakes that could harm your brand's reputation.
In account-based marketing, associations are critical. In fact, account-based marketing is simply impossible if you do not have a full picture of the organizations and the stakeholders within it that you will be tailoring your messaging to. ABM requires a well-rounded approach that dictates that you approach each stakeholder within an organization with messaging that aligns with their own person wants and needs — which is impossible without reliable associations.
In this article, we'll take a look at why unassociated contacts and companies in your CRM is such a big deal, and why you should spend more attention on limiting them.
Why Are Unassociated Contacts and Companies in your CRM Such an Issue?
Why are they such a problem?
Because contacts that aren't properly associated with their company in their CRM impact the customer experience at every stage of the customer lifecycle.
It impedes the companies ability to accurately track their engagement with your marketing materials and sales reps — particularly when it comes to account-based marketing and sales. It hurts your ability to segment prospects and customers. Ultimately, it's a data problem that creates other data problems by increasing the likelihood of creating or missing duplicate records when contacts are created, imported, or synced into the CRM through an integration.
But in our experience, only a small percentage of companies actually keep a watchful eye on their associations.
It isn't that they don't feel the burn of unassociated contacts. Part of the issue is that the "pain" of unassociated contacts can lag.
By the time you realize that VP of Marketing Fred Johnson was on all of your sales calls but wasn't connected to the company in your CRM (meaning that you weren't able to track your interactions with Fred), the sales process has already run its course. Now you have no way of knowing how that small error could have impacted your ability to close the sale — but as a major stakeholder in the decision-making process, you can bet that it had at least some impact.
Or when contacts use different email domains — for example acme.com and acme.co — and their engagement with your marketing collateral is tracked separately, your lead score for the company does not represent the complete picture. Sales might not reach out to them because their score seems to remain low because the contact is disconnected from their company.
The other reason? Dealing with unassociated contacts is just plain difficult in most CRM platforms.
Now that we've delved into why improperly associated contacts and companies in your CRM is such a problem, let's dig deeper into the nuts and bolts of how it will impact your business.
Shattering the Single Customer View
Your customer records should function as your "single source of truth." You should be able to reliably go to any customer record, open it, and find out everything that you could reasonably want to know about them. All of their data. Associations to companies. Every engagement that your marketing and sales reps have had with them throughout their time in your system.
A single customer view helps your marketing teams to evaluate the effectiveness of your marketing campaigns broadly, with certainty that their reporting is accurate.
It gives your sales team confidence that when they engage with prospects, that they are working with the full context of your brand's engagements with them. They use that context to fuel their sales conversations and approach.
Later, after they become customers, support and success teams draw upon that same information to deliver an exceptional experience to each customer. A lack of data access is a lack of information that they may need to better serve the customer.
What this means is that unassociated contacts and companies impact customers throughout the entire customer lifecycle.
In account-based marketing and sales, the existence of any unassociated contacts breaks the single customer view for the whole account. It can mean an important stakeholder being overlooked, critical interactions being missed, and ultimately, your sales team taking the wrong approach to win the account.
Missed Opportunities in Segmentation
Let's consider what prospect and customer segmentation might look like in ABM. This could be both for your marketing and for your sales teams.
Let's say you've just developed a new marketing asset and you want to deliver it to all of your prospects with the "VP of Marketing" of marketing title in organizations with 50 or more employees. Seems reasonable.
But if you have 95 records with job titles of "VP of Marketing" that aren't associated with companies, the campaign filter that's uses the associated company field "Number of Employees" will not return any contacts — that's 95 prospect accounts that are never going to see your new collateral.
Even if you are able to find the relevant contacts manually somehow and email those 95 records separately, what if you wanted to include personalization that was specific to their company? You couldn't because the records are unassociated.
Further, what if the collateral was being delivered in a sequence that first involved engaging with accounts in other ways? Maybe this being sent is the third step in an eight-step marketing sequence. Those 95 companies would have to be left out of the sequence.
Improperly associated contacts hinder your ability to segment your customers and create targeted campaigns to engage with accounts in a structured and calculated way.
Broken Automations and Workflow
Unassociated contacts can also break your CRM automations. . You probably use Workflows to streamline engagement with customers, prospects, and support. You need automation to nurture visitors and prospects at scale.
But when your associations are broken, your automations and workflows are broken.
Integration into and out of your CRM can also become broken, creating syncing issues across the different apps that you use. Many companies find that integration between apps can lead to some unintended consequences. It may not always be possible to move and alter data in the way that they had hoped when records are not associated properly. Some data issues may result in the sync across the apps to break, causing even more data-related problems. Often, companies won't realize how troublesome these issues are until the integration is already in place, and then are left searching for a way to rectify their issues.
More Duplicate Records Means More Mistakes and Time
This calls back to losing the "single customer view" in both traditional 1-to-1 sales situations and account-based sales, but most companies know the visceral pain of dealing with duplicate contact records.
Duplicate records impact your organization throughout. They break your single customer view and split up important context about accounts between multiple records. That means when a sales rep goes to look up a contact, there is a good chance they are only receiving access to partial information.
Duplicate contact records also drain your marketing budget. The same person may receive the same materials multiple times. Your marketing reps have to turn into data entry specialists to fix records in your customer database, which can be extremely time-consuming and costly.
In total, duplicates cause your customers to have a poorer experience throughout the customer lifecycle, causing your brand reputation to suffer.
Sales Reps Experience Problems Across the Board
Unassociated contacts can cause problems in your sales processes. What if the (unassociated) contact is assigned to one sales rep, while the company account that they should be associated with is assigned to another? This means that the same account could be receiving two different pitches from two different sales reps.
This not only harms your ability to close sales, but it also causes confusion and wastes the time of your sales team — whose time is arguably the most important to the long-term success of your company.
Having free-floating, unassociated contacts impacts lead scoring. If your contacts are not being factored when scoring an account, it will affect the score of the entire account. On an individual level, contacts that are lacking a connection to company information may also find their scores lower when lead scores factor in company details into the overall score.
Other sales activities such as lead routing and revenue forecasting also suffer from unassociated contacts.
Why Managing Associations is Difficult
Even the largest, most popular platforms like Salesforce and HubSpot don't provide an out-of-the-box way to associate contacts with companies in bulk.
Inconsistencies in the customer data can break default CRM association rules. For example, when contacts' email has different domain extension — .com and .co.uk for the same company — or when a different naming convention is used, such as "Acme, Inc." vs. "Acme, Incorporated."
Sure, you can use Excel. But you'll need a real Excel-wizard on hand. They'll have to use complicated formulas and VLOOKUP, and even then you can bet that they are going to miss some stray contacts that will remain floating out in your database. And, they'll need to repeat the process manually every so often, that's not a great use of their time.
Other options? You can hire a consultant that can help you to match clean them up. Or you can pay for a software solution. Both can be daunting because they require some pretty deep technical knowledge to understand what you are even buying, plus the security risks that come with sharing your critical customer data.
Better Associations, Better Experiences
Making improving the associations between contacts and companies in your CRM a priority will improve customer experiences throughout their engagement with your brand, reduce a lot of headaches for your teams, and allow sales and marketing ops teams to run a tighter ship.
Using Insycle, you can match unassociated contacts to the correct companies and associate them in bulk. Insycle connects directly to platforms like HubSpot, Salesforce, Intercom, and Zendesk, among others, giving you a simple and effective way to manage your customer data.
When you sign up for Insycle and connect to your CRM platform, the system will start auditing your customer data automatically and generate a Customer Data Health Assessment report.
The assessment will help you to identify more than 30 common customer data issues in your CRM and direct you toward the right Insycle tool and template to fix it in a single click.
The Health Assessment also helps you keep track of unassociated contacts: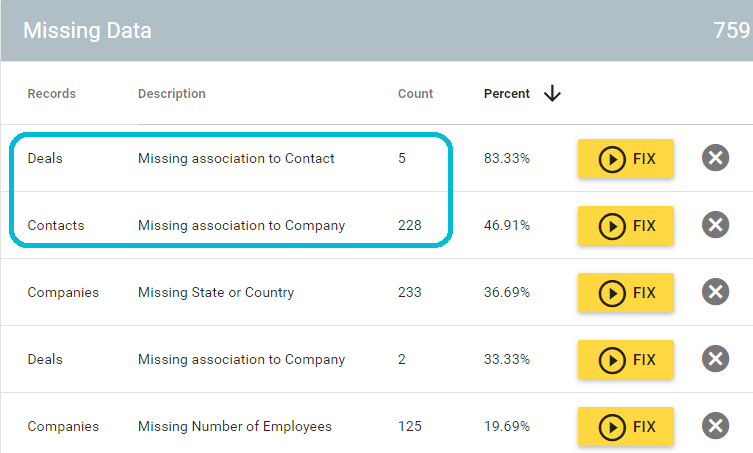 When you click the "Fix" button next to the error, you'll be taken to the appropriate tool with the correct template loaded to fix your unassociated accounts: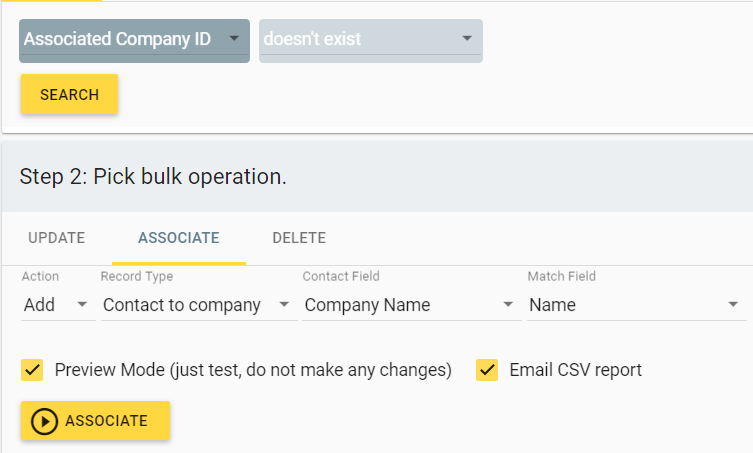 You can even schedule your association process to run automatically at regular intervals, putting your contact-to-company association process on autopilot.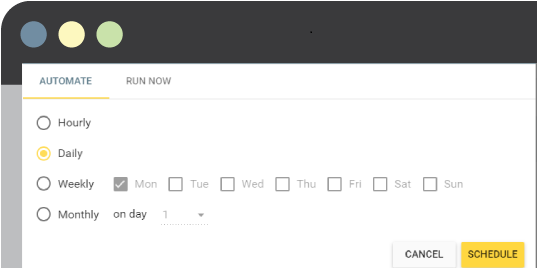 Sound great?
If you want to improve the effectiveness of your sales and marketing efforts, and the experience of customers working with you company, fix the free-floating contact records in your CRM and start associating with companies today, fill out the form below to sign up for your Insycle free trial!