Wouldn't it be great if you had a tool that could search your entire customer database for the most common data errors, pinpoint them, then allow you to quickly and easily fix them?
That's exactly what the Data Health Assessment brings to the table.
Using the Health Assessment tool, you can identify and fix common customer data issues in your database with just a few clicks. Insycle will connect directly to popular CRM platforms like HubSpot, Salesforce, and Intercom, then generate your Data Health Assessment results within a few hours of signing up.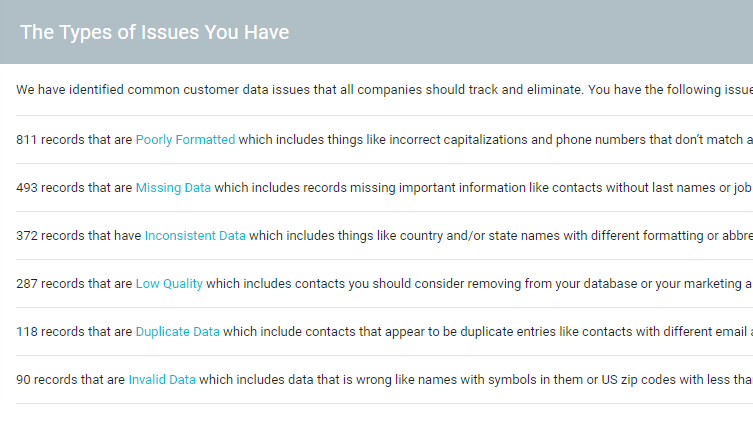 With the Insycle Data Health Assessment tool, you can:
Automatically identify common issues in your customer data.
Easily fix those issues.
Keep track of your data health over time.
With this update, Insycle users can now monitor their data quality on a daily basis, keeping a closer eye on their data quality and fixing new data issues as they crop up.
We had a few simple goals for this tool:
Give companies a better understanding of their data quality. The Health Assessment makes it easy to quickly evaluate the quality of your data and track progress over time.
Educate about the importance of data. The Health Assessment will help companies better understand the importance of clean data and spot data-related mistakes in their marketing and sales operations.
Help companies improve their marketing/sales/support efforts and the experience of their customers. Enjoy more accurate reports and a deeper understanding of your customers. Accurately personalize messages to speak directly to customers. Create a better, more seamless experience throughout the customer lifecycle.
Enable teams to collaborate on data effectively. Define data quality standards, share them with the team, and enable everyone on your team to adhere to them. Empower your entire team to work toward better data health.
Make the power of Insycle more accessible. You'd be hard-pressed to find a data issue that Insycle couldn't identify and fix. But with power comes complexity. The Health Assessment tool is like having a shortcut to fixing the most common data problems. It simplifies the process of fixing the issues that our customers need fixed most.
Automatically Identify Customer Data Issues Every Night
The Insycle Data Health Assessment tool identifies common data errors that are present in your database.
Currently, the tool checks for more than 30 common data issues across 6 categories. Those categories are:
Poorly Formatted Data. Records with errors like incorrect capitalizations and phone numbers that don't match a consistent format.
Low-Quality Data. Contacts you should consider removing from your database. Like emails that start with "@info" or contacts who haven't opened your emails in 6 months.
Duplicate Data. Records that may be duplicate entries like contacts with different email addresses but the same name and phone number.
Invalid Data. Records with errors like wrong names with symbols in them or US zip codes with less than 5 digits.
Missing Data. Records missing important information like contacts without last names or job titles.
Inconsistent Data. Records with errors like country and/or state names with different formatting or abbreviations.
When you log in for the first time, Insycle will analyze your data and compiling a comprehensive list of data issues that you should fix. It usually only takes a few hours, and you'll receive an email when your Health Assessment is available.
Then your Health Assessment will update on a nightly basis, so you always have a birds-eye-view of your data quality and existing data issues in your CRM.
Easily Fix Your Data Issues
We wanted to ensure that the Health Assessment tool didn't just identify common data issues but also directed our users toward the correct screen to fix them.
Listed next to every issue listed on your Health Assessment tool, you'll find the "Review" button.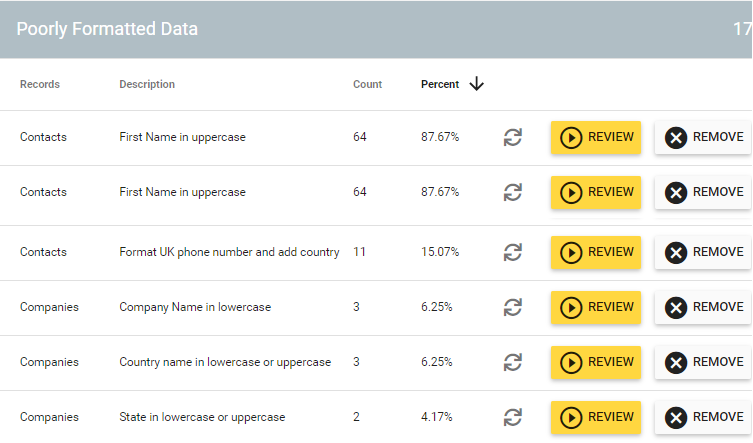 Click that button and you'll be automatically taken to the correct Insycle module and template to fix your selected data issue.
Let's look at an example.
Let's say that your database had many contacts whose first name was fully uppercase, as in "JAMES," instead of "James." You wouldn't want to send marketing emails out with names in uppercase, that would come across as unprofessional, sour first impressions, harm your reputation, and break the veil of one-to-one personalization. You can identify and fix this issue (along with 30+ more) using Insycle's Health Assessment tool.
In your Health Assessment, we'd click the Review button next to the template that tracks when names appear in uppercae.
Then we'd be taken to the "Transform Data" tool with the correct template loaded.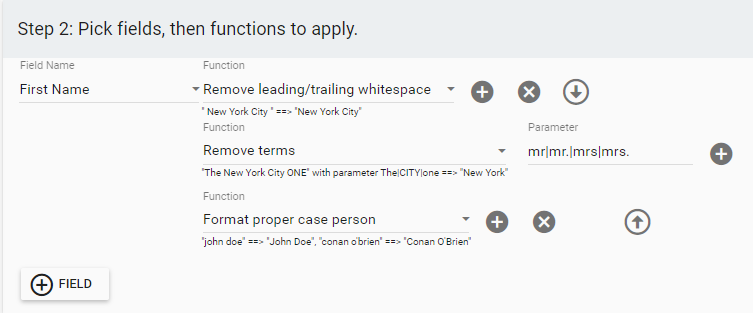 On that screen, you'll see all of the existing customer records that have the first name in all uppercase.
There, you can select individual records to fix, or fix all records with this issue at the same time by clicking the Review button.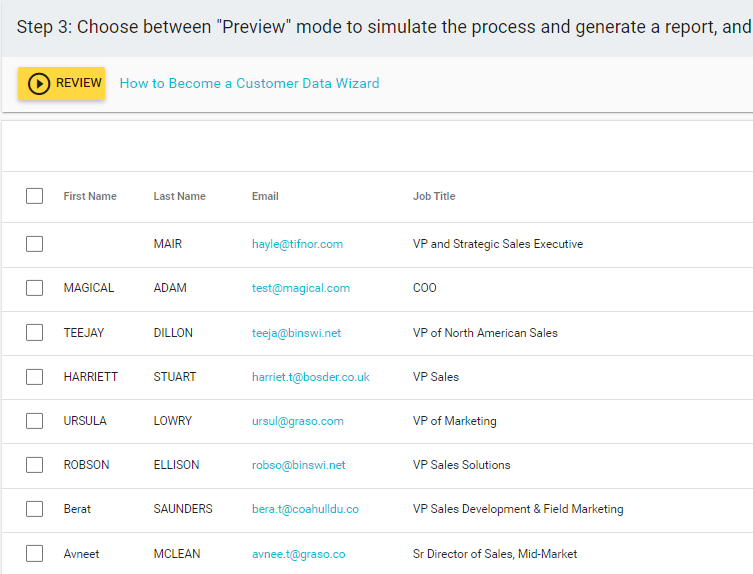 Then, Insycle will automatically fix all of the records for you, properly formatting first names for all records!
Now let's look at one more example for duplicate HubSpot data.
The Duplicate Data section on your Health Assessment detects duplicate records in a number of different ways across contacts, companies, and deals.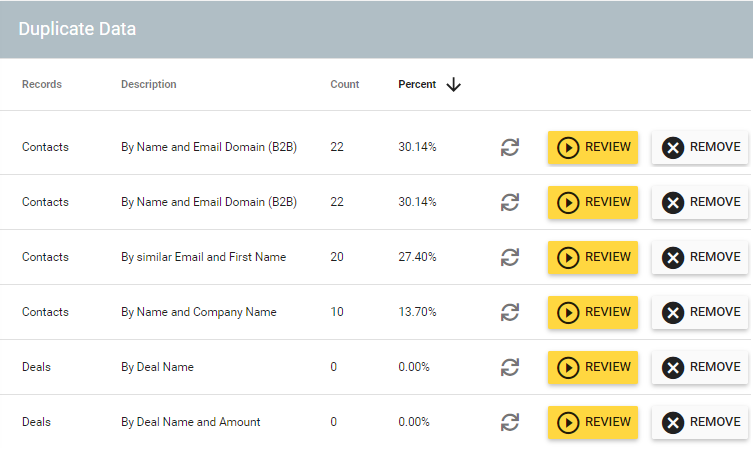 To begin fixing these issues, click the Review button. You'll be taken to the Merge Duplicates tool with the correct template loaded.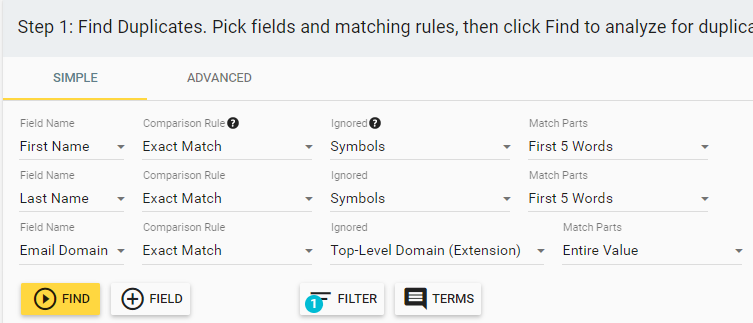 You can review duplicate records that you would like to fix on this page and bulk merge them using master selection rules to maintain a single customer view. You can also choose what data to retain on a field-by-field level.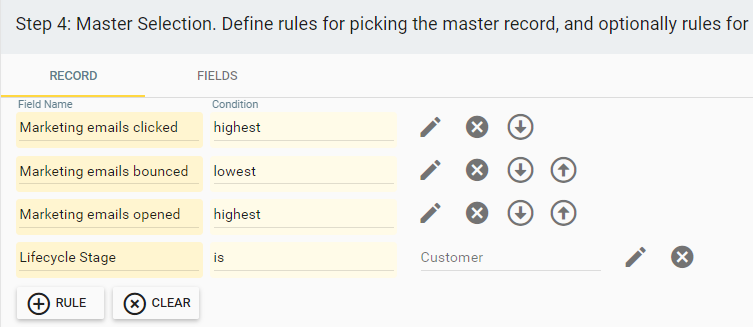 Remember — in all of Insycle's tools, you can preview the results before they go live. This allows you to check for any potential mistakes or issues that could potentially arise.
These are just two examples of the more than 30 common data quality issues that the Insycle Data Health Assessment checks for.
No more digging through dashboards and tools to figure out where your data problems lie. The Health Assessment tracks your data quality issues on a daily basis.
The Insycle Health Assessment tool makes it easier than ever to identify and fix common data quality issues.
Track Your Data Health Over Time
Keeping an eye on your data quality isn't a one-time thing.
Data health issues arise all the time. Prospects and customers fill out forms. Your marketing teams deliver new campaigns. Your sales teams create new contacts and update existing ones. Data issues happen.
Insycle's system will analyze your databases on a nightly basis to keep your health assessment up to date with the latest customer data issues that it finds.
On the health assessment page, you'll find a pie graph that shows you where most of your existing data issues lie: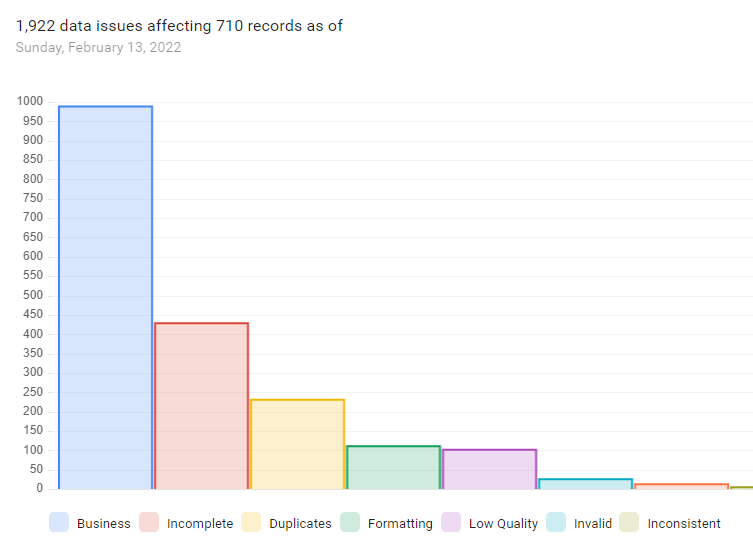 Additionally, you'll be able to monitor data quality over time with the "Issues Over Time" graph.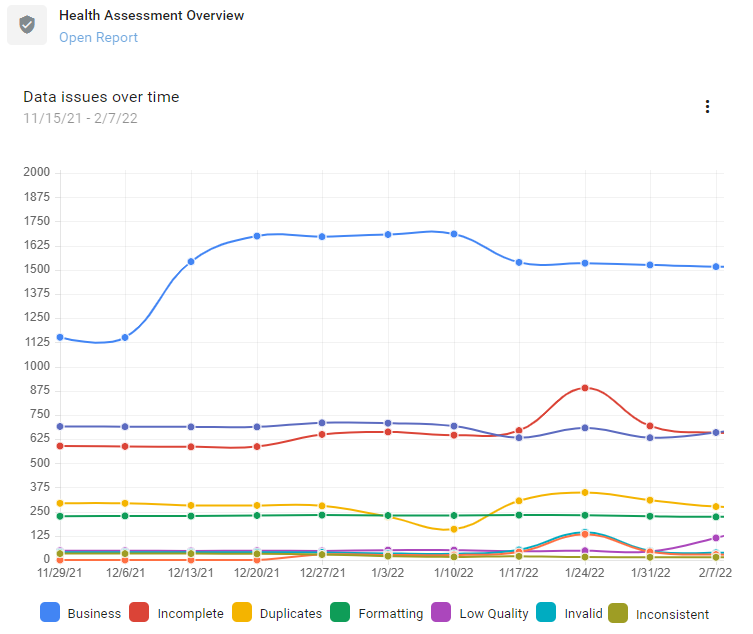 This way, you have a simple way to track the big picture when it comes to your data quality and remedy existing issues in your database.
Teams can use that to show progress over time, beginning when their first Health Assessment is generated in Insycle. Share your charts with internal teams and management to educate them about where you started and the current state of your data quality.
Your goal should be to get the number of recorded data issues to zero. Similar to Inbox Zero - but more achievable because you have the tools and automation to help.
Customize Your Health Assessment for Your Unique Needs
The Insycle Health Assessment tool tracks more than 30 of the most common customer data issues out of the box.
However, every organization has its own unique data-related issues. Maybe you regularly import data from a specific CRM or marketing software that causes some very specific data problems that aren't covered in the Health Assessment tool.
We wanted to make sure that the Health Assessment tool was as flexible as it was useful. To add that flexibility, we added the ability for you to track and fix your own unique data issues by creating custom query templates within Insycle, which will then be displayed on your Health Assessment.
Also, if a data issue is not relevant to your organization, click the Remove button to exclude it from the Health Assessment. This will remove all data associated with the issue as well and help you to gain a more accurate picture of your organization's existing data issues.
Using our Health Assessment tool, you can create a daily data health report that is customized to your company's unique needs.
How the Health Assessment Tool Will Empower Your Business
The Insycle Data Health Assessment tool identifies common customer data errors and makes it dead simple to fix them. This translates directly to a number of benefits for your organization:
Maintain a single customer view. Merge duplicate records to ensure that every department within your company — marketing, sales, support, and success — are all working with the same context when engaging with customers.
Improve marketing personalization. Improving the quality of your data allows you to inject more data into your marketing messaging, allowing you to speak more directly and personally to prospects and customers.
Improve sales lead scoring accuracy. Your lead scoring operations rely on accurate data to score leads and opportunities. Make sure that your customer and prospect records accurately reflect their potential value to your organization.
Deeper customer segmentation. With accurate data, you can segment your customers and prospects on a deeper level, allowing you to more directly address each segment's specific needs.
More accurate reporting and forecasting. Accurate data means better reports, estimations, and forecasts, which will impact data-backed decision-making across your organization.
Get Your Free Customer Data Health Assessment Today
Maintaining your CRM data plays a critical role in the effectiveness of any team that uses that data throughout the customer lifecycle.
Using Insycle, you can get your data management under control. Insycle helps you to identify and fix issues with your data while automating the fixing of those issues moving forward.
Learn more about the Customer Data Health Assessment for your CRM.