CRM data management is critical for engaging with prospects and customers throughout the customer lifecycle.
Maybe you've tried to inject personalization into your marketing automation campaigns, only to find that your CRM software was filled with data errors and standardization issues that reflect poorly on your company.
Or maybe you have sales team associates that have missed critical context when interacting with prospects due to the existence of duplicate contact records in your CRM software.
There are many ways in which low customer data quality and inconsistent customer relationship management system data can harm your marketing, sales, and revenue operations:
Cause inaccurate reporting and forecasting. Low customer data quality data makes it impossible for you to have faith in the accuracy of the reports and forecasts that you generate using that data. Only clean, standardized customer data should be used to make important data-backed decisions internally.
Embarrassing marketing automation mistakes that hurt your brand reputation. Maybe you've sent an email to "dawn" instead of "Dawn"? These small inconsistencies break the veil of personalization and can hurt your reputation in the eyes of your prospects and customers.
Low customer data quality will slow down your sales team. When your sales team doesn't have faith in your data and has to dive into your customer relationship management system data to check for mistakes or duplicate records, it adds extra steps to their processes that limit their ability to engage with prospects and customers.
Customer Data issues will waste your marketing budget. A lack of focus on CRM data management will lead to you sending marketing campaigns to bad emails, sending materials to the same customer or prospect multiple times due to duplicate records, and in the end, waste your marketing budget.
Break integrations with other software. We've written extensively about how data issues can cause problems between your HubSpot and Salesforce sync. Similar problems can arise with any integration between two software solutions. Breaking a sync between two important solutions can not only slow down your teams, but can necessitate new data tasks be completed before the sync is ready.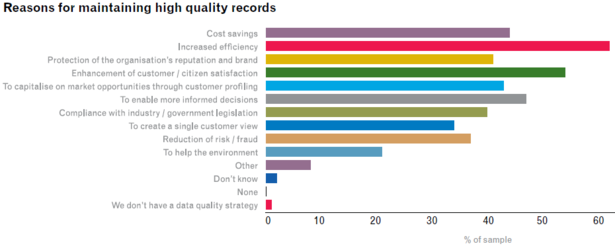 Source: eConsultancy
According to IBM, bad data costs US businesses 3.1 trillion dollars a year. Another study found that companies lose 12% of their potential revenue, on average, due to bad data.
In this article, we'll cover some simple tips that any company can take to improve their data management and avoid the problems listed above.
1. Audit Your Existing CRM Data
You can't know what you need to fix or where your data collection problems lie until you audit your data. According to SiriusDecisions, 10-25% of the average B2B company's customer relationship management system contacts have critical errors at any given time.
This means a full examination of the data that you collect to identify common errors, find opportunities to improve standardization, and find out why low-quality data is hitting your CRM in the first place.
Some of the different types of customer relationship management data errors that you should be looking for in this audit include:
Inconsistent Data. Fields with consistency problems. A popular example is job titles — "CEO" vs. "Chief Executive Officer."
Incorrectly Formatted Data. Fields such as phone numbers, states, and cities can all be expressed in multiple ways. For instance, "New York City" vs. "NY" "vs. "New York." Or an email address that is not porperly formatted.
General Low Customer Data Quality. Records with very little usable data. These can include contacts with free email addresses, contacts with false information, or records with incomplete data.
Duplicate Data. Records that share some or all of their data with another record, including records like email address, phone number, and address.
Invalid Data. Records that don't meet validation specifications. One example would be a US zip code that contains four numbers or less, an email address without an "@" sign, or invalid phone numbers and email addresses.
Missing Data. Records that are missing important information. You can't email someone that doesn't have an email listed in your CRM system.
Without identifying these types of issues, it is impossible to create processes and plans for managing your CRM data and seeing data quality improvements across the board.
2. Tighten Your Data Collection
The best way to improve the quality of your customer relationship management data is to stop low-quality data from hitting it in the first place.
There are a few main places where low-quality CRM data comes from.
First, is forms and manual human data entry. Human data entry has been shown to have an average of 1% error rate — meaning one error in every hundred keystrokes. Across all of your CRM data, that would lead to many errors.
Additionally, errors for critical fields like email — like inputting "jane@gmal.com" instead of "jane@gmail.com" — are common CRM system data errors that can have a profound negative effect across your database. Those emails will bounce or be picked up by verification checks. Most companies will remove the records from their database rather than make small adjustment to
Those forms can be customer-facing or employee-facing. While you might see slightly lower error rates from data entered by your internal teams, the error rate of any manually entered data will still be significant.
One way to shrink that error rate is to add proper validation to your forms. Validation ensures that data entered into these forms meet certain standards — that an email follows the correct format, a zip code is the correct length, or that names use appropriate capitalization.
Additionally, providing picklists and pre-set options can help to limit error rates. For instance, providing a dropdown picklist when a customer enters their "State" can help cut back on standardization issues from customers entering terms like "Wa," "Washington," or "Washington State" that will ultimately need to be cleaned up at a later date.
We covered the different types of validation extensively in our Guide to Data Cleaning.
3. Identify Your Most Important Fields for Personalization
When you are just getting started with CRM system data management and audit your data, many are shocked to find just how error-filled their CRM database actually is.
In fact, it can be so overwhelming that some companies end up throwing it on the backburner, expecting that fixing all of their CRM data would be a huge time sink for their team — and they would be right, too. Trying to fix a CRM database full of errors, inconsistencies, and general data issues can be time-consuming and aggravating. That's especially true if you are using complicated Excel formulas and VLOOKUP to handle your CRM system data cleanup by hand.
But you can make the task seem a whole lot less daunting by breaking it down into chunks.
One great place to start is by identifying the fields that mean the most to your marketing and sales operations. These are the fields that you'll use most in automated personalization. They often include fields like names, phone numbers, addresses, and emails. Those present a good baseline.
Other fields may affect critical systems within your business such as lead scoring. For instance, ensuring that your B2B prospects have a standardized and correct job title will play a critical role in their overall lead score and prioritization among your marketing and sales teams. These present another strong consideration for fields that you need to prioritize as you get started with CRM software data management.
Focus on cleansing and standardizing one field at a time. Then, make sure that you have proper validation and data collection processes in place to ensure that any new data that enters your system is cleansed and standardized as well.
By breaking the task of data cleansing down into small chunks and handling one field at a time, you can keep your team from becoming overwhelmed while pushing your data quality upward.
4. Automate Data Entry & Cleansing Where Applicable
Most companies handle their data cleansing and standardization in Microsoft Excel. This can be complicated, error-prone, and requires advanced Excel knowledge. When you edit data in Excel, there is no way to automate, either. The same processes have to be completely repeatedly on a regular basis.
While using Excel is typically fine for companies with smaller CRM databases, problems can arise when you are working with large sets of data. Excel can be prone to crashing as the number of records and fields increases. It can also be difficult to find all of the errors that exist within a dataset using Excel functions and VLOOKUP alone. Many of your data problems will go undetected.
Even when you have a well defined process in Excel, there will always be problems and mistakes that arise when you need to export the data and import it back constantly. Companies will find that there are all sorts of unintended consequences with importing, and those issues may differ across the different systems and platforms that they use, leading to a whole host of new data tasks that must be completed before your data changes are usable.
Automate where you can. Processes like creating new contacts, companies, or deals can reliably be automated with the right data validation processes in place. Other tasks like standardizing specific fields, merging duplicates, or bulk updating existing datasets can also be automated with careful planning, saving your company a substantial amount of time on CRM data management.
5. Train Your Team on the Importance of CRM Data Management
With your data processes and plan in place, you'll need to educate your team on how implementing these processes will change things for them moving forward.
Remember, when you haven't had a full CRM system data management plan in place, your team has likely developed their own ways of rectifying the dozens of different issues that they are likely to come across when working with the data. These could be good habits or bad habits but are often workarounds for a more standardized way of doing things. Either way, you'll need to educate your team on the importance of proper CRM system data management and make your new processes easy to understand and install.
Start by evaluating the technical experience of your team. Anyone that will be expected to work with the data will need training or retraining as you begin to move up through the phases of data management.
Some simple steps that you can take to help train your teams and ensure that your new CRM system data management plan is effectively launched include:
Top-down data quality training. Effective CRM data management requires that everyone buys-in to the new way of doing things to improve data quality. However, it is much easier to implement these policies when your upper management is all making a concerted push for higher quality data. Don't assume that management doesn't need the same training that rank and file employees will. Your entire organization will require meetings, seminars, and programs to help familiarize everyone with these concepts — including marketing, sales, and customer service.
Create detailed documentation for data quality improvement. With rules established for the different fields, deduplication, and general handling of data, you can create detailed documentation for all of your employees. This is an investment that will pay off for years to come, but will always require effort to keep up to date. Find tools that help you to enforce the standards and rules that you've established, continuously.
Create an onboarding program for new employees to learn about data quality. New employees will need training as they begin working with the company. Make sure that you have a system in place and are not just throwing them in the deep end as soon as they get started.
A data management plan requires buy-in especially from the rank-and-file in order to be successful. As the ones entering data most regularly, any effort to clean up CRM data depends on them.
6. Define Standard CRM Data Management Processes
Having clearly defined and detailed CRM system data management processes is important for improving your data quality. A report from Harvard Business Review found that one of the top complaints of employees was a lack of clear direction — particularly with administrative management tasks.
Standardized processes give employees easy step-by-step directions to follow that are not up to interpretation. It takes the guesswork out of fixing specific issues and helps to make those processes seem more approachable to those that worry about dealing with data on larger scales.
Document these processes well. Provide defined workflows, screenshots, and examples that help to illustrate not only how the processes work, but why they are important. Make these documents available to your teams in both physical and digital versions to cater to all employees.
Your internal team training sessions can help you to identify what information you need to include in your process documentation and what data management misconceptions might exist among your teams.
Insycle — A Modern Tool for CRM Data Management and Cleansing
Insycle is a complete solution for CRM data management and cleansing. By signing up for Insycle and connecting your HubSpot, Salesforce, Intercom, or other popular CRM system, you can:
Audit your CRM system data. When you sign up, Insycle begins generating your Customer Data Health Assessment, which examines your CRM data for more than 30 common data errors and directs you toward the appropriate tool and template to fix them in just a few clicks. Additionally, the Customer Data Health Assessment monitors the health of your data on an ongoing basis. This will help your marketing, sales, and customer service teams.
Cleanse and standardize your CRM system data. Using Insycle's pre-built templates and bulk update feature, you can quickly and easily take care of your most pressing CRM system data issues without having to export the data first, manipulate it in Excel, and then import it back.
Collaborate with your team. With Insycle, you can create updateable reports and share access to the tool with no limitations on the number of users. Never worry about passing Excel files back and forth through email or making sure that you have the right version again.
Automate CRM system data management tasks. Insycle allows you to run data management templates at preset intervals. Using Insycle's automation you can put tasks like phone number standardization, name capitalization, and deduplication on autopilot.
If you want to make the management of your CRM system data a priority within your organization and free yourself from the tedious Excel tasks associated with managing that data — fill out the form below to start your free 7-day trial.