Accurate child-parent associations are critical for directing your sales and marketing efforts.
For example, knowing that a company was recently acquired, therefore becoming a child company to the parent that acquired it, would be important in your deal discussions. It might shift the landscape completely.
Or consider franchises. You wouldn't want your company to mistakenly spend time reaching out to a franchise when they want to do business with corporate headquarters. In situations like that, having an accurate company hierarchy is critical.
In addition, you must have a solid handle on child-parent company hierarchies when conducting account-based marketing (ABM). A core tenet of ABM is that you deliver marketing and sales materials to all organizational stakeholders, speaking to their individual needs and concerns. Doing that well requires you to identify stakeholders in subsidiary companies and other related organizations.
But if you're using HubSpot, you can encounter many issues when managing child-parent relationships.
Assigning the associations: Creating the associations themselves can be difficult, as many child companies may have names similar to their parents. It can be hard to identify which is the child and which is the parent company.
Deduplicating issues: This naming issue further complicates deduplication efforts. You must have child and parent companies reliably tagged in your CRM to avoid accidentally merging companies that should be separate.
Workflow and automation limitations in HubSpot: Reporting on these companies through HubSpot can be difficult. Without accurate associations, your reporting is sure to be inaccurate. Then there are even more advanced cases, such as child-parent-grandparent hierarchies, that add another layer of complexity.
Untangling this web can require a lot of thought and analysis. Often, companies avoid doing so, accepting diminished effectiveness as a result. But with the right planning and software in place, you can analyze these associations, gain clarity to untangle the mess, and avoid common problems with child-parent associations in HubSpot.
Problems with Managing HubSpot Child-Parent Company Hierarchies
Many problems surround child-parent company associations in HubSpot. As we've mentioned, managing the actual associations or deduplicating child-parent companies is difficult because you need a way to identify child and parent companies within your CRM data. Then, there are other considerations from HubSpot itself.
For example, associations can not be created in HubSpot Workflows, the primary method for automating data tasks in HubSpot.
Then there is reporting. While HubSpot's reporting features are generally robust, the features surrounding reporting on child-parent hierarchies are not fully fleshed out. This makes it hard to understand and analyze what you currently have in your database, let alone plan for correcting the issues you do have.
Throw child-parent-grandparent hierarchies or associations with multiple labels into the mix, and it's easy to see how the situation could quickly become difficult to manage. Let's dive deeper into these problems and examine how they impact businesses that use HubSpot.
Creating and Maintaining Child-Parent Company Associations
Creating and maintaining child-parent company associations can be difficult.
You can try to identify parent and child companies using the data you have already collected. For example, parent companies might have the term "HQ" appended to the company name, like Microsoft HQ. Child companies may be identified in other ways, such as having a different email domain from the parent company, signaling that the company is a separate entity altogether. Often, these sorts of signals are not present in the CRM database when a company starts work on untangling their child-parent hierarchy issues.
Or, you could use other data signals to make these associations. For example, you could assign the company with the highest opportunity dollar amounts as the parent, and related companies with lower dollar amounts as the child companies. This may be an ideal way to deal with the issue in some situations—but in other cases, it is more likely to produce errant associations.
Using such data-based signals to fix child-parent associations in HubSpot usually requires foresight and planning. But you'll have to do it manually if you don't have a way to identify child and parent companies using data signals. This means that someone on your team will have to analyze sets of companies and determine who the parent and child companies are in each set.
After this has been done, companies can handle creating or fixing associations in three ways:
Use HubSpot Operations Hub. Using Operations Hub, you can custom-code child-parent association solutions to make the associations in bulk or in Hubspot Workflows.
Use the HubSpot API. Update child-parent associations in bulk using custom-coded solutions that interact with HubSpot's API.
Manually associate child companies to parent companies. Use HubSpot's user interface to manually associate child companies to their parents. This is an error-prone process that also eats up time by requiring the user to navigate through several screens.
All of these potential solutions require expertise and are very time-consuming.
Learn More: How to Make Creating and Maintaining Child-Parent Company Associations in HubSpot Easier
Deduplicating Child and Parent Companies
The process of deduplicating child and parent companies suffers from many of the same issues as associating them.
First, there are data considerations. If one parent company has seven child companies with similar names, how do you know which companies are duplicated? It can be challenging to discern. For instance, if you had Papa John's Pizza in your CRM, you'd want the parent company to be the corporate offices, while the child companies may be individual franchise locations. But differentiating between them without further analysis can be difficult.
Deduplication is complicated but imperative. You don't want duplicate companies muddying the waters. Then sales reps will step on each other's toes, causing confusion and generally slowing down processes as team members are forced to dive into multiple records for additional context.
And you can't just merge them haphazardly. You have to be sure that only actual duplicates are merged. Otherwise, you could risk current deals in your pipeline or missed opportunities due to confused sales teams, creating another mess you then have to untangle.
There may be ways that you can identify true duplicates using the data that you have in your CRM. For example, if you have two child companies with the same name, but one of them has four deals associated with it and the other has none, it's pretty clear which one should be merged and which should be the master record.
But without a good way to identify duplicate companies using data, you'll have to use a manual process. Someone on your team will have to analyze duplicate company groups and determine who the parent and child companies are in each set, what companies might be duplicates, and how the entire group should be merged into a master record.
Using HubSpot, you can deduplicate by:
usertoken
email address
company domain name
record ID
Further, if HubSpot displays a parent company as a duplicate of a child company, you will not be able to review or dismiss this pair as a duplicate. You must remove the parent-child relationship before you can even merge them.
While you can also use HubSpot's base automatic deduplication feature for straightforward deduplication, it is not typically suitable for child-parent situations. Since automatic deduplication relies on the company domain field for identifying duplicates, using this feature will likely lead to merging child companies with parent companies when they share domains.
Another option is to custom-code solutions for HubSpot's Operations Hub product, or for interfacing with HubSpot's API. But this requires ongoing development resources, not just to create the initial solution, but to expand and maintain it as you identify issues and gaps.
But often, companies must resort to a manual process to identify duplicates and master records for merging. The problem is that this can be error-prone and arduous, but it may be the only option.
In any case, once association maintenance and deduplication are squared away, many companies look toward automating those processes. Unfortunately, they are likely to run into roadblocks there as well.
Workflow Limitations of Child-Parent Company Associations
You cannot automatically associate child-parent companies using HubSpot Workflows using their base features. They cannot be added, removed, or altered in a Workflow.
To create or manage child-parent company associations in Workflows, you'll need to use a third-party solution or custom-code a solution in HubSpot's Operations Hub, which can then be injected into a Workflow. But that requires development resources. And the solution will have to be regularly updated as new wrinkles are identified within the data that impact its ability to identify and associate child and parent companies.
Further, you cannot copy values between child and parent companies using HubSpot Workflows. This is an often-requested feature for keeping data consistent between related companies.
Learn More: How to Associate Child Companies to Parent Companies in HubSpot Workflows
Advanced Thinking and Planning Requirements
Child-parent company hierarchies create a complex web of data that can be difficult to untangle.
The associations themselves are challenging to create and difficult to maintain on an ongoing basis. Deduplicating records in these hierarchies is complex and must often be handled manually because there are limited options for automation. Understanding the full scope of problems/considerations is critical for a good outcome.
But before you can even address the issues you have among child-parent hierarchies, you need to analyze your existing hierarchies. This requires expertise and is an arduous process.
There are some key questions that you'll need to answer:
Are your current child-parent associations accurate?
Are there free-floating companies that should be associated as part of a hierarchy?
Do you have a way to identify child or parent companies using the data present in your CRM?
If not, how will you inject data that can help identify them?
With that data in place, will we you be able to automate a solution?
With these questions answered, you can tackle how you will manage child-parent hierarchies on an ongoing basis.
Often, companies will look to answer these questions with advanced reporting on child-parent companies. But even generating those reports can prove difficult until you have your ducks in a row, usually resulting in companies conducting a manual analysis process just to create reports.
Reporting with Child-Parent Companies
Reporting on child-parent company hierarchies is difficult but necessary. You won't have insight into these hierarchies and structures without proper reporting.
Companies seek many features that are simply unavailable in HubSpot's reporting suite. For example, there is no way to report on or analyze child-parent companies in advanced ways, such as:
reporting on contacts present throughout the entire company hierarchy, including child, parent and grandparent companies
analyzing deals across an organization based on a parent company
examining specific segments, such as deals that involve C-suite stakeholders across specific child companies
Without the ability to slice and dice this data in various ways, you are certain to miss important insights.
Further, your other reports may be skewed since you cannot segment your child-parent companies and other associated records in advanced ways. If, for instance, stakeholders from child companies should not be treated as equal to stakeholders from parent companies, you may have inaccurate lead scores due to over-prioritizing child companies.
Skewed reports lead to ineffective decision-making.
Child-Parent-Grandparent and Labeling Considerations
Adding additional layers of complexity, such as child-parent-grandparent hierarchies or association labeling, further complicates the issues listed above.
For instance, company hierarchies with more than two layers (child-parent-grandparent) will require an additional way to identify, using data, where companies fall within that hierarchy. That will require more analysis and research. Deduplicating, reporting and planning become more complex. Implementing automation and developing custom solutions become more complex as well.
The additional complexity of these issues can cause analysis paralysis, keeping companies from effectively cleaning up associations and managing them on an ongoing basis.
How Insycle Simplifies Child-Parent Association Management
Insycle helps companies untangle this complicated web and avoid some of the pitfalls of managing child-parent associations in HubSpot.
Bulk Setting and Automating Child-Parent Company Associations
First, Insycle allows you to create child-parent associations in bulk. Thanks to advanced matching functionality, you can use any field in your HubSpot CRM to identify and arrange companies in the correct hierarchy.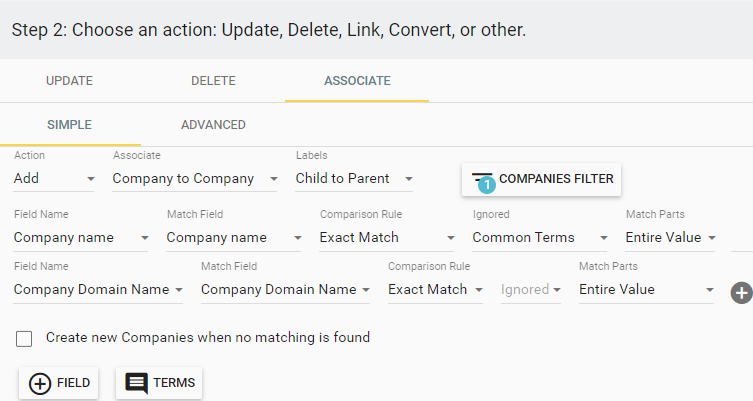 Setting child-to-parent company associations in bulk
If you have any errant associations in HubSpot, Insycle can also help you clarify what you have and re-associate in bulk using the Replace feature. This takes a complex multi-step, partially manual process and trims it down to one step.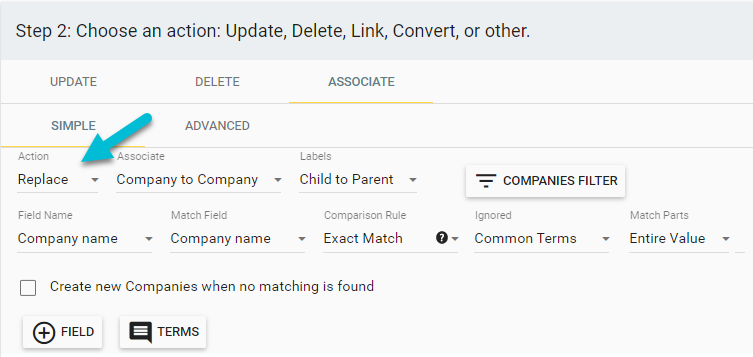 Using the "Replace" feature to overwrite existing errant associations
Using Insycle, you can schedule your child-parent templates to run automatically on a set schedule. Or, you can inject Insycle Recipes into HubSpot Workflows so that companies are consistently associated with other companies immediately after the data hits your CRM.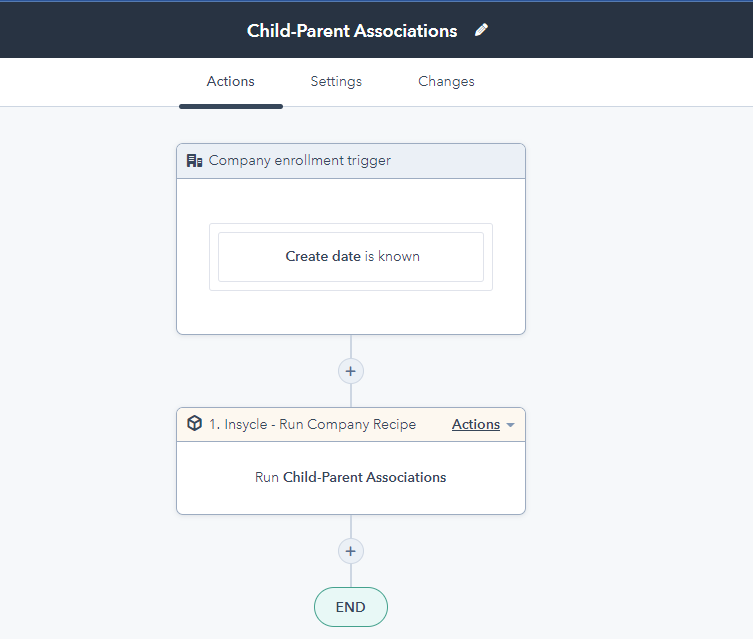 Associating automatically in HubSpot Workflows
Deduplicating Child-Parent Companies
It is often difficult to identify and merge duplicate companies in child-parent hierarchies, as it requires in-depth analysis and manual reviews to determine which companies in a hierarchy have duplicate records and which record is the master.
Insycle offers advanced duplicate matching, allowing you to use any field in your database to identify duplicate companies. You can also slice and dice data within a field to compare two records better.
Deduplicating child or parent companies in Insycle
Suppose you don't have an easy way to discern whether two companies are duplicates using data in HubSpot. In that case, you can still tag duplicates manually, then use Insycle to deduplicate them in bulk.
Slicing, Dicing and Segmenting Data to Improve Reporting
With Insycle, you can slice and dice your data in advanced ways to better understand the data you have collected, and to report on important sets. For example, you can use the Group and Update module to view the buckets of data contained within specific fields.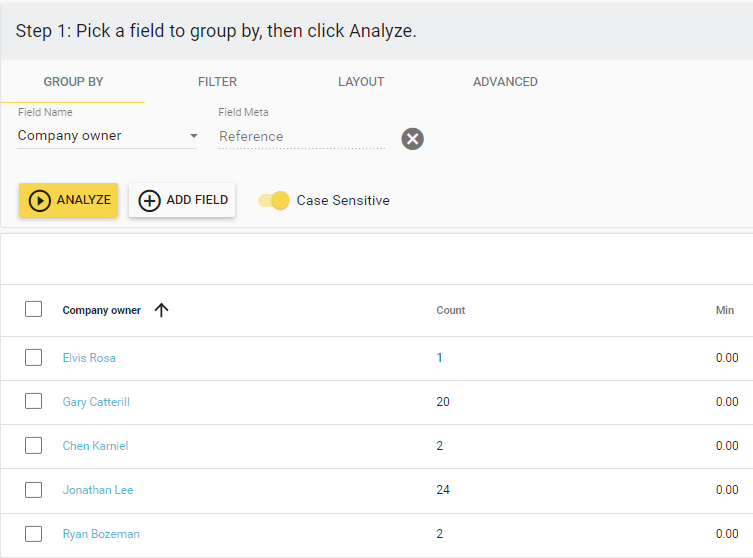 Segmenting records to analyze data in Insycle
Then you can select a bucket and dive deeper into its individual records.

Exploring records contained within segments in Insycle
Dealing with Advanced Hierarchies and Associations
Insycle can also help companies manage child-parent-grandparent hierarchies and multiple labels for associations.
With Insycle, you can set child-parent-grandparent in bulk, automatically, using any field in your database to match associated companies.
You can also add, remove, or replace multiple labels at once.
Creating child-parent associations in Insycle
Improving HubSpot Company Hierarchy Management
Insycle helps HubSpot companies avoid common problems with child-parent company hierarchies and associations while making them easier to manage. Insycle's bulk association features and the ability to create associations easily in HubSpot Workflows allow you to manage the complexities associated with advanced company hierarchies.
But Insycle isn't just for associations. It's a complete customer data management platform helping companies analyze, understand, identify, fix, and collaborate on data management issues across their teams and organization.
Insycle enables operations teams to fix CRM data quality issues in bulk and automate data maintenance processes. Without Insycle, the cost of bad data is a major blind spot for marketing and sales leaders and a roadblock for execution by their teams.
Insycle can help companies navigate advanced child-parent company hierarchies and associations. Learn more about Insycle's features for association management in HubSpot.