Automation is at the heart of modern companies' ability to grow. Smart automation makes an entire organization more effective.
But one thing often holds companies back from using it to its fullest potential: clean, reliable data. Automation requires it, but few companies have it. Inaccurate data cost the US economy $3.1 trillion in 2016, and only 3% of companies meet basic data quality standards.
For HubSpot companies, automation is driven through workflows. Data enters your HubSpot CRM through many different channels: customer-facing forms, employee forms, integrations, imports, and manual entry. That never-ending stream of data comes with a variety of issues that can hamstring your ability to execute essential tasks and automate others.
For example, say your workflow is triggered when a contact has a lead score above a certain number. If your low-quality data leads to inaccurate lead scores, that is a problem. Contacts that should trigger automated steps, won't. Accounts may be errantly assigned. Without reliable data, organizations will find their automation is less effective and used less often.
Data maintenance is crucial to avoiding these problems. But manual data maintenance processes are time-consuming and headache-inducing. And unfortunately, they can't be tied to workflows to orchestrate fully automated solutions. Even with scheduled data maintenance, problematic data is still present in your database for a period of time. During that time, the dirty data can potentially be used in campaigns and processes.
But what if every record were automatically cleaned and standardized immediately as it entered your HubSpot CRM, before going through sales or marketing processes? This would keep problematic customer data out of campaigns, give your team full confidence in using it, and free their time to focus on more strategic tasks.
And unlocking that is priceless.
HubSpot Workflow Automations Can Be Broken By Bad Data
HubSpot workflows are a set of custom processes that allow you to automate aspects of your marketing, sales, or customer service tasks to make your teams more efficient. You set enrollment criteria for records. When those criteria are met, your pre-define the next steps that will be taken with your contacts, companies, deals, tickets, or quotes.
You can use workflows to send emails, assign tasks, trigger campaigns, alter assignments, and update records. Workflows do not necessarily impact only a single record. The criteria that you set can also trigger actions related to associated records. For instance, you might set a workflow for contacts that are from a specific state—say, California. Then, a California-based contact will then trigger the workflow to update the company record.
Here is a HubSpot workflow that automatically notifies sales reps when a prospect has viewed the homepage at least five times, and then creates a task in their task list.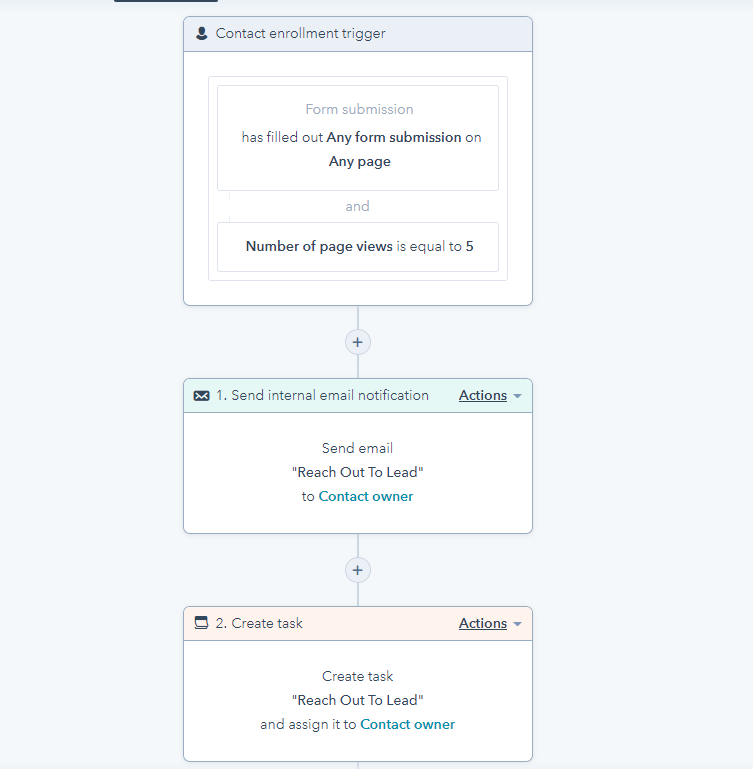 This is just one example of many ways that HubSpot workflows can be used to automate actions within your HubSpot CRM and integrated apps that would otherwise have to be performed manually.
But here is the issue: Workflows are driven entirely by your HubSpot CRM data. If that data is not maintained, you will run into difficulties.
Bad data and non-automated data maintenance processes lead to a range of automation issues:
Contacts might be improperly segmented.
Leads might have received an inaccurate lead score.
Your communications may include personalization issues.
Your teams may lack context in conversations with customers.
Duplicates may cause sales or support reps to step on each other's toes.
Without the right data maintenance processes in place, your HubSpot workflows will potentially annoy your customers automatically, deliver non-relevant materials, and lower their opinion of your brand in the long term.
Automation is an incredible tool. But it requires fuel to run well: clean, reliable data. But the process of maintaining your data for use in automation can be more complex and difficult than you might imagine.
Why Data Maintenance for Automation Is So Troublesome
Maintaining your CRM data is extremely laborious and time-consuming. Companies may handle data maintenance on an ad-hoc basis as issues arise, or on a set schedule.
Unfortunately, companies often underestimate the number of issues present in their CRM. This leads them to under-investing in their solution—whether that is dedicating internal resources or seeking outside solutions.
Let's consider just one field for one record type: first names for contacts. Many issues can be present in just this one field. This field might contain:
a single initial,
both first and last name,
last name only,
improper capitalization or typos,
a fake name,
an e-mail address, or
nothing at all.
And that's just the "First Name" field. Now apply each of these issues to the Industry, Job Title, Phone Number, Zip Code, or Address fields. Then add other issues specific to those fields. This all adds up to hundreds of different types of individual CRM data problems across your database.
Fixing these issues manually involves constantly filtering your data, exporting it, running complicated Excel formulas to identify issues, fixing them, and then re-importing the data back into your CRM—all while hoping nothing goes wrong in the process. But often, something does go wrong, and then you have to spend time figuring out why so you can remedy it. Over and over again.
Data maintenance begets more problems. As your understanding of your data issues improves, you will discover more issues that need correcting. With this in mind, it's easy to see how a data maintenance project could unexpectedly creep in scope.
In the time it takes you to fix your existing data, thousands of new records—all with the same problems you just cleaned up—may have been added to your database. And the next data maintenance project sits just on the horizon.
What you need is a fully automated solution for data maintenance that works directly with your existing HubSpot workflow automation.
How to Put Your Data Maintenance on Autopilot with HubSpot Workflows
Insycle allows you to clean, standardize, and maintain your CRM data regularly and automatically as data flows into your CRM via HubSpot workflows.
Let's look at how this works.
Insycle integrates with workflows to automatically clean your data in near real-time, right as it enters your database. That means that customers' data can be cleaned, standardized, and properly organized before they even receive their "Welcome" email, saving your team many hours of data maintenance projects each month.
You can do this with Insycle Recipes. Recipes allow you to string together and automatically run multiple data maintenance templates in a specific order.
For instance, cleansing the "First Name" field often includes many tasks: fixing capitalization, removing symbols, entering a missing first name, removing a middle name, and fixing typos among other things. Recipes allow you to compile all of those tasks together and run them in succession, automatically.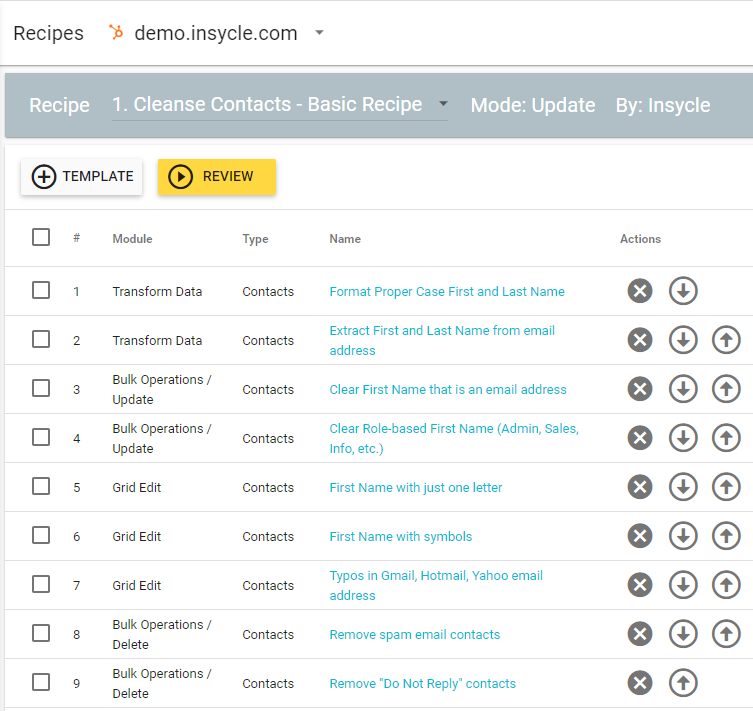 Then, those Recipes can be inserted into existing HubSpot workflows to clean and standardize data as it enters your CRM.
You can add them to any HubSpot workflow, just as you would add any other automated step. In this example, three Insycle Recipes are triggered when a contact is added to the "Nurturing Campaign HubSpot" list.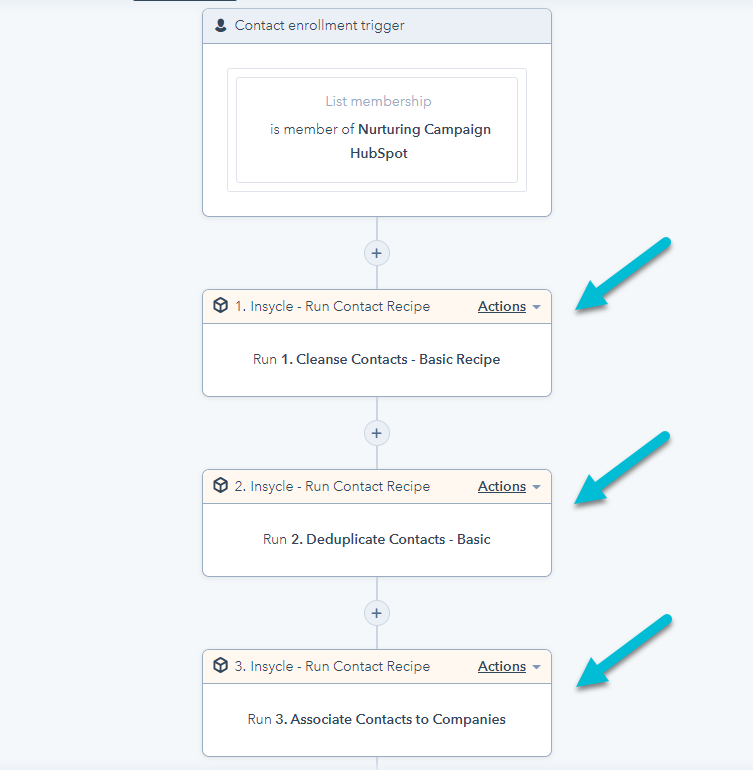 Now, any time that the workflow is triggered, multiple Insycle Recipes will run before the next actions in the workflow, like sending a marketing email or promotion. This can also be added to existing workflows and triggered by forms, imported data, or data that flows into your CRM through integrations. Insycle's HubSpot workflow integration eliminates data entry issues from your CRM almost entirely.
No going back and fixing issues from user form inputs. No messy Excel worksheets and formulas. No cumbersome data update projects or passing Excel files back and forth. Instead, all of your data is cleaned and standardized as it enters your database.
Your entire organization will be more effective. Your employees' morale will improve. And productivity and decision-making will improve in every department that relies on customer data.
Case Study: How Quick Attach Used Insycle and HubSpot Workflows to Improve Customer Experience
Quick Attach is a construction equipment company that designs, manufactures, and markets attachments for machines by Bobcat, Caterpillar, John Deere, and others.
After inheriting a system to manage their contact database, the company discovered that duplicate records and data issues were creating extra work for the company's sales and marketing teams. Company ERP and Database Administrator Josh Didier notes that employees were often working the same accounts at the same time. Additionally, the records were full of formatting and data consistency issues.
Quick Attach triggered Insycle Recipes to deduplicate contacts and format data before routing them to a sales rep. This made the data consistent and eliminated the need to update contact records manually.
"We can check the data, make sure it's a unique person, clean the data, and pass it on to our sales team within five minutes. It definitely has made some cutting edge data progressions for us." - Josh Didier, ERP and Database Administrator, Quick Attach
With the workflow integration in place, Quick Attach improved incoming lead volume and customer experience, avoided duplicate mailings of catalogs, and saved the marketing team time and money.
"Just having the ability to run Insycle before the data even gets assigned to our salespeople has been absolutely huge. It creates trust in our processes that they're not getting jumped, they're not getting a duplicate contact, and they have the ability to follow up with these contacts within five minutes if they have to. It really accelerates our sales process."
Clean Data Makes Automation Possible
Clean, orderly HubSpot CRM data improves automation and opens up new opportunities for creative uses of HubSpot workflows.
But clean, reliable data isn't just important for automation. Data issues impact your ability to search, personalize, report, forecast, and ultimately make data-based decisions across your organization. Teams that are confident in their data will work more effectively and have more time to focus on critical tasks.
The cost of bad data is a major blind spot for marketing and sales leaders and a roadblock for execution by their teams. But Insycle allows operations teams to fix CRM data quality issues in bulk and automate the data maintenance process. You can trigger Insycle's data maintenance Recipes to run in near real-time right when data is added from any channel.
Want to eliminate fixing data from your to-do list and integrate data maintenance tasks directly into your HubSpot workflows? Learn more about Insycle's HubSpot workflow integration.