Managing and maintaining company hierarchies and child-to-parent company associations in HubSpot can be difficult.
Once you dig into what you have and evaluate what you need to do to improve the management of those hierarchies in your CRM, you will find many issues and nuances you must consider. But one of the primary considerations is how to handle duplicate companies when those companies are in a parent-child hierarchy in HubSpot. Deduplication can be complicated as it is, but throwing company hierarchies into the mix only makes it more challenging.
Account-based marketing (ABM) and sales teams rely on accurate company associations to identify all organizational stakeholders and personalize their messaging for all considerations raised by an account. But when you have duplicate company records, stakeholders may be split up between those duplicate accounts, leading to missed opportunities and mistakes. All logged communications with that company will also be split between the duplicate records. To avoid this issue, you have to deduplicate those companies.
But often, subsidiary companies in a hierarchy have names similar to other companies in the hierarchy. For example, a Papa Johns regional office and a franchise location might both be named "Papa Johns'' in your HubSpot CRM. In that case, they may appear at first glance to be duplicate records, when in fact, they are legitimate individual records. Without evaluating the records manually, it would be easy to accidentally merge these records, creating a new web to untangle. But this analysis is not always a simple process.
Let's dive into why it is so important to deduplicate child companies and parent companies in HubSpot, examine why this is often more complex than you would think, and then look at potential solutions to these problems.
How Duplicate Companies In Hierarchies Impact ABM
Many companies are aware of how annoying duplicate companies can be, gumming up marketing, sales, and support processes. But duplicate records do more than bog down daily operations.
Duplicate Companies Hinder a Single Source of Truth
The point of a CRM system is to provide you with a single source of truth that helps you better manage interactions with accounts and stakeholders. Ideally, you'll have a single account view, where you can be confident that all of your data on a specific company resides in that company's CRM record. But when you have multiple records for one company, you lose that single account view.
When you have duplicate records, it's challenging to understand where a company falls within a hierarchy and how the stakeholders at that particular company may impact a potential deal. You might assume that stakeholders are from a different subsidiary company when they are actually from the company that you are doing the deal with. You'll miss out on the opportunity to hear their thoughts and concerns—and on information that you could have used in your sales process.
Duplicate company records make it hard to understand an account's needs and force unnecessary mistakes.
Disorganization in Sales
Duplicate companies also create disorganization in sales teams. In account-based sales, a duplicate company record might be assigned to a different sales rep than the one who is actually working on that account. The reps will step on each other's toes, and the account might receive confusing mixed messaging during the sales process.
When you can't be sure that you have a duplicate-free HubSpot CRM, lead routing also becomes more complex. Your sales reps will lose confidence in that process. They'll be forced to stop and double-check that there isn't a duplicate company out there that has been assigned to another rep.
Duplicate records also mean that the context for the given company is split up between multiple records. So every conversation that your rep has with an account will be incomplete, unless they manually check for additional context in a duplicate record.
Segmenting and Reporting Issues
High duplication rates in your database also impact your ability to segment and report on data. Based on that reporting, your company will make decisions it believes to be backed by sound data, when in fact those decisions are likely to be ineffective.
Even engagement-based segmentation is difficult. For example, suppose you wanted to segment companies by the degree of content engagement. In that case, that engagement data might be split up between two different records in your CRM, and you will neglect to include companies in the appropriate segment.
Lead Scoring and Deal Prioritization
Duplicate companies also impact lead scoring and deal prioritization.
For example, when duplicate companies are associated with other companies in the hierarchy, that can impact the score the lead receives and how the account as a whole is prioritized. This is particularly true for companies that may be higher in the company hierarchy and weighted more heavily in lead scoring systems.
Even in a company hierarchy, a duplicate company can impact lead scoring. For instance, if higher headcounts or revenue make accounts more valuable in your system, duplicate companies would throw those numbers off. If headcount and revenue fields were populated in two duplicate companies, the numbers for that company would be doubled until the company records were merged.
Poor Customer Experiences
Ultimately, duplicate records lead to worse customer experiences across the customer lifecycle.
Modern customer experiences are driven by personalization. In fact, 71% of consumers expect companies to deliver personalized interactions.
Splitting up the context about any company and the stakeholders that exist within that company across multiple records hurts your ability to provide great experiences at every touchpoint. You'll always miss critical information that could help create a better customer experience. Deduplicating company records benefits any department that relies on customer data to do its job, though the customers may be the ones that feel the biggest impact.
Problems with Deduplicating Child-Parent Companies in HubSpot
Deduplicating child and parent companies that are part of a company hierarchy is critical, but it's also more complex than you might initially think.
You Cannot Merge Child Or Parent Companies In HubSpot
As a rule, any record that is currently a parent or child company cannot be merged in HubSpot.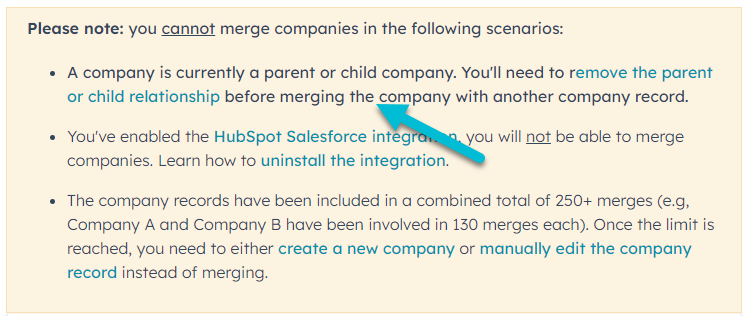 Scenarios where you cannot merge companies from HubSpot's documentation
HubSpot requires you to remove the parent or child relationship before merging. Then, after deduplicating, you'll have to recreate the company hierarchy. But that process is not realistic on a large scale.
And, you still have to deal with all of the issues that we will talk about next.
Company Hierarchies Need to Be Untangled Before Merging
You don't want to blindly merge identified duplicate records when they are part of a company hierarchy. As we said in our Papa Johns example above, companies in a hierarchy often have similar names. It is very easy to accidentally merge two companies when they are actually separate entities entirely.
In most CRMs, there is no scenario where you can quickly string together a solution and merge child or parent companies in bulk. There is simply too much at stake. Accidentally merging a legitimate parent company that you mistook for a duplicate could potentially mean impacting dozens of other associated company, contact or custom records throughout your HubSpot CRM ecosystem.
And untangling the situation can be extremely complex. Consider these different scenarios:
What if the companies that you are merging have different child companies?
What if the companies that you are merging have different parent companies?
What if one company has child companies and another does not?
What if one company has a parent company and the other does not?
What if there are other duplicate companies that are unassociated and fall outside of the company hierarchy?
Like we said, it's complicated. And it becomes more complicated if there are more than two duplicate records in a duplicate group, or if you have a company hierarchy with more than two tiers (like grandchild-child-parent). Companies that are accidentally merged may be on different tiers of the company hierarchy, creating confusing situations for your team when engaging with the account and a worsened experience for prospects and customers as they go through the sales process.
But evaluating companies before merging them in HubSpot can be challenging. It requires a lot of manual effort to click around the different companies in a hierarchy, evaluate the data that they contain, and determine whether or not they are duplicates.
You have to analyze each hierarchy individually to identify duplicates. The most efficient way to do this is to navigate to Contacts>Companies and set a filter to view all parent companies at the top of that hierarchy. Then, you can use that parent company record to drill down into subsidiary companies.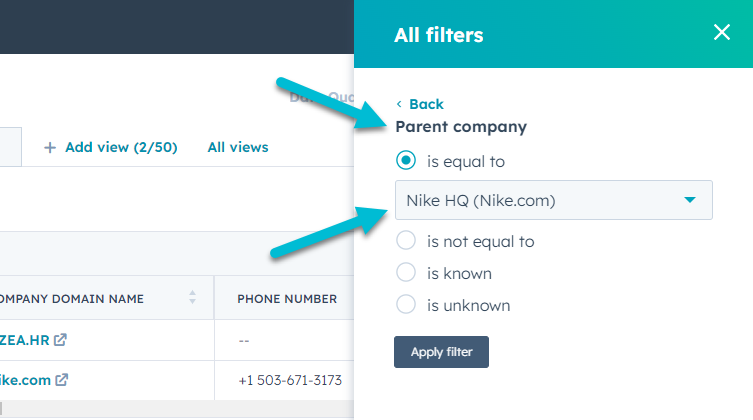 Filtering for all companies that are associated with the Nike HQ parent company
In the example above, all companies that were child companies of "Nike HQ" would show up on the list.

Filtered child companies of Nike HQ
Then, you need to dig through each of these records individually to identify which records are legitimate companies and which are duplicate records. This can be a long and arduous process because you'll need to check many things.
First, you'll have to open the company record and look at the data that it contains.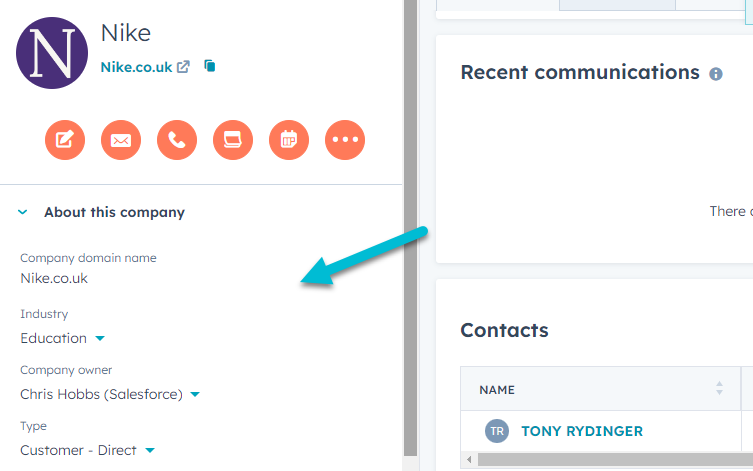 Analyzing company record data
It's important to remember that duplicate records can contain useful data. For example, a sales rep could have entered important data on the duplicate record instead of the record you want to retain. Activity data may also be associated with duplicate records. So when you merge, understanding what data you want to keep on a field-by-field basis may be important.
You also might check what contacts or deals are associated with each company record. Several associated contacts or deals is a good sign that a record is legitimate.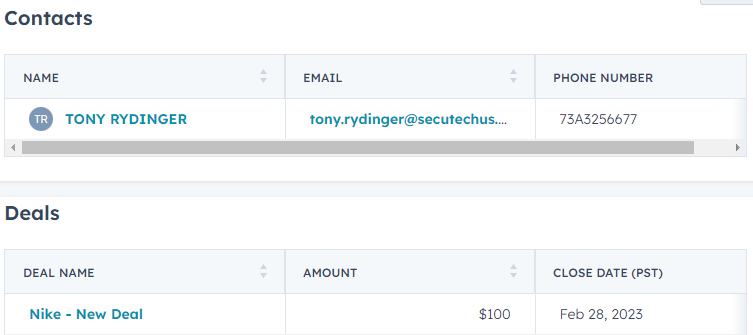 Analyzing associated contacts and deals in HubSpot
You'll want to ascertain whether or not each child company has any other companies associated with it. In this example, the company record has a parent and a child company associated with it in the company hierarchy. This also indicates that the record may be legitimate and not a duplicate.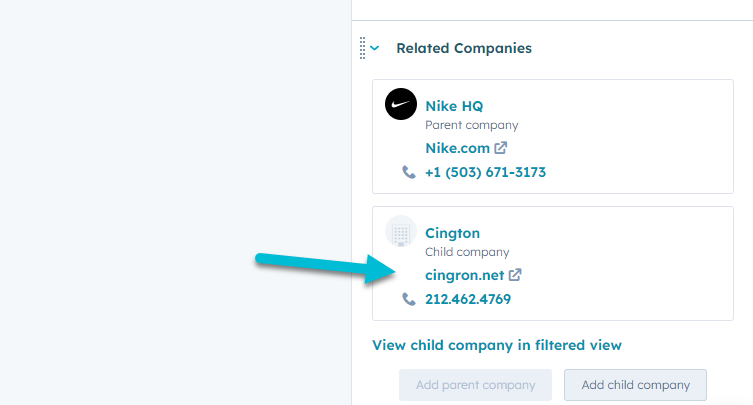 Viewing other associated companies in HubSpot
You Require Signals Within the Data to Deduplicate In Bulk
Because you cannot simply run bulk-merging operations on child and parent companies in a hierarchy without further analysis, you need to merge companies that are sure-fired duplicates.
That means you will need signals within your data to tell you what is a parent company and what is a child company. For example, you might append "HQ" to a company name to signal that it is the company at the top of the company hierarchy, like "Microsoft HQ."
You may have other signals in your data depending on your specific situation. For example, this company offered its services to schools and school districts. So they knew that if a company name had the word "District" in it, it was at the top of its company hierarchy.
But often, these signals are not in place naturally. If they aren't, you must undergo another process to inject this data into your HubSpot CRM system, before you can even begin to build your deduplication process.
If you'd like to avoid many of the issues with deduplicating child and parent companies, Insycle can help.
How Insycle Simplifies Child-Parent Company Deduplication
Insycle allows you to deduplicate child and parent companies in HubSpot in bulk and automatically. With Insycle, you can choose what data is retained after the merge into your master record on a field-by-field basis.
Or, for situations where you want complete control of the merging process, Insycle provides the tools to analyze your potential duplicates and merge them into your chosen record granularly.
Let's look at how Insycle solves some of the issues that prevent reliable deduplication of companies in hierarchies in HubSpot.
Child-Parent Hierarchy Analysis Made Simple
As we've seen, evaluating company hierarchies in HubSpot can be difficult, but Insycle simplifies this process.
Using Insycle, you can choose the fields you want to look at and make a side-by-side comparison of all the companies in a company hierarchy. This makes it simple to evaluate what you have in each hierarchy and determine which records are duplicates and which records are legitimate.

Filtering for child companies of Nike HQ
Here, we are filtering down to all child companies of Nike HQ.

Analyzing hierarchical company records side by side
You can even directly set parent and child associations in Insycle's record viewer in the Grid Edit module.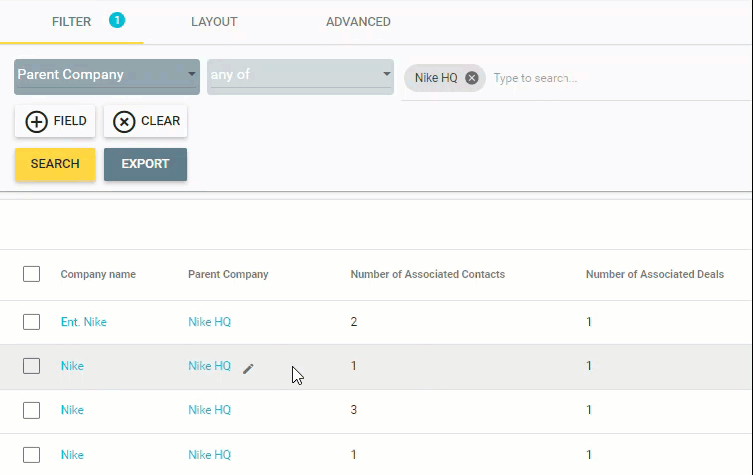 Quickly associate child and parent companies in Insycle's Grid Edit module
Insycle is a powerful tool for company hierarchy analysis in HubSpot.
Deduplicate Child and Parent Companies In Bulk
You cannot deduplicate any company with child or parent associations in HubSpot's standard features. Instead, you would need to upgrade to Operations Hub and custom-code a solution.
But with Insycle, you can deduplicate child or parent companies in bulk, using any field in your database as a matching field.
You can identify duplicates using exact or similar matching for your chosen field. When using similar matching, you can catch more duplicates that would otherwise go undetected.

Catch more duplicates using exact match and similar match
But your ability to control your duplicate matching doesn't end there. You can also control what parts of the field you match.
In the Ignored field, you can ignore things like symbols, whitespace, domains, and common terms like "Inc," "Co," or "LLC."
Then, in the Match Parts field, you can choose whether to match the entire field, the first few words, or specific characters contained within the field.

Advanced matching features make it easy to find more duplicates
With Insycle, you have complete control over how duplicates are matched in HubSpot.
Then, because we want to deduplicate child and parent companies, we can use a filter to ensure that we target companies that are part of a company hierarchy.

Filtering records in the merge duplicates module
For example, you could filter your database down to companies with parent companies in HubSpot CRM.

Filtering by companies that have an existing parent company
Or, you could get even more specific. You could target a specific company hierarchy by filtering for all child companies of a specific parent company.
Filtering out parent companies in Insycle
With your deduplication matching and filtering options set, you can then define how you would like your master record to be chosen. The master record is the remaining record each duplicate group will be merged into.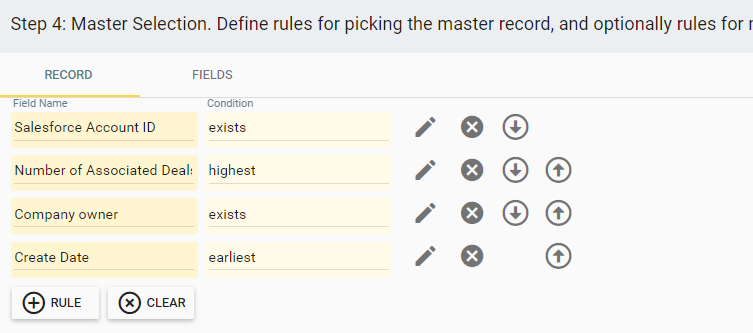 Setting rules for choosing the master record in Insycle
In this example, we are setting rules for choosing a master record. If a company has a Salesforce Account ID, that record will be prioritized as the master record. But the list goes in order. So if no record has a Salesforce Account ID, then the following rule on the list is processed, and the company with the highest number of associated deals will be chosen.
If you need more control, you can set rules for retaining data in the master record on a field-by-field basis. This allows you to determine the best data to keep for each field on your database, based on advanced rules.

Setting data-retaining rules for the company owner, company domain name, and phone number fields
Or, Deduplicate Child and Parent Companies Quickly With Complete Controls
Because merging companies in a hierarchy can be complex, you may wish to have more granular control over which records are merged.
With Insycle, you can identify duplicates and choose records to merge on a case-by-case basis instead of in bulk.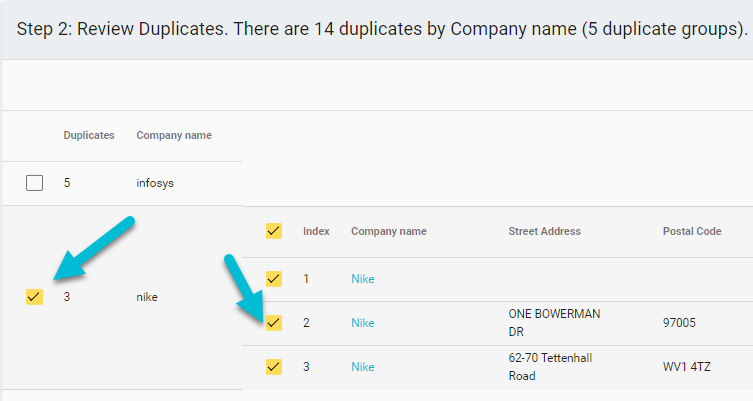 Selecting the records to deduplicate individually in Insycle
Then, with records selected to merge, you can choose which record will be your master record.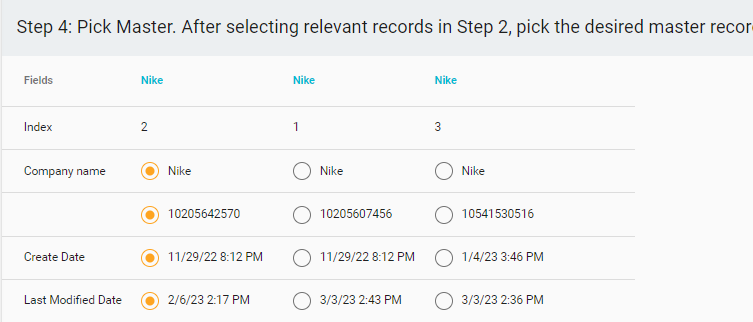 Manually selecting the master record in Insycle
With your deduplication templates built, you can schedule those templates to run automatically on a regular schedule.
Automatic Child-Parent Deduplication in HubSpot
With Insycle, you can schedule child and parent deduplication templates to run automatically hourly, daily, weekly, or monthly.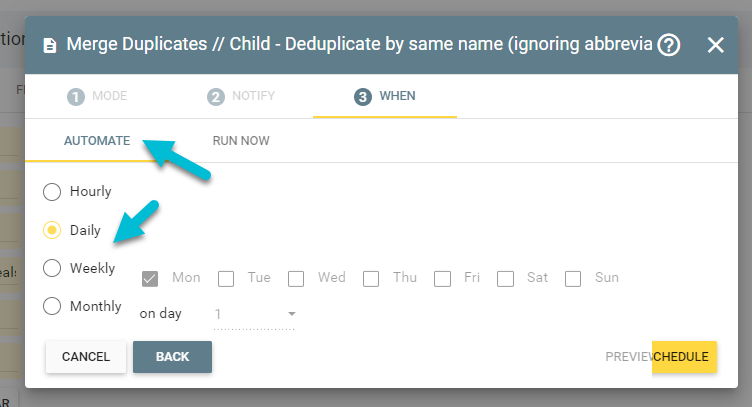 Automating deduplication templates in Insycle
Additionally, you can inject deduplication Recipes directly into HubSpot workflows to ensure that duplicate parent and child companies are detected and merged after they hit your CRM and before your first communications go out to those accounts.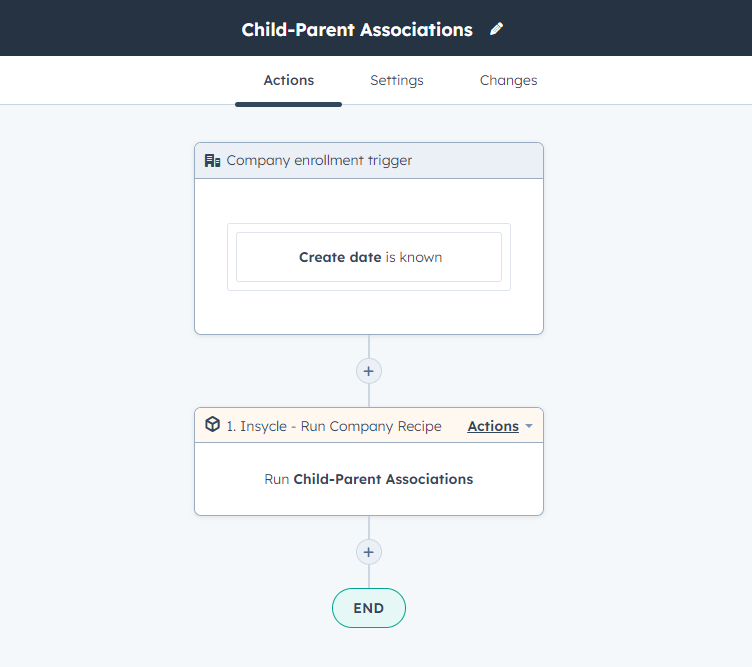 Injecting Insycle child-parent deduplication Recipes into a HubSpot Workflow
Improving ABM with Effective and Reliable Company Hierarchy Management
Insycle makes it easy to deduplicate child and parent companies In HubSpot, overcoming common issues that complicate the process.
With Insycle, you can use any field in your database as a matching field to deduplicate child and parent companies. You can do this automatically on a set schedule, in bulk, or manually on a case-by-case basis. Or, you can integrate deduplication templates into HubSpot Workflows so that your companies are deduplicated as soon as they enter HubSpot CRM.
With Insycle, you have peace of mind that your company records in hierarchies are deduplicated automatically.
But Insycle helps with more than just deduplication. Insycle is a comprehensive customer data management platform that helps companies with data analysis, planning, cleaning, and collaboration. With Insycle, HubSpot companies can automatically fix data quality issues in bulk.
Without Insycle, data quality is often a blind spot for organizations. With Insycle, you can identify issues in your database and create processes for consistently fixing those issues. Learn more about how Insycle can help you deduplicate in HubSpot.