An Insycle customer, whom we will call Anderson for privacy purposes, operated in the education industry and had recently imported a list of 30,000 schools they needed to clean, deduplicate, and associate. Because these schools belonged to districts, the company wanted to ensure proper parent-child relationships between the schools and the districts they belonged to.
However, determining which records were from child organizations and which were from parent organizations was quite challenging from the data alone.
Anderson put Insycle to work, using it to analyze their data and develop a plan for correctly identifying child and parent company records. Finally, Anderson used Insycle to associate those records in bulk, automatically, on a regular schedule. Here are the steps they took:
Step 1: Gather Information
While it is tempting to dive head first into any data problem, gathering information should be your first step. When you understand the scope of your problems, you can better anticipate potential issues in your solution while designing it.
Anderson needed to determine whether there were any distinctions between child and parent companies in their current data, to find a way to differentiate between the two accurately.
One major problem was that the Company name field on contact records and company records often differed. When the Anderson team realized that the "correct" company name data was present on the contact record, not the company record, they created a HubSpot Workflow to correct the issue. The Workflow copied the Company name field from contacts to a custom field for companies, called "Company name from contacts."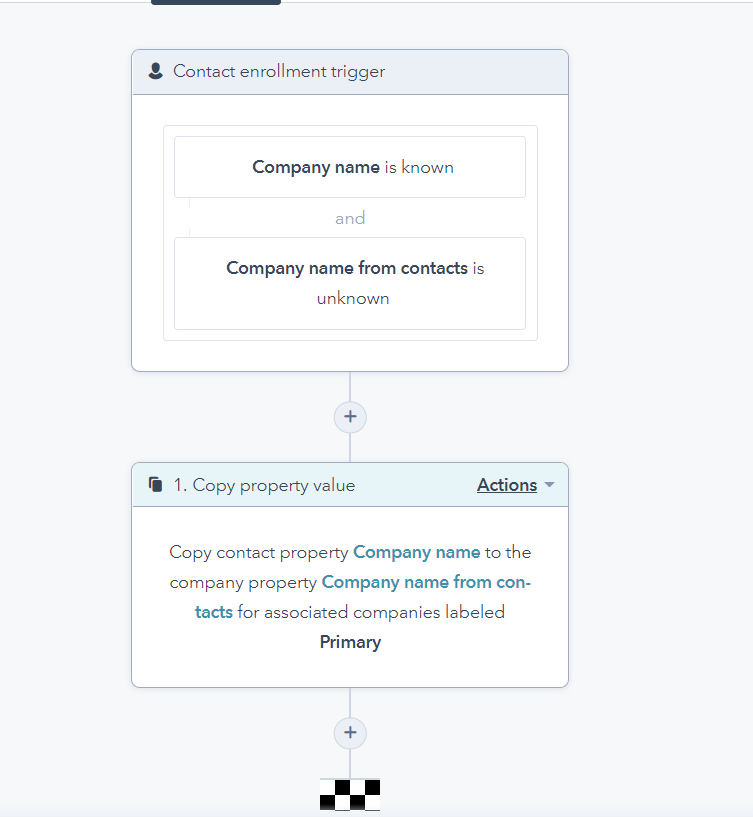 This allowed them to evaluate the data side-by-side for each company record, making spot corrections and gaining a better understanding of how they could differentiate child and parent companies for associations.
Step 2: Automatically Identify Parents and Child Companies
In gathering information, Anderson identified key traits that differentiated child and parent companies within their data.
They created some simple rules for identifying the association type:
Parent company names:
do not have a comma
may include "district"
do not contain dashes or periods
contact and company records match
Child company names:
may have a comma
never contains the word "district"
may contain dashes, commas, and periods
contact and companies are usually different
Once the Anderson team had identified the patterns that differentiated parent from child accounts, the company harnessed Insycle to label each record automatically. Using Insycle's Transform Data module, they created a custom "Parent or child company" field, which populates with either "Child" or "Parent" based on these rules.
Step 3: Associate, Clean Up Edge Cases, and Automate the Associations in a Recipe
With these labels in place on the recently created custom field, Anderson set child and parent associations automatically using templates, aside from a few edge cases, which required their custom templates to solve.
Then, they bundled this collection of templates into a Recipe to accurately automate the entire process of associating schools to districts.
Now Anderson can run that Recipe consistently, which will accomplish several things when new company data flows into the HubSpot CRM database:
Child and parent companies will be identified automatically.
Edge cases will be cleaned up.
Records will be associated in bulk.
How Anderson Used Insycle to Identify and Create Custom Associations
Let's look at the four templates Anderson used to achieve their goal.
Template #1: Identify Child and Parent Companies
Based on the rules discovered in Step 1, they created a template in the Transform Data module to identify parent companies.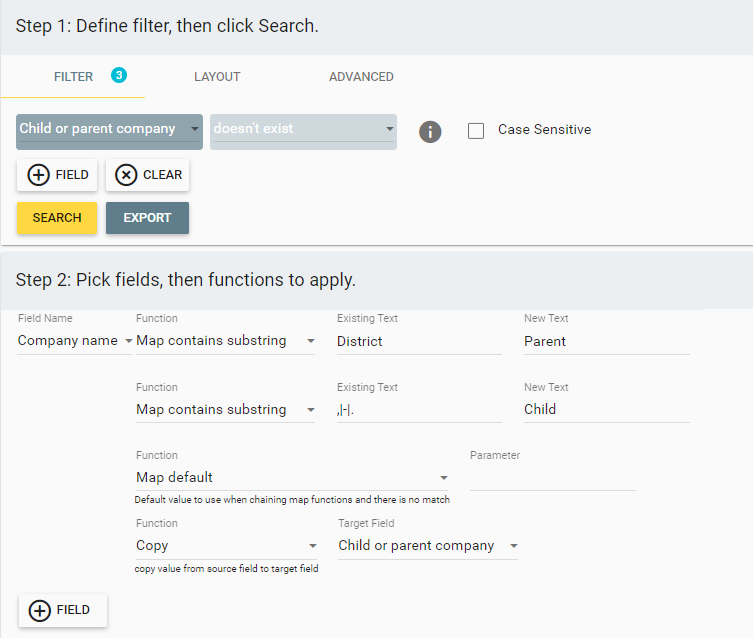 This template looks for the presence of the word "district," a period, or a dash. Then, it populates the word "Parent" into the custom "Parent or child company" custom field. Then, Anderson's team used this field as a guide to creating the associations in another template.
Additionally, this template also looks for Company name's that contain either a comma, dash,or period. These were identified as traits of child companies. When detected, "Child" is isnerted into the "Child or parent company" field.
Then, for records that do not meet these specifications, we use the Map Default function to ensure that the "Child or parent company" field remains empty, and then we use the Copy function to copy the relevant data into the field based on these rules.
Template #2: Fix Inconsistencies in Parent Companies
While the rules for determining child and parent companies were accurate for 99% of companies in Anderson's database, there were some edge cases.
For instance, there were child company records containing company names that included the word "district" and were errantly labeled as parent companies. One example is "Stevens Lake High in Marion School District."
Anderson created another template to account for this issue. This template checks for those edge cases and removes the errant "Parent" listing from the "Parent or child company" custom field when the company name contains commas, dashes, or periods, which typically signal that the company is a Child company and not a Parent company.
Template #3: Fix Inconsistencies in Child Companies
Next, Anderson created a template to identify child companies with the word "district" in the Company name field. To be safe, they wanted to remove the "Child" listing from their custom field so that the company wasn't errantly associated with an incorrect parent company. Instead, it would remain a standalone company, unassociated with other companies.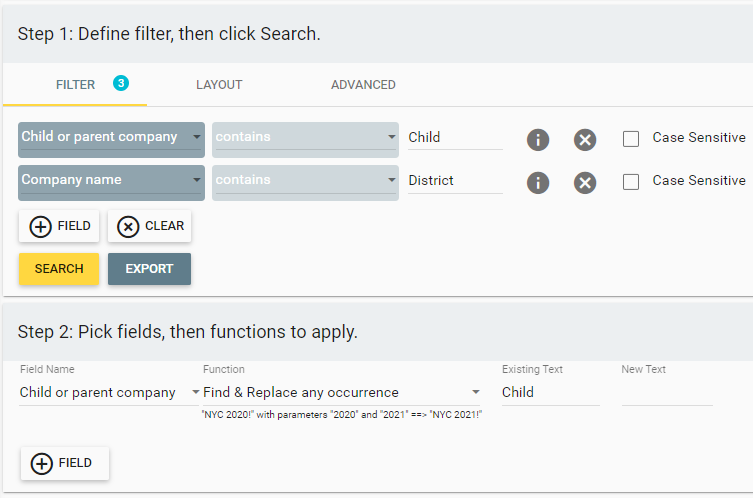 Template #4: Associate Child to Parent Companies
Finally, Anderson created an association template in the Bulk Associations module.
This template ensures it only works with child companies by looking for records that don't currently have an associated parent company and don't contain the term "district."
Then, the association is made using the "Company name" field and the "Company name from contacts" custom field that was brought to company records using the custom workflow.

Result: Clean, Consistent Child-to-Parent Company Associations
By bundling these templates into a Recipe, this education company was able to identify child and parent companies effectively, fix edge cases, and associate them automatically on an ongoing basis. As a result, they are saving many hours of tedious, unending manual labor to put those associations in place.