Salesforce delivers many powerful features and tools for managing data. But many companies prefer to bulk-update and perform data maintenance with Google Sheets.
Google Suite, the business subscription that includes access to Google Sheets and other apps, has more than two billion users. Many companies use Google Sheets daily to analyze and manipulate non-CRM data. So it comes as no surprise that many Salesforce users are more comfortable with Google Sheets than with Salesforce's base features.
But using Google Sheets for Salesforce data management is extremely time-consuming. In Google Sheets, companies must filter data to create lists, export those lists, identify issues in bulk, update fields with issues, and then re-import the data into Salesforce.
Companies need a method with less friction. By allowing Google Sheets to pull data directly from their Salesforce databases, they can cut down the number of steps and streamline data maintenance.
Google Sheets connector apps make this possible. These apps allow you to pull data from Salesforce directly into Google Sheets. Then you can use Google Sheets' advanced data manipulation functionalities to create new records, update records in bulk, or use data for reporting tasks.
This article will cover three of the best Google Sheets connector apps to help you maintain your Salesforce data.
1. Coefficient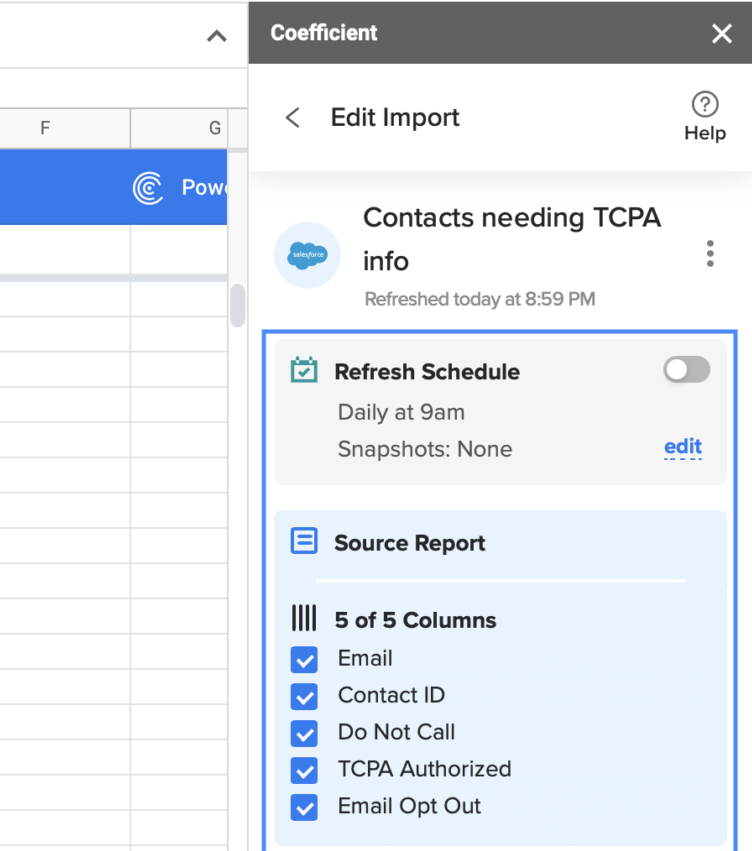 Coefficient is a popular Salesforce Google Sheets connector app that delivers an end-to-end sync between your Salesforce data and Google Sheets.
With a focus on reporting, Coefficient makes it easy to pull specific filtered data from Salesforce CRM for analysis, reporting, or dashboard creation. The app also allows you to update your data in bulk directly in Google Sheets and push those changes back to Salesforce CRM.
One way Coefficient stands out from other apps is its notification options. You can set up custom notifications to Slack and email whenever a change is registered in a Google Sheets spreadsheet. For example, you could trigger notifications when opportunities move to a new stage, a critical field is updated, or in the event of any other custom trigger event that is critical to your operations.
The reviews for Coefficient are stellar, both on Salesforce AppExchange and the Google Workspace Marketplace.
Coefficient offers a $49/month option that allows you to pull or update up to 5,000 records in Google Sheets, which will not be enough for most companies. The app offers unlimited rows for $99 per month, making it the middle option on this list in terms of price.
Pricing: $99 per month for unlimited rows
Total Reviews: 188+
Review Score: 4.9 / 5
2. G-Connector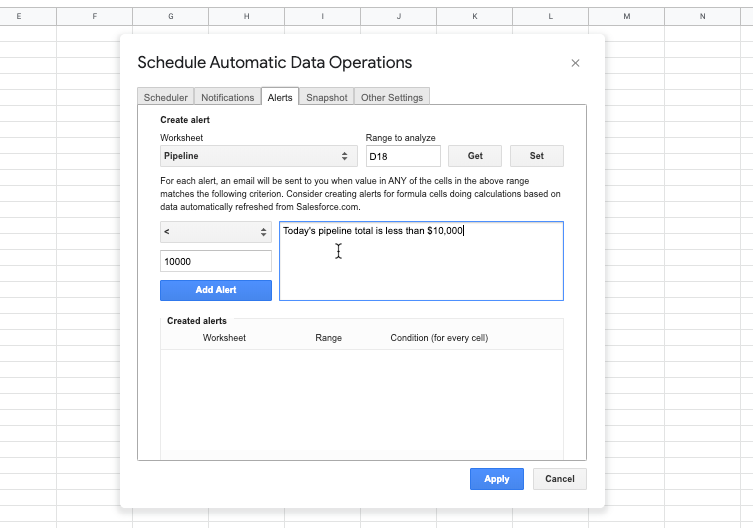 G-Connector is a Google Sheets add-on that allows you to pull data directly from Salesforce into Google Sheets. Then you can schedule automatic refreshes of the data while you are offline to ensure that Google Sheets always has your most updated data.
With G-Connector, you can quickly build automatically updated reports that refresh on a set schedule. Then you can share those documents with anyone through Google Drive. Those documents will always have the most up-to-date data based on your set refresh schedule.
The app also allows you to push bulk updates or import data while using Google Sheets' advanced functionality to update and manipulate the data. Those updates can be pushed to your live Salesforce database through the Salesforce API.
While G-Connector is a very popular Google Sheets connector app, it scores lower in user reviews on both Salesforce and Google than other options on this list. While most low-scoring reviews are from several years ago, it does appear that many users are dissatisfied with the pricing.
At $299 per user per year for the full premium version—which includes essential features like mass-updating data, automatic data pushes, and advanced notifications—it is more expensive than other options.
Pricing: $99-$299 per user per year
Total Reviews: 173+
Review Score: 4.1 / 5
3. MySalesData G-Sheets Connector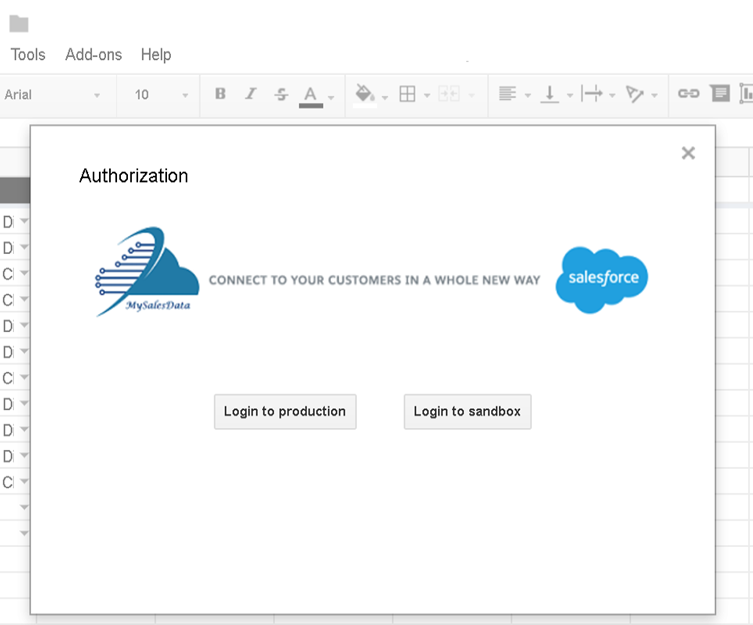 MySalesData G-Sheets Connector is a Google Sheets connector app that allows you to pull and load Salesforce data, even while offline.
With a focus on reporting, MySalesData G-Sheets Connector extracts data from Salesforce using Salesforce Object Query Language (SOQL) or SOQL Query Builder, with full support for existing templates. The app also allows you to easily connect to sandbox databases to test out functionality before manipulating live data.
Additionally, you can use the SOQL Loader to insert, update, or merge data directly in Google Sheets. While the SOQL merge functionality is a differentiator for MySalesData, other apps do allow for merging through standard Google Sheets functions.
The focus on SOQL makes MySalesData an unlikely choice for those that are looking to avoid SOQL queries in favor of a more simplistic and visual method and is a big reason for the lower review scores.
However, for users that are fluent in SOQL, the free price tag makes MySalesdata G-Sheets Connector an alluring option.
Pricing: Free
Total Reviews: 50+
Review Score: 4 / 5
Downsides of Google Sheets Connector Apps
Salesforce offers many valuable tools and features for data management, but users often want to stick with what they are comfortable with. If that comfort zone includes Google Sheets, these connector apps are a good option. But that doesn't mean that there aren't downsides to using Google Sheets connector apps.
You have to take into account API usage when using Google Sheets connector apps. Whenever you update data on an individual record level or in bulk, you use your API call allotment. You can quickly run through your API limit when pushing large update tasks, even if you later undo the changes. When you run out of API calls, you'll need to buy more. And until you do, Salesforce processes that rely on API usage will not run.
Additionally, Google Sheets is not an ideal solution for large datasets. Sheets with hundreds of thousands of records are prone to crashing and browser freezes.
While collaboration is a core feature of Google Sheets, using these connector apps doesn't eliminate the possibility of working with outdated versions. If a sheet gets duplicated and connected to a Google Sheets connector app, then you may end up pushing updates from two different sheets, causing issues.
To make full use of Google Sheets, you'll need expertise. Identifying and fixing issues in data often requires advanced formulas.
Insycle: A Complete Salesforce Data Management Solution
While Google Sheets connector apps are a useful tool for data management, Insycle delivers more advanced functionality in a few key areas.
Insycle helps Salesforce companies:
eliminate duplicate data
cleanse inconsistent data (standardizing and formatting)
associate and link leads, contacts, accounts, organizations, and opportunities
declutter and purge low-quality data
import data flexibly
bulk-update, delete, and assign records
explore, analyze, and report on data
collaborate on data management
Insycle's Customer Data Health Assessment monitors your Salesforce database for common data issues, providing visibility and giving a simple and straightforward path to fix them.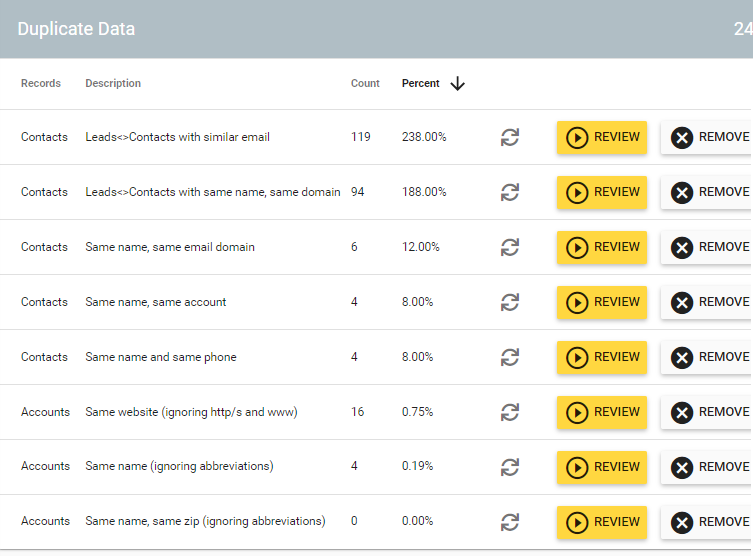 Insycle's Customer Data Health Assessment monitors your CRM database's common data issues, generating a new report daily.
With Insycle, you can format and clean up any text field in Salesforce using advanced functions. Insycle offers pre-built templates for fixing many of the most common data issues, but you can also build custom templates to clean up data issues that are unique to your organization.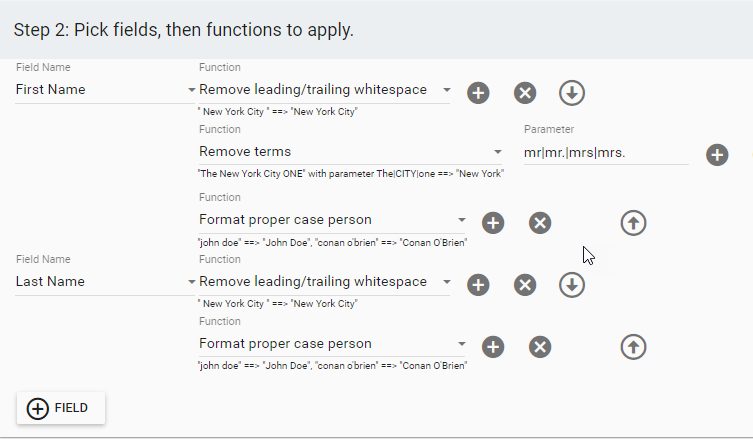 Build custom templates to update, manipulate, and standardize data in any field in Salesforce.
You can deduplicate leads, contacts, or accounts in advanced ways, using any field in Salesforce as a potential matching field, or using specific portions of a field to identify more duplicate records.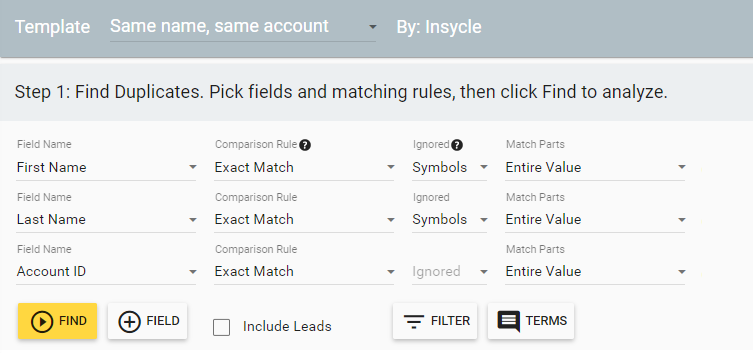 Insycle gives you complete control over how you identify and merge duplicate data in Salesforce.
Insycle also allows you to manage links between leads, contacts, accounts, organizations, and opportunities. Here, you can also use any field in Salesforce as a matching field.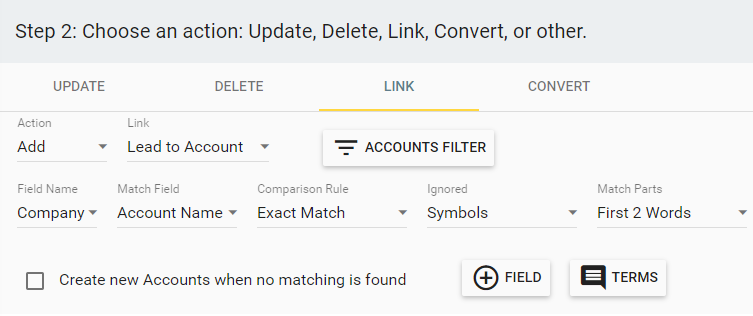 Match leads to accounts using any field in Salesforce as a matching field.
And these templates can run on an automated, set schedule—hourly, daily, weekly, or monthly.
Insycle templates can be scheduled to run automatically, on a set schedule.
Automating critical data management tasks with Insycle reduces headaches, improves morale, and allows your team to focus on other important activities.
Improve Salesforce Data Management
Insycle is a powerful alternative to Google Sheets and the apps that connect it to Salesforce.
But Insycle isn't just for data update tasks like those you'd handle in Google Sheets. It's a complete data management tool that helps companies analyze, understand, identify, fix, and collaborate on data issues across their teams.
Insycle enables operations teams to fix CRM data quality issues in bulk and automate data maintenance processes. Without Insycle, the cost of bad data is a major blind spot for marketing and sales leaders and a roadblock for execution by their teams.
Insycle delivers advanced data management features for Salesforce that allow you to manage and maintain Salesforce data in bulk and automatically, while effectively collaborating with colleagues.