In today's tech-driven world, relationships and interactions with our customers, peers, and colleagues are important keys to success in business. Everyone wants to develop closer relationships with the people that they work with or buy from.
Customers want to build closer, trust-based relationships with the brands and products that they love. Employees, especially in a world that is becoming increasingly driven by remote work, want to feel like they are part of the time and connected with the people that they work with on a deeper level. Executives and leaders want a way to engage with their customers and employees in a way that feels genuine and authentic.
This is what Salesforce communities can bring to the table.
What Are Salesforce Communities?
Salesforce Community Cloud is a software product that allows companies to build branded communities, where they can share information, and users can connect and collaborate. Designed to supplement the standard Salesforce features inside of companies that use the platform, Salesforce communities are simple to set up with easy-to-use tools and templates.
There are multiple different types of communities that companies can create using the Salesforce Community Cloud, depending on their own internal needs. These include:
Customer communities
Employee communities
Partner communities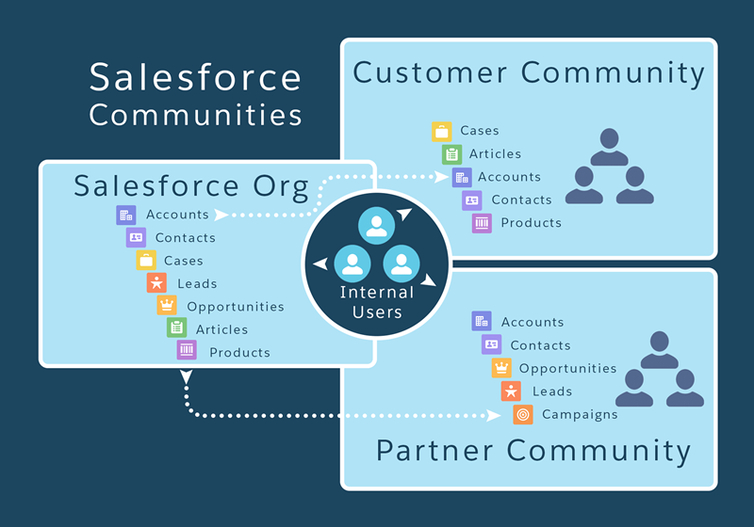 Source: Salesforce
If you want to see a Salesforce community in action, you don't need to look farther than the Salesforce Success Community. Salesforce customer communities are essentially support and self-service portals that allow customers to:
Ask questions of customers and staff
Participate in discussions with other customers
Review other questions and discussions
Review published documentation
Find answers to questions through articles
Review FAQs
They essentially act as a way for customers to get together and receive community-sourced answers to questions. In the best communities, employees will participate along with the staff.
Employee communities function a bit differently. They are internal networking websites that act as an intranet of sorts, giving employees the ability to:
Share files with one another
Manage projects and tasks
Access internal documentation
Participate in discussions
Ask questions
Make announcements
Partner communities also have their own nuances. They allow sales teams, resellers, and vendors to collaborate, access important company and product information and facilitate more sales.
It's also important to note that Salesforce Lightning External apps offer a lot of extended functionality and customizable options. You could use their external apps to create a full-blown customer forum, show external data in your Salesforce or communities, or build feature-rich enterprise portals for all of your different user types.
In mid-size and larger companies, having the right ecosystem around Salesforce can help you to make the most of its features, develop better relationships with your customers, and boost your business in a variety of ways.
Salesforce Community Cloud Edition Information
| | |
| --- | --- |
| Edition | Description |
| Customer (Self-Service) | Create customer communities. The minimum for collaboration without investing in specific licenses. Provides external access to your community. An example would be for use in a support portal. |
| Partner | Designed for B2B engagement, discussions, and interactions. Can pull in and use sales data in a variety of ways. Think of this as a PRM (partner relationship management) system. |
| Lightning External | More customization options for customers, employees, and partners. Create forms. Display external data. Build enterprise portals. |
Getting Started with Salesforce Communities
There are many reasons why a company may want to start a Salesforce community. Using Salesforce Community Cloud, you can start your own online social platform for employees of your company. Salesforce communities can function as your own branded social platform for improving how you utilize CRM data.
A strong community will empower each and every community member and give them more options for learning and improving how they utilize Salesforce.
By fostering community inside your most important software solution, you'll be able to improve adoption rates, drive home best practices, and help new employees ask questions and become acquainted with the system.
Some of the many benefits of Salesforce communities through Salesforce Community Cloud include:
1. Create an Engaging Branded Experience
Salesforce communities are customizable in a variety of different ways. First, you can customize the look to make sure that it matches with your company's branding. Making these changes is intuitive and simple.
Among customers, employees, and partners, a branded community can help to enhance your brand image and develop a new lever for growing trust. A customer community not only allows them to engage with other customers and employees within your company, but it also allows them to see engagements between other customers and your team as well.
Customers in customer communities spend 19% more on average than customers who do not participate in branded communities.
This is invaluable. They get to see how your employees conduct themselves, the type of customer service that they offer, and how helpful they can expect the community to be when they run into issues with your offering.
2. Know Your Customers, Discover Pain Points
Giving your customers a community through which they can discuss their issues, air out the problems that they are having, and engage in an open and honest way with your team is perhaps the most valuable aspect of creating a customer community.
A customer community can act as an essential arm of your customer and user research processes. It gives you a central location where your customers can come to you, ask questions, and receive public assurance that other customers are experiencing the same problem.
A great example of this comes from the IdeaExchange. There, users can suggest new ideas and tweaks to the platform that they would like to see. The result? Thousands of customers pouring into their community and highlighting pain points, suggesting new features, and agreeing with others that have made suggestions as well.
That is the kind of customer research that companies pay tens of thousands of dollars for — and Salesforce communities allow you to put them on autopilot.
3. Build Relationships and Collaborate with Brand Ambassadors
If you aren't constantly engaging in conversations with your customers, there is a high likelihood that you have would-be valuable brand ambassadors sitting out there waiting for you to engage with them and take your relationship to that next level.
Salesforce communities make it easier for you to identify who the power users and public ambassadors for your product and brand are. They make themselves obvious in the time that they dedicate to participating in your community and the responses that they give to other customers.
With Salesforce communities, you can pull those people in closer and give them the tools that they need to effectively become a true high-level ambassador for your brand. You can even pull them into the employee side of things where you can use the collaboration, file sharing, and documentation features to make sure that you are on the same page.
You can plan content, pull social media content, and collaborate all through one simple dashboard.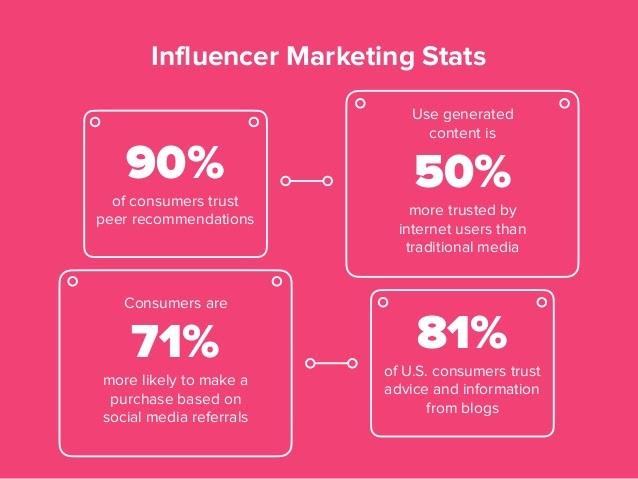 Source: Business 2 Community
4. Improve Supply Chain Management
Supply chain management is difficult without having the right tools in place. Using Salesforce communities, manufacturers gain access to many tools that can help them to improve how they engage with vendors and handle supply chain management.
You could use communities to manage distribution and monitor in-store placement of products. You can identify issues in supply chain management and communicate directly with stakeholders.
Additionally, you can use Salesforce communities extension apps to create dashboards that make monitoring and tracking simple for your customers and partners. The customizable of these communities and the apps that you can use to extend them make them a useful tool for any company that wants to improve supply chain management through collaboration and communication.
5. Improve Employee Communication & Facilitate Collaboration
It sounds shocking, but 60% of companies have no long-term strategy for managing their internal communications. But communication is a must. Employee productivity increases by 25% in organizations where employees are connected and practice good communication habits internally.
Employee communities are a great way for companies to build camaraderie. By providing a social platform, you give your employees the ability to get to know others within your company and improve communication in an organic way.
Using Salesforce communities for employee communication can be a powerful way to increase communication and engagement among your teams. It can break down walls and help to create alignment between departments through open and public communication, data sharing, and stronger information distribution.
In employee communities, your team members can share thoughts, data, and insights instantly. They can help to connect others with critical information that would be hard to effectively disseminate across an organization through email. They can more easily find experts within your organization that can provide insights and help them to solve problems more quickly. Further — when those insights are shared publicly, it will help others to solve their problems in the future as well.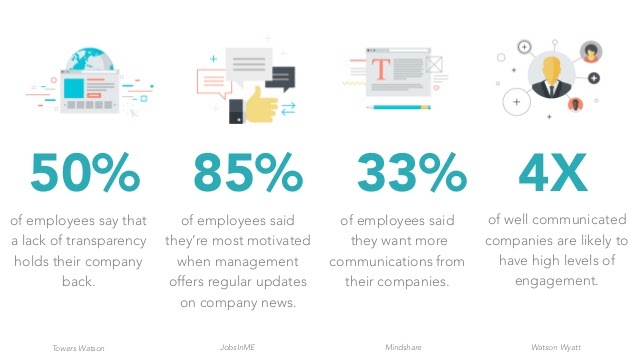 Source: Dynamic Signal on Slideshare
Salesforce Communities Deliver a Powerful Tool
Salesforce communities make it easy for brands to engage with their customers, grow trust and relationships, and provide an information hub that improves internal communication among their employees.
Building a community is hard work. But it's an effort that will pay off for your brand for years to come and position you to more accurately respond to the most pressing needs of your employee and customer needs.
About Insycle
Insycle is a Salesforce customer data management tool that helps sales reps, managers, and operations teams to improve their efficiency, make more data-backed decisions, and create collaborative data management processes that drive their organization forward.
Using Insycle, you can:
Monitor your Salesforce data health on an ongoing basis using Insycle's Customer Data Health Assessment, which monitors your database for the most common customer data issues, then provides you with direct links to tools and templates to fix those issues.
Deduplicate Salesforce contacts, accounts, & leads in bulk.
Link Salesforce leads & contacts to Salesforce accounts in bulk.
Quickly and simply re-assign and balance leads, contacts, and accounts to sales rep owners.
Create custom data handling processes to solve data problems that are unique to your organization.
Automate your data cleansing process for true data health improvement on autopilot.
Would you like to see how Insycle can help your Salesforce organization? Sign up for a free trial today by filling out the form below.