Salesforce Activities are used to track the interactions that your team has with Salesforce accounts and the leads and contacts that are related to them. The Activities consist of tasks, events, and calendars. Events and calendars are tied together, so we will treat them as one singular feature for this article.
Tasks and events act like record types, each with their own fields that can be populated for different use cases.
Ultimately, tracking customer engagement plays a critical role in the usability of the data in your CRM. With solid data management for Salesforce tasks and events, you arm your sales and support teams with reliable, actionable intelligence that helps them deliver better customer experiences.
What Are Salesforce Activities?
Salesforce Activities are engagement tracking objects that include tasks, events and calendars.
With Salesforce Activities, you can track tasks and meetings in lists and reports to improve time management and keep a source of truth for all accounts, campaigns, contacts, leads, and opportunities.
Activities are related to other records in your database using one of two different ID fields:
WhoID: Appears as "Name" on profile pages and references a lead or contact record.
WhatID: Appears as "Related To" on profile pages and references an account, opportunity, campaign, case, or custom object record.
Let's dive deeper into what tasks and events are in Salesforce.
Salesforce Tasks
Tasks allow you to keep your to-do lists directly on Salesforce, and easily relate the tasks to lead, contact, campaign, opportunity, and other records in your Salesforce system. Tasks include due dates and comments that provide additional context about the tasks themselves.
For example, perhaps high-priority leads that meet certain qualifications require some manual research before your sales team begins to send materials their way. Using Salesforce tasks, you could directly tie these research items to the corresponding lead record, keeping a reliable log of all actions taken for specific accounts.
Salesforce offers quick ways to create and update tasks, including prefiltered tasks and notification options that can help you improve productivity across your organization.
Salesforce Events and Calendars
Salesforce events allow you to track meetings and other engagements with customers, prospects, and colleagues. Events allow you to drill down and see specific records, feeds, files, contracts, and other related objects. Events can also be viewed and tracked in reports, meaning that adopting their usage can improve your meeting reporting abilities.
Events include a number of unique fields, allowing you to build context around the events you track.
You can drill down from events to related records, feeds, files, contracts, and more. You can also track events in reports, allowing for a deeper analysis of how and where your employees spend their time.
Salesforce Activities Examples
While Salesforce Activities can be used to track nearly any type of task, we'll look at ways sales teams use activities for our examples.
A sales rep might use Salesforce Activities to:
schedule a follow-up email, call, or meeting
book a demo with a customer account
schedule demo prep time
create reminders to conduct manual research
send proposals and quotes
Using tasks and events to track these activities, you ensure that all engagements with targeted accounts are tracked and tied to the work taking place. A manager can quickly examine scheduled and completed activities for an account, get a bird's eye view of where that account is in the sales process, and evaluate the customer's experience.
But Salesforce Activities are not limited to sales use cases. Any department in your company that relies on customer data and completes tasks that can be tied to records in your Salesforce database is a good candidate to manage projects using Salesforce tasks and events.
Salesforce Activities Tips and Best Practices
Using Salesforce Activities to their full potential requires a few basic best practices.
Know Where Tasks and Events Are Listed
Tasks and events are listed in many places throughout Salesforce. One of the most visible is on the default Sales homepage. Here, your daily events and tasks appear in boxes at the bottom of the page.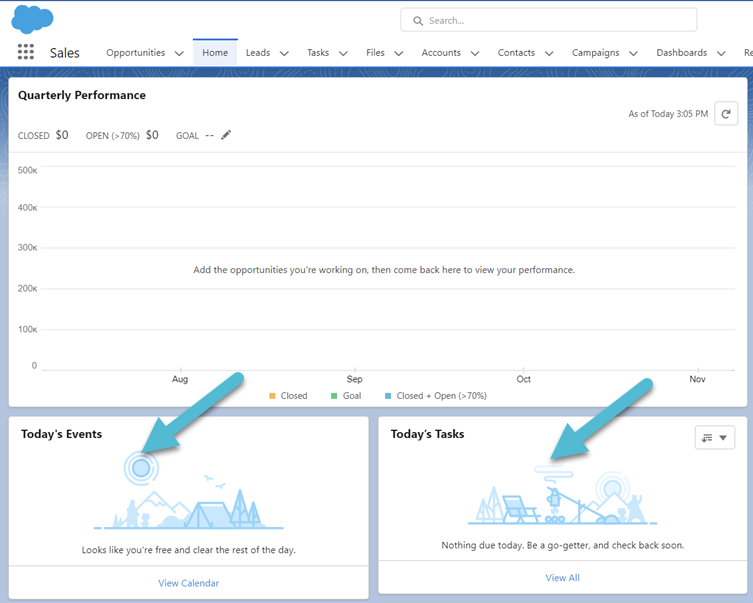 The "Assistant" component, located on the Sales homepage, pulls in 10 records that the user should pay attention to based on due dates and whether or not the tasks are still incomplete.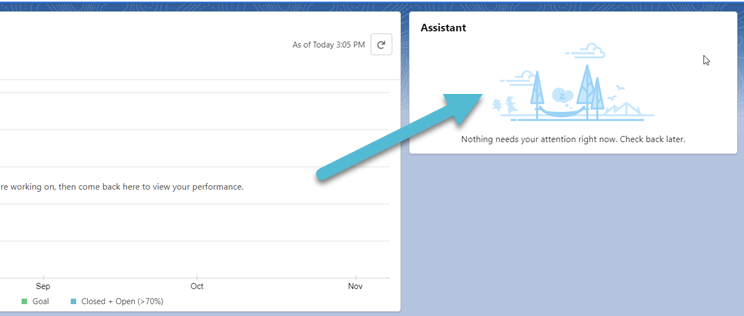 Because tasks and events show up in many places throughout Salesforce, consider that users will have preferences for how they create, edit, and engage with tasks and events in the system. While defining standard ways of engaging with Activities can be helpful, being mindful that there are many ways to use these features is also important for striking a balance.
Also, remember that you can edit your layouts to include Salesforce Activities in the Activity Composer. In the process, you can add buttons to the record page to log new calls, tasks, and events without navigating to several pages.
Understand the Subject Line Field
The subject line field for Salesforce Activities is unique. It is a picklist field but can also accept free text inputs. Users can type or select a new subject line from a set value.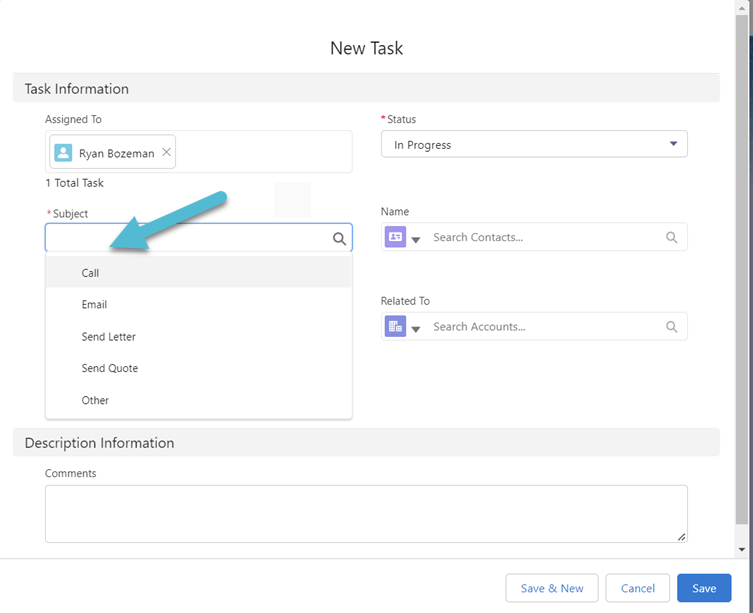 Shared Activities
Shared Activities in Salesforce allow you to link multiple contacts to specific Salesforce Activities.
It is also important to note that Shared Activities are unavailable for Salesforce leads. You can only have one lead linked to an activity. Shared Activities must be enabled in Salesforce's settings before you can use it. Salesforce has also published a list of considerations before enabling Shared Activities, which also impacts other areas of Salesforce.
Task Queues
Salesforce Task Queues allow you to prioritize and assign tasks and records for teams that have shared workloads. For example, sales reps may pull tasks for new leads. Task queues would organize these records in one place for easy pickup.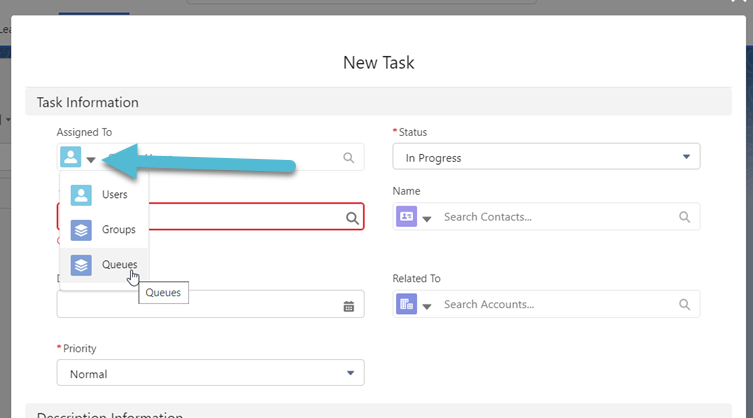 Create Tasks on Opportunities
When creating tasks, associating the task with an opportunity is usually ideal. This is because the opportunity is associated with accounts, which are associated with leads and contacts. By associating tasks with opportunities, you ensure that the context is accessible from anywhere in the association hierarchy while reducing the chances of relating the task to the wrong record.
Consider Salesforce Calendar Sharing
Calendar Sharing allows coworkers to access and add new items to colleagues' shared calendars. Then, tasks such as setting up meetings or assigning calls can be automatically added to calendars by management or coworkers. This reduces back-and-forth communication for small task assignments.
Reporting
Salesforce Activities provide a wealth of information for reporting. You can segment by activity types, tasks, time periods, users, status, leads, and accounts. That gives you many different ways to slice and dice your data and gain deeper operational insights.
Additionally, because some activity data will not be suitable for usable groupings, you can use report buckets to group different data values together, combining similar categories and cleaning up the reporting. Once created, these reports can be placed on any dashboard in Salesforce.
One quirk you may want to consider is that the Type field cannot be added to custom reports.
Salesforce Activities Are Critical for Data Management
Salesforce Activities should play a critical role in your data management process.
While companies may use other project management solutions, integrating those tools with Salesforce activities can help you track productivity and actions taken across your organization more closely.
Tying to-do lists to records ensures that there are always breadcrumbs to follow for every account in your system. Unavoidable employee turnover won't result in as much knowledge loss because employees will be able to dig through every action taken for each account and know exactly where they are in the process.
Your marketing teams can build manual data checks and account-specific marketing activities directly into their Salesforce processes.
Support teams will improve based on the additional context and information at their fingertips. A complete view of all engagements with a customer or account allows them to tailor interactions based on previous conversations.
Management will have a better view of when and how work has taken place. Deeper, more analytic reporting of daily actions and events will give them a complete picture of your operations and how those actions directly impact revenue.
In all organizations, the decisions made are only as good as the data collected. The more you know, the better decisions you will make and the more confident you will be in those decisions.
How Insycle Helps You Improve Salesforce Data Quality
Expanding and refining your use of Salesforce Activities is a key component of your broader data management strategy.
Insycle is a complete Salesforce data management solution that can help you clean and manage all customer data collected in Salesforce.
Insycle can help you with:
deduplication
standardization and formatting
associating and linking leads, contacts, accounts, organizations, and opportunities
decluttering and purging data
importing or comparing data using CSVs
bulk-updating, deleting, and assigning
exploring and analyzing your data
streamlining data corrections
collaborating with colleagues
For Salesforce Activities, managing links between leads, contacts, accounts, organizations, and opportunities is critical for providing the full context of every activity logged.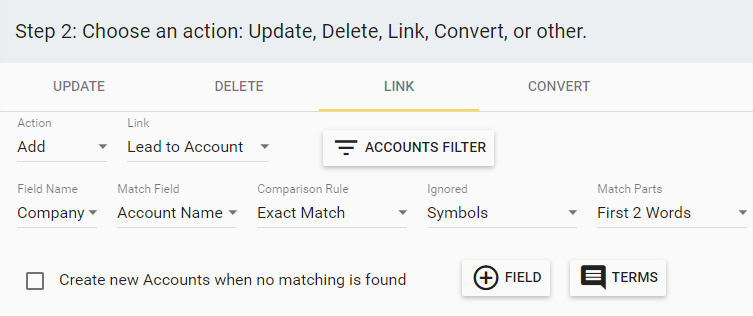 For example, tracking Activities for accounts is helpful if you can concretely say that all of the correct contacts are linked to the account. If this is not the case, you might be missing the critical engagement context associated with the account. Those engagements that should influence other conversations with the account won't.
Additionally, Insycle helps you manage complex child-parent linking hierarchies for organizations. This is also important for Activities. Understanding how your engagements with subsidiary companies can impact deals all the way up the organization hierarchy is a critical component of account-based marketing.
Salesforce Activity Data Management
Insycle makes a natural pairing with Salesforce, helping companies improve visibility into their data problems, fix data issues, and cleanse Salesforce Activities data that they rely on for context. This impacts personalization, segmentation, and user experience.
But Insycle isn't just for managing Salesforce Activities. It's a complete data management tool helping companies analyze, understand, identify, fix, and collaborate on data issues across their organization.
Insycle enables operations teams to fix CRM data quality issues in bulk and automate data maintenance processes. Without Insycle, the cost of bad data is a major blind spot for marketing and sales leaders and a roadblock for execution by their teams.
Want to learn more about how Insycle can help improve Salesforce activity usage? Learn more about Insycle's Salesforce data management features and discover how to duplicate, associate, and clean leads, contacts, organizations, and opportunities, in bulk.