Building an in-house marketing team is a long and complicated process. There are almost an unending number of specialties and disciplines that your team can possess that lend themselves to different strategies. This is especially true with the rise of digital marketing, where there are dozens of channels, strategies, and tactics that may require wildly different skillsets to design and execute.
When you hire in-house, you hire for a specific set of channels and strategies. Over time, those strategies and priorities may change. But, it is difficult to scale talent as quickly as you'd like to test new channels.
Early stage and small to mid-companies often look to agencies to fill the marketing void completely, avoiding in-house marketing teams or getting by with just a few marketing personnel. They have smaller budgets to work with and opt for agencies to avoid the costly expenses associated with hiring an in-house team.
Larger companies also have the same problems. They too hire for specific channels and strategies. Working with an agency can be a simple and effective way for them to test new channels before devoting internal resources, broaden their targeted channels to reach new customers, and leverage outside talent to supplement their existing processes.
It makes sense. An agency gives you access to high-level marketing talent across a range of different channels and disciplines. It would be impossible for companies to hire such a wide breadth of talent on their own, particularly in the early stages of growth.
But one fact that many companies overlook is that marketing agencies don't have to be a standalone fill-in for a full marketing team. You can outsource specific pieces of your marketing operations (specific strategies or channels) to an agency when you don't have the internal resources to handle it effectively.
In this article, we'll explore why a marketing agency may be the perfect complement to your in-house marketing team, with insights from several agencies to show how they've seen this to be true in their own work.
Dan Moyle from Impulse Creative, an agency partner of Insycle, was asked to consider the dichotomy between in-house teams and agencies and had some enlightening thoughts.
Even with friends in the agency world, I used to promote hiring an in-house marketer. I was the marketer for a business, so I just knew I had the answer. "Sure agencies can be great," I'd say. "I have friends who work for agencies or who own them. But no one knows your brand better than someone who works inside your walls."
There's certainly some validity to having an internal team member who's bought into your mission and your voice creating your marketing. But when you partner with the right agency, you have a brand guide and you communicate closely with their team, you can supercharge your marketing.
Now that I work on the "other side" of the debate, I can see pros and cons to either side. And that's really the key to this idea that it has to be this or that, us or them, and all or nothing. We need to stop living in "this tyranny of or" and realize we can pull the best from both worlds more often.
In-house marketers can be truly immersed in the culture. An agency can put multiple team members to work to scale your growth.A marketing team inside your company costs more in human resources, salaries and benefits. Agency marketing can come with up-front costs and monthly retainers. Each side has its benefits and its downsides. But the two together become a great way to help your brand grow better than your competition.
The best time to outsource your marketing is when you're pondering the best way to grow.
-Dan Moyle, Content Marketing Manager, Impulse Creative
Benefits of an In-House Team
While this article focuses on why a marketing agency can complement your in-house marketing team, it is important that we acknowledge that some benefits come from keeping certain things in-house.
For midsize and large companies, having at least a small in-house team that is dedicated to your brand and knows your products inside out is imperative for creating high-level resources and speaking directly to your customers. Unless an agency specializes specifically in your industry or even sub-industry, it will be difficult for them to match the level of industry knowledge.
Let's explore some of the reasons why an in-house marketing team may be preferable to an agency in some situations.
Dedication to Your Brand
When you hire people internally, they come with a certain level of dedication to your brand that is impossible for an agency to match. Yes, an agency may have a higher level of expertise in certain strategies and channels, but they will never be able to match the brand, product, and customer knowledge that is possessed by a dedicated in-house team.
Agencies often state that their research and onboarding processes get them up speed as if they were part of your team — but their level of knowledge in the early going is always going to be similar to that of a new hire. They just don't have hands-on experience with your brand and customers to match the insights of a long term, dedicated in-house team. It's just not possible, as your average agency talent is always juggling projects from multiple clients in multiple industries. By necessity, their attention is divided while your in-house team is not.
An in-house team knows your product and customers intimately. They are knee-deep in the day-to-day inner workings of your brand. They see insights and learn things about your market that an agency never will.
They'll get better with time, but don't ever fully expect an agency to be a complete stand-in from having your own in-house team. In working with an agency, you are essentially agreeing to forego a certain level of brand dedication and knowledge in exchange for talent and experience.
This benefit also speaks to the importance of using an agency to complement an in-house team. Your in-house team has the industry knowledge, while an agency can be used to fill in skill gaps and lessen investment as you expand to new channels.
With an in-house team, they'll have a deep understanding of the nuances in your industry. Something an agency may never achieve.
IMPACT, an Insycle partner, coaches their clients on how to own their content strategy in-house with the goal of becoming the leading voice in their industry.
Vin Gaeta, VP of Marketing, has this to say about in-house marketing teams:
"One of the perks of an in-house team that owns marketing and content is the depth of knowledge you can access. An agency has to work extra hard to be able to have the right voice and insight as the client doing a service for years.
We coach our clients on how to own a content strategy, in-house, that is proven to boost traffic, leads and sales. At the end of the day, the companies that are the most successful with content marketing own the majority in-house."
-Vin Gaeta, VP of Marketing, IMPACT
Enjoy Control, Train and Retrain As You See Fit
An in-house team gives you more control over your marketing efforts. With an in-house team, you can tightly align them around specific brand messaging and strategies.
For reputation-concerned companies, this is critical. Having complete control over the messages that your prospects see and the way that they connect with those messages simply provides higher levels of control.
Another benefit of an in-house marketing team is that they are moldable. Yes, you hire each individual employee with a specific set of skills and experience. But you aren't limited to the specific channels and strategies that they have experience in forever. You can train them in any channel of discipline that you'd like as you expand your marketing operations.
Employees appreciate it, too. Providing them with opportunities to expand their skillset and experience is a career development opportunity that all marketers can get behind.
Create Alignment with Sales, Marketing, and Success Teams
Alignment — the state that all companies are chasing but few ever truly reach. Creating alignment between marketing, sales, and success teams toward a common goal is a consistent worry for most companies.
With an in-house team, you have a fighting chance at creating comprehensive alignment. With everyone working in-office, the level of collaboration and data sharing required to reach that state is possible. Over time, you can break down barriers that make it difficult to facilitate alignment and slowly creep toward that goal.
Having that level of alignment with a marketing agency is more difficult and in most cases, impossible. The close-knit relationships simply don't exist at the same level with an agency.
That isn't to say that you can't help to create a situation where agencies work toward alignment. But you may need a person (or team) in the middle helping to facilitate that process and keep both teams moving in the same direction.
Focused specializations are key to creating complex integrations and setting specific goals.
When it comes to marketing and sales alignment, sometimes it takes an outside agency perspective and specific experience to align the two cohesively and provide a scoring system and metrics to work towards in the marketing funnel and sales pipeline
An agency can ask the right questions which saves valuable time and ensures expectations are met before starting a complex integration or automation system set up, while you focus on what you want to achieve with the new technology.
-Christie Plummer, Marketing Operations Manager, VSSL Agency
Speedy Communication and Problem Solving
In-house teams have less problems with communication. Decisions can be made on the fly. Messages can be changed and tweaked based on new information. For companies in fast-paced industries, this is critical. An agency may be able to more swiftly launch new campaigns or test new channels, but their communication will always fall behind having an in-office presence.
Having agencies switch gears is a more complicated process. It's a lot like turning a giant cargo ship — they may need weeks of notice and the transition from one direction to another will be slow going. There may be bumps in the road.
Having your team in-office to discuss issues as they arise and shape decision-making on the fly can't be understated. Agencies shine in a variety of different ways, but will never be able to replicate the communication delivered by an in-house marketing team.
Create a Close-Knit Team
Often overlooked, the bonds shared between members of your in-house team can help to drive performance. When people are working together, day after day, toward a common goal they become invested in each others' success. While the best agencies will work closely with your brand, they just won't be able to match the closeness of a team that works on the same projects, in the same space every day.
Benefits of Working with an Agency
While an in-house team certainly has some key benefits, there are some real benefits to working with an agency as well. Agencies deliver a level of specialization and flexibility that is difficult for in-house teams to match.
Some of the benefits of working with a marketing agency include:
Leverage Specialization
One of the biggest benefits of working with a marketing agency is the level of specialization that most agencies can provide. The agency itself might specialize in a specific industry, channel, or strategy. Even when you work with generalist agencies, the individual members that make up the team will still have their own narrow fields of focus that can be leveraged.
There are many different ways in which an agency can specialize, to the benefit of their clients, including:
By Channel. An agency or its employees may specialize in a specific channel, such as organic search, Facebook advertising, or radio advertising. Agencies that specialize by channel provide an excellent opportunity to plug-and-play, filling gaps in your in-house marketing operations.
By Industry. Agencies that specialize in a specific industry will have a deeper understanding of your market and customers. This can help to cut down on onboarding time and ensure that both teams are on the same page.
By Technology. If a specific technology — like HubSpot or Salesforce — plays a critical role in your marketing operations, you must find an agency that has experience with that specific technology for implementation and day-today operations. Some agencies only work with specific technologies and can deliver deeper insights and higher value consulting on topics surrounding that technology. For example, HubSpot keeps a database of agencies that specialize in working with their software. The agencies included on this list go through a detailed vetting process.
By Strategy & Tactics. Even more specific, an agency might specialize in a specific strategy or tactic, making them a simple fit for in-house marketing teams that want to deploy those strategies but lack the in-house talent to do so. An agency may specifically deal with video production, graphic design, content production, or other creative services, for example.
Specialization provides flexibility that is often not possible with in-house marketing teams, which are often more focused on hiring more well-rounded employees.
Nicole Tennyson from RevenueRiver, an Insycle partnered agency, shed some light on how working with an agency allows companies to tap into specializations and experience that would otherwise be difficult for them to obtain in-house:
"Organizations often assume that it has to be one or the other; maintain an in-house marketing team or hire an outside agency to manage marketing efforts. While that may seem like the more economical approach, it's not always the case.
Hiring an agency to support your internal marketing team allows you to tap into specializations – like SEO, website design & development, sales enablement, or video production – that may otherwise be out of reach or require significant investment. Additionally, combining your internal skillsets with those of an agency gives you the ability to do more with less, for less.
It allows your internal team to maintain ownership over goals, dictate the campaign vision, and focus their efforts on the areas they excel in while offloading other, more specialized responsibilities to expert resources. Integrating an agency into your existing marketing team and strategy should not be cause for friction – it should maximize output, optimize marketing spend, and drive bottom-line results"
-Nicole Tennyson | Client Success Manager, RevenueRiver
Cost Savings
An agency can also deliver significant cost savings over hiring in-house as well. When you hire in-house, you are responsible for paying their full salary, providing benefits, as well as additional costs such as office space, transportation to conferences, technology investment, etc.
Take a look at this graph from Orbit Media showing how the average marketing salaries for a variety of marketing positions have rapidly grown in the last three years: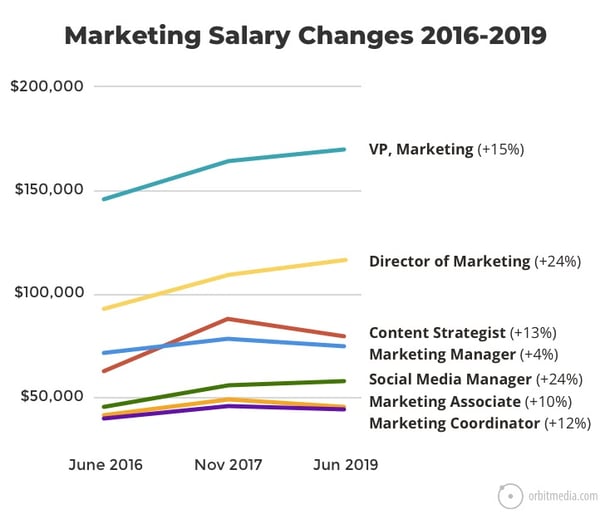 Source: Orbit Media
The cost of your engagement with an agency will depend on scope, but you can almost always guarantee that it will be cheaper compared to bringing similar talent in-house.
Scalability
When you work with an agency, scalability is another huge benefit. Whether you are paying a set monthly price or per-hour, agencies are always able to assign more resources to your account, allowing you to quickly ramp up attention and production.
Trying to scale an in-house team is slow going. Evaluating candidates for the position can take months, then you still have months worth of familiarizing and onboarding before a new employee is fully up to speed.
Working with an agency can drastically cut down on the amount of time it takes to try new channels, launch new strategies, and test tactics.
Flexibility
Agencies also provide a level of flexibility that is impossible to replicate in-house. If you are engaging with an agency for SEO and want to switch gears to a more paid advertising-centric approach, agencies can re-assign resources and switch gears within a matter of weeks, not months. In organizations where agility and flexibility in marketing is critical for success, supplementing your in-house strategies with agency partnerships can deliver that needed ability to turn the ship at a moment's notice.
Retain Focus
When you insist on handling all aspects of your marketing strategy in-house, that means that you are hiring talent across a wide range of disciplines. It can make it difficult to retain a specific focus on certain channels and strategies that have historically performed well for your company and may require a delicate touch to be effective.
Outside Perspective
Sometimes enlisting an outside perspective is just what we need to see the big picture. Maybe your internal teams are missing something important or lack understanding of a critical component (such as a piece of technology) of their marketing strategies, limiting their success.
Agencies and consultants can help us to see the forest through the trees. When you're in the trenches for your brand each day it can be easy to develop a case of tunnel-vision, where you zero in on aspects of your own strategies but miss critical pieces of the bigger picture that inhibit your success.
No single team can be a master of everything. Agencies provide you with the flexibility, agility, and expertise to fill in skill gaps, leverage more channels, and provide better experiences to customers.
Here's what Bryan Gorman of Nextiny Marketing had to say about working with in-house teams and combining their industry knowledge with the agency's strategic experience:
"Working with in-house marketing teams certainly has its advantages. As an agency, it can be very challenging when familiarizing yourself with all the nuances of a company and industry.
In-house marketing teams are closer to the heart of their business and therefore able to provide context to the details that takes time for agencies to uncover. Whenever we work with in-house teams, we try to make sure that we can leverage all of their knowledge and quickly implement it into the strategies and processes that we've proven creates success for our customers."
-Bryan Gorman, Growth Analyst NextinyMarketing
How Combining Agencies with In-House Teams Could Work to Your Benefit
Too often, companies see two options on the table — either hire an in-house team, or work with an agency. The decision doesn't have to be so black and white. An agency could complement your existing in-house team in a variety of ways:
Fill In Skill Gaps
Sometimes you may just want to leverage a channel or technology without making a huge investment — those are the perfect situations for agencies. Your partnership with an agency can serve as a long-term partnership or a testing period to see how a specific channel or strategy performs for your business.
Filling in skill gaps is one of the premier benefits of working with an agency. It reduces the required investment to test out new strategies and gives you the flexibility to quickly scale those strategies if they are successful.
Scale with Lesser Investment
Agencies give you the ability to scale quickly and effectively with experienced talent, without all of the costs associated with locating, vetting, hiring, and onboarding an in-house team member. In fact, with many agencies, it may be as simple as having a discussion about your areas of focus and the way that allotted hours are spent.
With agencies, you don't have to worry about paying employees a salary. In-house employees are also more difficult to move on from as there cultural and legal concerns that come with dismissing an employee. You also don't have to invest in benefits like health insurance or additional costs that come from housing more people at your location.
Access to Premium Talent
Agencies hire talent that is suited for very specific roles. When you hire an agency to manage your PPC campaigns, you are gaining access to talent that has often spent their career learning and understanding a specific channel or strategy. Yes, you could hire people with specializations for your in-house team, but what if the channel doesn't deliver the results that you were hoping for? Agencies deliver access to premium talent without the investment.
Treat Service Stacks like Tech Stacks
One often overlooked benefit of working with an agency is the fact that you can often engage with multiple agencies across several specializations for lesser cost than you would hiring your own in-house team. For example, you could work with separate agencies for different channels — SEO, PPC, television advertising, affiliate programs — to cover your bases and deliver a well-rounded, multi-channel strategy.
Develop Beneficial Long-Term Relationships
A relationship with a quality agency is a relationship that companies will be able to draw on for years to come. You can grow or minimize your engagement as needed and always come back to them as new needs arise. The ability to tap into a pool of talented employees whenever you need can't be overstated.
Here's what Emily Craw of Revenue River, an Insycle partner, had to say about developing relationships with in-house teams:
We are lucky to have several successful relationships with clients that extend past a few years. Particularly, one client relationship that is spanning into 5 years. From marketing, web services, sales enablement and now multi-media, both of our teams have been able to grow together and transform into one power-house team.
Though our organizational structures are completely different we have managed to not only succeed together but build lasting and trusting relationships, despite being miles apart.
The added benefit of long-term relationships is the historical context our team has when approaching marketing and sales strategies. We have years of experience working with them specifically, and in their industry, to understand what has worked and what hasn't.
-Emily Cray, Integrations Development Manager, Revenue River
Agencies Are a Useful Tool to Save Money and Fill Gaps
Engaging with agencies to complement your existing in-house team can be a great way to save money, fill skill gaps, and maintain a level of adaptability that just isn't available when you are dead-set on hiring in-house.
Agencies can help you to cover specific channels and strategies while providing an outside perspective that could help you to view your own in-house efforts in a positive light.
Do you have an interesting story to share about your experience working with agencies? We would love to hear from you and collaborate on future articles.