With the announcement of the iOS 15 update for mobile devices, Apple debuted several new privacy features. These features have been a part of a months-long rollout of a new privacy policy update, as Apple positions itself at the forefront of consumer privacy moving forward.
Chief among these for email marketers are the "Mail Privacy Protection" and "Hide My Email." features.
According to Apple, "Mail Privacy Protection stops senders from using invisible pixels to collect information about the user. [It prevents] senders from knowing when they open an email and masks their IP address so it can't be linked to other online activity or used to determine their location."
The "Hide My Email" feature allows users to use a "dummy" email, obscuring their true email from the companies whose newsletters they subscribe to.
The announcement sent shockwaves through the email marketing community. Between Apple iPhone, Apple Mail, and Apple iPad accounts for more than 50% of the email client market share worldwide.
With most companies using open tracking as their primary metric for optimizing their campaigns, that means adjustment.
Email service providers, in-house marketing teams, and agencies alike will need to figure out what these changes mean for their companies, how they plan to prepare and deal with the changes, and figure out what needs to be done before the updates go live in the fall.
For this article, we will be primarily focusing on the changes to email open tracking on iOS devices, what that means for companies who rely on it, and why data quality will play an even more important role in email marketing operations.
Let's start by examining how the introduction of the Mail Privacy Protection feature will impact email marketers.
What Do The iOS 15 Changes Mean for Email Marketing?
The rollout of the Mail Privacy Protection feature will impact email marketing teams in several ways.
With more than 50% of the email client market share, marketers will either have to work with significantly reduced data or ditch open tracking altogether.
These include but are not limited to:
Email Open Tracking Will End on iOS 15 Devices
Come fall 2021, email marketers will no longer be able to track when a recipient opens their emails using iOS 15 devices.
The issue is that email marketers have been optimizing around open rates as the default email marketing metric for years. Companies with more advanced email marketing systems may have entire systems, with branches of sequences and triggers based around email opens — where they are opened, when they are opened, and what actions the user takes after opening.
This update will require a shift in thinking and strategy for engaging with iOS users and potentially email users at large.
So that begs the question — without the ability to track open rates for iOS users, what will email marketers use to optimize their campaigns?
A Shift In Focus To New KPIs
Email open rates are the primary metric for optimization and list hygiene cleaning, and will not be available for iOS subscribers moving forward.
Every company that uses open rate as a primary KPI will need to find new ways to measure engagement from iOS subscribers.
The KPI that each company adopts will depend on its overall strategy and goals. An eCommerce company would not likely define success in the same way as a high-ticket B2B service, and their KPI prioritization will differ.
With the changes, companies have numerous KPIs that they can adopt, including:
Click-Thru Rate (CTR). How many people are clicking the links in your emails?
Conversion Rate. With each send, how many people end up converting on your call to action? Whether that is buying a product, reading an article, signing up for an event, replying to the email, or following your brand on social.
Revenue Per Email (RPE). How much revenue does each message send generate across the entirety of your campaign?
Return on Investment (ROI). All expenses factored, what was the return generated by your email campaign?
Unsubscription rate. Are you hemorrhaging subscribers? What effect is your messaging having on list retention and growth?
Companies may adopt some combination of the above metrics to evaluate and optimize their email messaging for iOS users after the iOS 15 update.
We asked Joseph Siegel, a Klaviyo agency partner, about his thoughts on how companies will need to respond to these changes:
"A positive customer experience should be a top priority now more than ever. Evaluate if your emails are improving the customer experience or damaging it. Build out segments that don't rely on open rates, such as ones based on recency, frequency, and monetary value. Focus your attention on leads sources that bring engaged customers to your brand and cut out ones that don't."
Maintaining List Hygiene Becomes More Complicated
Opened emails have been the de facto metric used in pruning email lists of unengaged contacts. To consistently improve engagement and deliverability, pruning unengaged contacts needed to be done consistently.
Often, companies will remove unengaged contacts that haven't opened an email in 3 months/6 months/1 year — whatever makes sense for their situation. If a subscriber isn't even opening your emails, there is no reason to continue emailing them.
But without reliable open tracking, things become a bit more complicated.
You could use another metric, such as clicks. For example, if a subscriber hasn't clicked a link in an email in X amount of time, remove them from the list.
For an eCommerce store, pruning lists that way might be viable. But for educational newsletters, for example, this puts them in a tough situation.
What about subscribers actively engaging with your emails but never clicking a link? Maybe they read every email that you send, and can't wait to see what you send next. Well, that loyal and active subscriber would be pruned from your list using clicks as the defining factor.
This is a tricky situation where the solution is not immediately clear. Like most of the other changes from this update, different companies will handle things based on their situation and goals for the channel.
We asked Chase Dimond, Founder at ChaseDimond.com and Boundless Labs, what his thoughts on maintaining list hygiene were.
"After a user has stopped engaging with your emails for a certain length of time, we typically target a non-engaged segment with a Sunset flow which will be a last-chance attempt to get the user to interact with the content. With the loss of open/click tracking, this can prove difficult to continually prune and perfect the list. We will need to pivot towards more reliable methods for getting a pulse check from users, and marketers will need to reduce their dependence on open actions to define engagement."
Inbox Placement and Deliverability Become Harder to Track
Email open rates have been the primary metric used by marketers to track and monitor deliverability. Using your standard open rates as a baseline, a sharp decline can signal deliverability issues. Then, they can dig deeper into the reasons for the drop.
Without open tracking, deliverability issues will be harder to spot. Yes, you could use the other KPIs we covered — click-thru rate, revenue per email, and conversion rates — to spot deliverability issues. A sharp decline in those metrics could signal that something is off.
But they will always be more variable than open rates, which are typically much more consistent, with drops in open rate being a more reliable indicator that something is awry.
That doesn't necessarily mean that brands will be left in the dust though. There are software solutions that help companies to monitor and improve the deliverability of their emails.
Send-Time Optimization Considerations
Send-time optimization is the process of determining the best time to send email campaigns. Solutions like these allow you to optimize for open rate and send emails when they are most likely to be opened by individual recipients.
For instance, when a prospect continually opens emails during their noon lunch break, your newsletters will continue to be delivered at that time from then on out. For another prospect that checks their email in the morning, they will receive your campaigns in the early working hours. Most advanced send-time optimization platforms work by capturing only the time emails are opened and base their algorithms around this. While these platforms will have larger trends to work from, now these send optimization solutions may require those platforms to optimize sends around clicks or other metrics.
A great example of this is a company we've worked with for years, Seventh Sense. Their send time optimization technology was built from the ground up to constantly ingest different email engagement signals which include opens, clicks, device and how recently the engagement event occurred. It then uses this data to weight the importance of each signal with clicks being valued significantly higher than opens and in fact, goes as far as giving more favor to clicks happening on desktops than on mobile devices. Additionally, the system learns and adapts at the email subscriber level as more signal is created on that individual.
We reached out to Mike Donnelly, Seventh Sense's CEO & Co-founder, to get his insight on what challenges he feels this might create for their technology and the industry as a whole.
"In my opinion, the byproduct of this and how it affects us isn't all that challenging and in some ways it's better.
The first thing to highlight is that our system is time zone independent and we don't do anything with IP addresses. So other send time optimization or martech systems that rely on this type of data are going to have some serious challenges in understanding where some people reside (i.e. time zone sending which relies on IP addresses to capture this information). This was also a growing challenge before Apple's announcement as corporate VPN's and Google already mask some of this data.
I think the biggest challenge for Seventh Sense will be the loss of open signals coming from people that use iCloud mail on their macs. Among our customer base, the population that does is much smaller as compared to google and outlook though.
On the plus side, while we'll all lose signals coming from iOS devices (which is obviously the most prevalent in the mobile world), this means we will be able to remove some of the signal that we already weighted very low. What I mean by this is that we've always weighted open signals coming from mobile devices far less than open signals coming from a desktop. The reason for this is mobile devices are great for triaging your inbox and passively reading content, but they aren't so great for taking real action. So in short, less signal will ultimately equal stronger signals. We've also historically thought of removing all open signals from mobile devices altogether, but now Apple is making that decision for us for open data coming from iOS.
Click signals also don't go away with this change and click signals are the most valuable anyway as it's a deeper form of someone showing engagement.
Just some thoughts off the cuff, but we aren't really missing a beat with the announcement. We actually see it as a bit in our favor due to the way our algorithms were built."
Geographic Tracking Implications
Previously, if you had not collected geographic information about a product, you could roughly estimate a subscriber's location based on their IP when they engage with your pixels. Then, you could use that information to further enrich your CRM records.
With iOS removing the ability to add these pixels along with the ability to hide your real email, it will be impossible to reliably discern prospect information in this way.
This will also affect regional and geographic-based campaigns that utilize pixel-load IP data.
Data Quality Becomes Increasingly Important
All of these changes culminate together to mean one thing for companies that rely heavily on email marketing — a need to improve the quality of their data.
Open tracking provided email marketers with a simple but effective way to track and monitor engagement.
But in some ways, open tracking acted as a crutch. Issues with their strategy and data could be overcome with smart subject lines and interesting previews. It allowed you to see what was working but may have kept companies from effectively testing new approaches.
In some ways, this change may end up being a good thing for email marketers, allowing them to build deeper, more personal connections with their audience.
Why Improved Data Management & Segmentation Help Email Marketers Prepare and Improve with iOS 15
The removal of open tracking in iOS 15 will require adjustments from companies that relied heavily on open tracking for their campaigns. Operations that leaned heavily on open tracking as a crutch may find themselves flying blind in a few short months unless they prepare.
Luckily, there is one simple step that any company can take to help them prepare for the changes coming with iOS 15 — improving the quality of their subscriber data.
In fact, for some companies that relied too heavily on open tracking, a shift in focus toward data quality could put them in a position to improve their email marketing results in the long-term, even without the ability to track opens from iOS 15 users.
Really? Data Quality? Why?
Because improved data quality will help you to do more with less data.
Let's examine.
Smaller Campaigns, More Thoughtful KPIs
Many email marketing operations leaned on opens as a primary metric for tracking engagement without having to break down their lists into more well-defined categories.
Open tracking often worked well enough to allow marketers to optimize larger lists as big homogenous units, pushing up open rates as they went. The need for deeper introspection and testing could be easily overlooked as long as the open rate numbers went up.
So in the end, removing open tracking may actually have a more positive effect on some companies, who will now spend more time evaluating the relationships that their email program builds, the revenue that it generates, and spend less time worrying about whether emails were opened.
Those changes will need to be led by a focus on data quality and segmentation.
Driving up click-thru rates and revenue generated per email requires that you ask more of your user. You're asking not just that they open your email — but that they open the email, click the link, and purchase your product.
Email marketers must deliver more relevant messages to each subscriber to do this. That means that list segmentation will be even more critical than it already is.
You wouldn't deliver the same messages to a CMO that you would a CEO. Their concerns are completely different, so they will need different messaging to respond.
Of course, segmentation has always been an important tool in the email marketing toolbox — but with the shift in KPIs — segmentation will only become increasingly important.
Additionally, because pruning lists of unengaged subscribers will be more difficult without open tracking, marketers will need to put more thought into how they go about downsizing their lists.
If they are using click-thru engagement to determine whether or not a subscriber is "engaged," they'll need to make sure that they have given subscribers ample time to take those engagement steps before removing them from their lists.
This means using a longer period to define unengaged contacts. With open tracking, if a prospect hadn't opened an email in six months, there is a good chance that they will never open one of your emails again. With click-thru tracking, you may need to stretch that number to a year or more. Every company will be different, depending on the types of campaigns they send and the goals of those campaigns.
One benefit of the focus on segmentation and more relevant messaging is that companies will glean more useful information from their email marketing. As they shrink the size of the lists that they are emailing to, they'll learn more about how each segment responds, and how to engage with them moving forward.
To Improve Segmentation & Personalization, Companies Will Need to Commit to Improving Data Quality
Your average CRM is filled with all kinds of data issues — duplicate, incomplete, incorrect, low-quality, invalid, fake, etc.
Those data issues impact your ability to segment your lists, personalize your messages, and ultimately react to the changes being introduced in iOS 15.
Let's look at how.
For segmentation, let's say you wanted to send a campaign to a specific group of people — travel industry CMOs in Louisiana, who work at companies with at least 250 employees.
Creating that segmented list requires multiple data points for each prospect — industry (travel), job title (CMO), state (Louisiana), and employee numbers (250+).
Segmenting down that far allows you to speak very specifically to each individual prospect.
However, it also requires that the quality of your data is up to par to facilitate building those segments. Each field could contain the usual problems — inaccurate information, typos, and unstandardized data that causes some prospects to be left off of your list.
For instance, travel industry contacts could appear in your CRM under multiple industry labels — Travel, Tourism, Aerospace, Railroads, etc. These may still be accurate descriptions of the companies they work for, so figuring out how to condense them into standardized industries might be more difficult than you'd originally think.
The same can be said for the job title as well. CMOS can be listed as:
CMOs
C.M.O.
Chief Marketing Officer
CMO and Co-Founder
Director of Marketing
Head of Marketing
Dir of Marketing
Etc.
All of these are essentially the correct job titles to be contacted for the campaign that you are running. But there are potentially dozens of different ways that it can be represented. You'll need to either map job titles to personas, or standardize the job titles consistently, in order to segment by job title before the campaign can go out.
States need to be standardized and employee numbers need to be collected and accurate to have the desired effect.
With the importance of segmentation and personalization growing from its already heightened state, the need for quality, consistent customer and subscriber data becomes abundantly clear.
But how do you go about improving the quality of your customer data?
Well, typically the process is quite painstaking. You'll have to select the records you want to cleanse, export them from your CRM, then open them in Excel and use complicated Excel formulas to identify and correct issues in your records. Even then, you'll likely miss many of the issues inside of your CRM database.
Or, you could hire a developer to help you fix issues, but that pulls them away from their other tasks.
If you'd like to avoid both of those, Insycle is here to help.
5 Ways Insycle Can Help You Prepare For The iOS 15 Changes
With the introduction of these privacy changes in iOS 15, email marketers and the companies that they work for have several issues that will become critical points of contention as they look to best position themselves for success when iOS open tracking goes by the wayside.
Insycle is a complete modern data management suite that helps you to identify issues in your CRM, fix them, monitor data health on an ongoing basis, and automate your data cleansing processes.
Here are 5 ways that Insycle can help companies to deal with the impending changes in iOS 15:
1. Identify Issues In Your CRM Database With the Free CRM Data Grader
Often, companies operate in a state of limbo where they have some awareness of their data issues but have no way to accurately measure how prevalent specific issues are inside of their CRM database.
Insycle's CRM Data Grader can help them to take the next step.
The CRM Data Grader app lets companies analyze your CRM database, understand how much "bad data" you have, and identify issues to fix with one button click.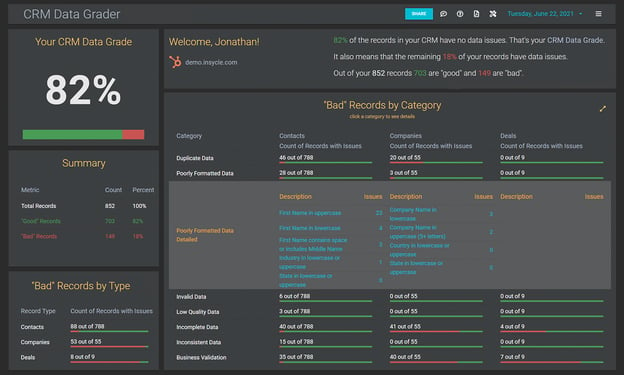 Source: CRM Data Grader
With a few button clicks to integrate the CRM Data Grader app with your CRM, you can quickly identify all of the issues in your database and receive an overall CRM data grade.
This percentage shows you the percentage of "good" records in your database — or records that do not contain any pre-defined common data issues the app is checking for. It's a straightforward way to understand your current data issues while giving you a KPI to use for tracking improvement.
"Bad" records, or records with issues, are identified directly in the app.
Then, you can break those "bad records" down to the specific types of issues that CRM Data Grader found in your CRM data:
The CRM Data Grader is a free tool, you can download a PDF report of your data quality grade and share it with your team.
2. Cleanse Common Data Errors
Insycle makes it easy to fix common data errors in your database. Insycle includes tools that will help you fix a wide range of issues for all major default and custom fields, including duplicate contacts, standardization and consistency issues, misspellings and typos, and problematic data that makes filtering and segmentation more difficult.
Here's an example of how Insycle could help you to fix issues in your "First Names" field. You've probably received a marketing email that included errors in your first name or didn't use proper capitalization.
Using Insycle, you can solve multiple formatting problems in one simple process. Take a look at this screenshot for example: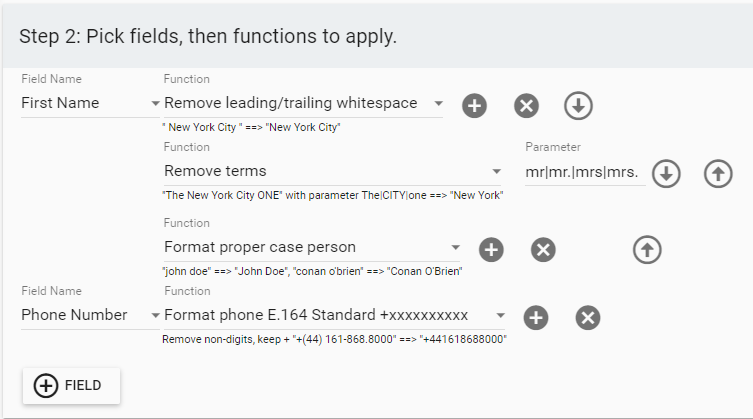 Using the "Transform Data" tool and the "Format First Name" template, you can:
Remove extra whitespace from the name
Remove terms (Mr./Mrs./etc.)
Properly capitalize the name (even for more advanced cases like "O'Brien")
Then, you can run this process anytime that you need to fix first names in your CRM database.
And this is just a single example of how Insycle can help. These same types of fixes can be completed for any field in your database.
No more complicated Excel formulas or pulling your development team away from their projects to identify and fix basic data issues.
3. Merge Duplicate Contacts Using Advanced Record Matching
Duplicate data is a big problem for email marketing operations. When you send the same person multiple emails across different accounts, you inject bad data into your reporting that can cause you to make uninformed decisions in future campaigns. You can also harm the reputation of your brand in the process.
But the problem is that most CRM systems, when they do offer deduplication features, only allow for very basic "exact match" ways to identify duplicates. They may not even allow you to identify contacts with different emails, because they may use the "Email" field to identify the duplicates, depending on the platform.
But not Insycle. Insycle allows you to advanced "fuzzy" matching to identify duplicate records that are similar and not exact, using any field in your database to match the duplicate records.
Let's take a look at an example: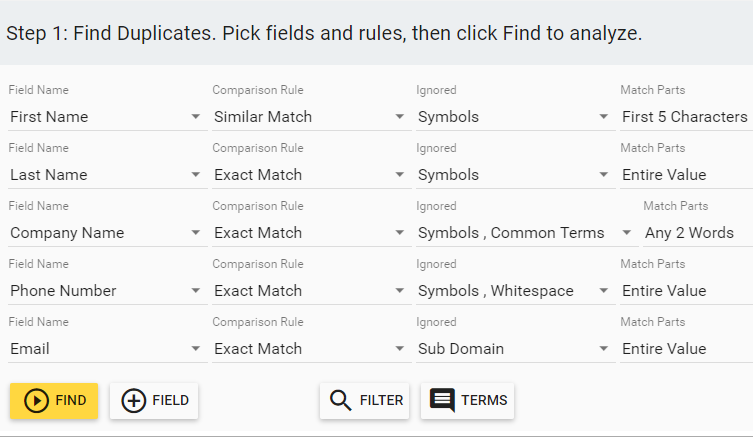 Using Insycle, you can create advanced formulas and prioritization for finding duplicates in your database.
You can choose "Similar Match" or "Exact Match" on a field-by-field basis. You can also choose to ignore things like symbols, common terms, or whitespace. Then, you can even define which parts of the field you want Insycle to use in the matching process — the first five characters, any two words in the field, the entire field value, etc.
Using Insycle, you'll be able to identify more duplicates in your database in advanced ways, allowing you to improve the accuracy of your email marketing reporting, decrease excess campaign costs, and preserve your company's reputation.
Then you can automate the deduplication process and run bulk operations to eliminate duplicate issues.
4. Standardize Critical Fields for Segmentation
Insycle also allows you to standardize your data easily for segmentation. And — you can standardize any text field in your database.
Here's an example.
Using Insycle, you can standardize job titles. For instance, you could standardize all relevant job titles to "Vice President of Sales", including:
vp sales
VP sales
vp of sales
vice president sales
Sales VP
vice president of sales
VICE PRESIDENT SALES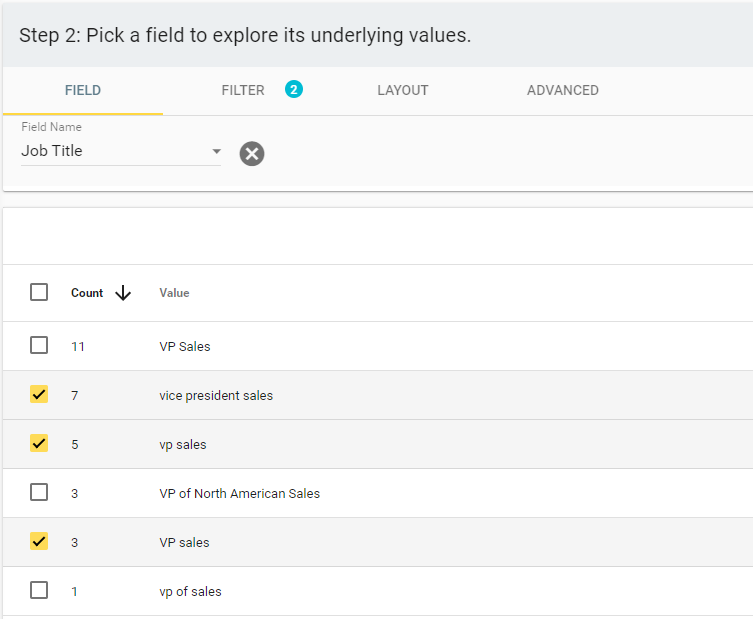 With full standardization, you can create advanced segments, allowing you to speak more directly to each of your customers. The more targeted your campaigns are, the better relationships that you will build with your customers and the less impactful the iOS 15 update will feel.
Or map inconsistent job titles to personas: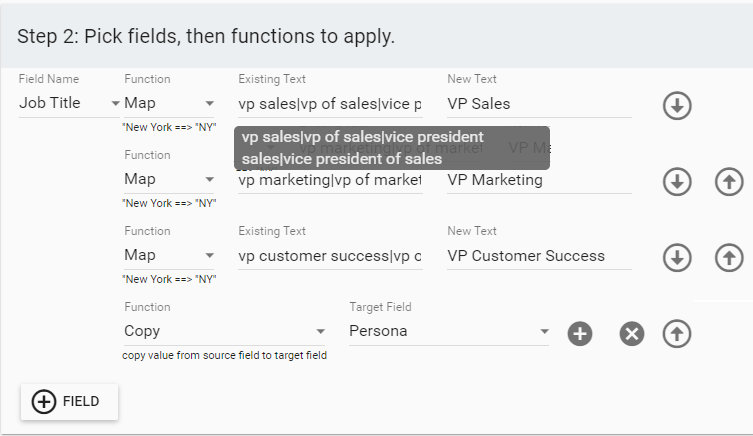 5. Monitor and Automate Your Data Cleansing
Data Cleansing is never a one-time task. New customer data is always flowing into your database, and with it, a host of errors and issues that could inhibit your future email campaigns.
But Insycle's Customer Data Health Assessment makes it incredibly easy to monitor issues in your database on an ongoing basis.
You can see the types of errors in your database and monitor your progress in dealing with them over time: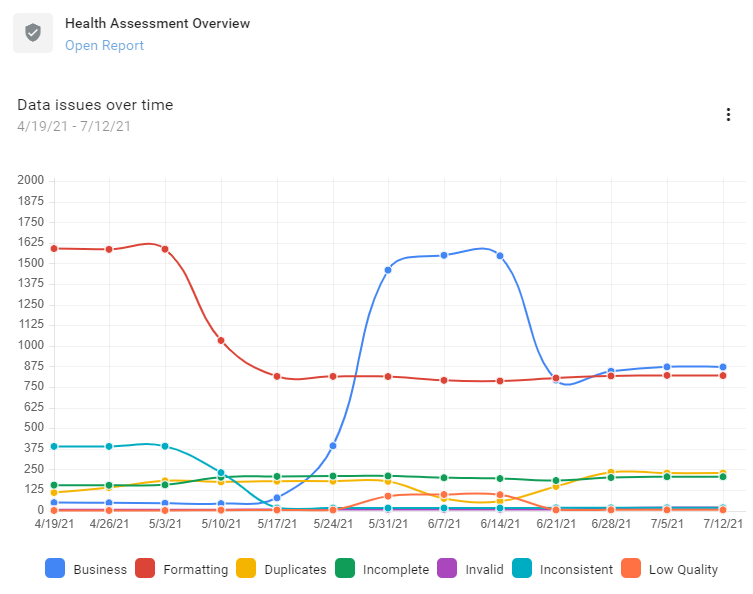 Then, using the tools inside of Insycle, you can fix those issues.
But fixing those issues doesn't have to be a one-time thing. You can automate your cleansing processes to run regularly, automatically:

Imagine never having to worry about your most pressing data issues again when building your email marketing campaigns.
Learn More About The Free CRM Data Grader
Worried about what the changes in iOS 15 will mean for your email marketing operations?
For companies that relied too heavily on open tracking, a shift in focus toward data quality could put them in a position to improve their results from email marketing in the long-term — even without the ability to track opens from iOS 15 users.
Need to sharpen your customer data to prepare? Insycle is a complete customer data management solution that gives email marketers the tools that they need to run better, more effective email marketing campaigns. Without Insycle, the cost of bad data is a major blind spot for marketing and sales leaders and a roadblock for execution by their teams, especially given the increasing trend toward digital go-to-market.
Want to gain more visibility into the data issues in your Salesforce database? Learn more about the free CRM Data Grader.