If you have dealt with missing associations before, you know what a pain they can be. Associating contacts, companies, and deals is critical for effective marketing, sales, and support. When they are missing, prioritizing leads is difficult and sales reps step on each other's toes. Account-based marketing becomes difficult as you fail to engage effectively with important stakeholders. Ultimately, missing associations cause the customer experience to suffer.
Properly associated records are critical for your overall data health. Only 3% of companies meet basic data quality standards, and 57% of marketers see diminished results as a result of misinterpreting data.
And there are many potential causes of stray, unassociated contacts in HubSpot CRM.
Any channel that adds contact data to HubSpot can be a source of unassociated, free-floating contacts. This includes customer and employee-facing forms, software integrations, API-added data, imported lists, and migrations, among others. The more data you collect, the more association issues you will likely have.
Then there are further complexities, such as parent and child company hierarchies. Ensuring that contacts are associated with the correct company in that hierarchy is critical for engaging with stakeholders up the line.
And dealing with association issues in HubSpot can be complicated. Hubspot uses contact email domains and company website domains to match contacts to companies. While that works for many unassociated contacts, it is not ideal for every contact, leaving stray contacts floating in your database.
You may want to use other data—such as phone numbers, addresses, IDs, or other unique identifiers—to create associations more flexibly. But this usually means setting associations by hand or exporting data and using complicated Excel formulas to identify matches and set associations. And these problems are compounded by the way that the HubSpot automatic association system works.
In the end, maintaining associations in Hubspot CRM is more difficult than it would initially seem.
Why Associations in HubSpot Can Be Tricky
In HubSpot, contacts can be automatically associated with companies based on their email domain. That email domain is matched to the Company Domain Name of a company record in your database. If the contact has a free email account (like gmail.com or yahoo.com), HubSpot will also look at the contact's Website URL to associate the contact with a company's domain name.
If the contact has a company email domain, but there is no record for that company in your database, HubSpot will automatically create a company record and populate it with information from HubSpot's central database. These associations happen automatically whenever they are detected by HubSpot. If they are not detected, the contacts are left unassociated with a company.
In theory, this sounds great. Why wouldn't you want associations to happen automatically? Often, you do.
But in some situations, such as with franchises, HubSpot may associate thousands of employees with a single company when you want to treat each branch as a separate entity. Additionally, you may not always want to use email domains to associate contacts with companies. While HubSpot's automatic associations are able to create many accurate associations in your database, the other problems they create will require ongoing attention.
Company Email Is Not Always the Ideal Field for Associations
Contact emails may not always match their intended company in your database. For example, a founder of multiple companies may have multiple emails, and their contact record may be accidentally associated with the wrong company.
Another example comes from franchises. Let's say that you wanted to associate contacts who work for Keller Williams Realty. They all have a Keller Williams email address, so HubSpot will associate them all with the same company. However, Keller Williams is a franchise, and these contacts work for independent branches and offices around the U.S. The branches need to be treated as separate companies with associations to match.
There are many other fringe cases as well. What if the company's domain name is "company.com," but your contact is still using an email from its previous domain name, "company.io?" There is no way to match them in HubSpot.
In some cases, you may want to associate using company names and not domains. This is popular among retail companies, who may not collect email addresses from their customers.
Another example of complicated association problems comes from HubSpot's LinkedIn integration.
HubSpot creates a contact record and pulls the contact's email listed on LinkedIn. This is an issue because many people use their personal email address on LinkedIn, not their company email, leading to duplicate contacts and missing associations.
HubSpot's Automatic Association Has Some Inflexibility
HubSpot's automatic association feature must be toggled on or off.
In other words, either HubSpot is automatically associating all of your contacts with matching companies, or it is associating none of them. There is no way to turn on automatic association for a segment of your contacts. You must buy into automatic association and all of the problems that come with it, or find an alternative method for setting all of those associations. And if you haven't had automatic associations turned on, toggling it runs the risk of creating many false associations at once and leaving a big mess to untangle.
That isn't to say that HubSpot's automatic association is a bad idea. In most cases, the feature catches a large majority of stray contacts. For most companies, it is a good idea to keep it turned on. You can also exclude domains from automatic association so you don't end up with, for example, a bunch of franchise employees associated with their parent company when you want to treat each as a separate entity.
But what if there is a problem? What if you turn this feature on and automatically associate 4,000 Keller Williams Realty contacts with their parent company, instead of their local branches?
Unfortunately, there's no way to undo the associations once they are in place. You'll be stuck fixing all of those erroneously associated contacts by hand. Or more likely, you'll just decide that it's not worth your time and figure out a workaround, or ignore the account entirely.
HubSpot's automatic association isn't perfect. Whether or not it's turned on, you will have to find another way to deal with unassociated contacts.
Often, this means matching and setting associations manually or through Excel.
Multiple Associations Complicate Management
Multiple associations and association labels in HubSpot add another layer of complexity to association management in HubSpot.
A single contact could be associated with multiple companies. They may hold roles in subsidiary companies. They may sit on the board of a company that is not their employer. They may be a Founder that has founded several companies. They may work as a consultant for other companies.
Managing these advanced situations is often handled manually, which is not viable long-term.
Association Issues Are Painstaking to Fix
Whether you have automatic association turned on or off, you are certain to have unassociated contacts in HubSpot CRM. Workflows might seem like a good way to create associations, but they won't work when multiple fields on different records are involved.
Associations that can't be made using HubSpot's automatic association feature must be completed manually, or by exporting and reimporting contacts with the associations in place.
Associating contacts, companies, or deals manually is very time-intensive. You have to navigate to the HubSpot Contacts page, find the relevant contact, navigate to their profile page, and then manually add the association.
For a single contact, this could take less than a minute. But across thousands of contacts, you can see how the time quickly adds up. And that work is monotonous. Employees certainly aren't happy to do it.
Working on associations from Excel isn't much better. Building Excel formulas that can detect matches isn't easy. To do so, you'll likely need help from a developer, but that requires taking them away from other important projects. While manually adding associations is quicker in Excel than through the HubSpot interface, it still takes time to analyze the data, identify the correct company, and input the association information.
Insycle Delivers Bulk Association with Flexible Matching
Insycle enables you to associate contacts with companies in HubSpot, in bulk, flexibly and automatically. You can associate using any field in HubSpot CRM, including Account Name, Website Domain, Phone Number, and Address.

You can add, remove, or replace associations, in bulk and automatically.
If you have any incorrect associations in HubSpot, Insycle can re-associate in bulk using the Replace feature. This takes a complex multi-step, partially manual process and trims it down to one step.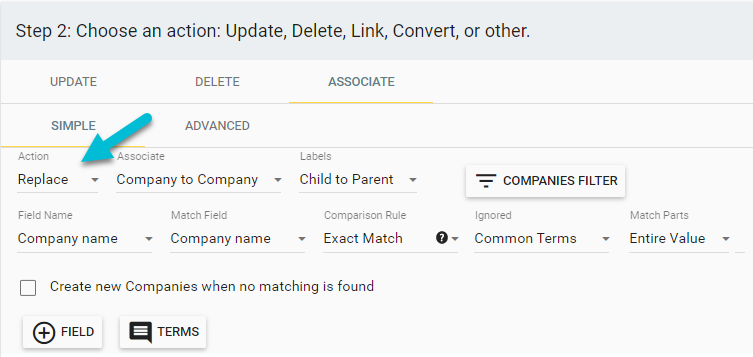 Using the "Replace" feature to overwrite incorrect errant associations
Additionally, Insycle allows you to create multiple associations in bulk, such as associations to primary and secondary companies, and any other association label in your HubSpot CRM database.

Additionally, you can create consistent associations across multiple platforms. For example, you could use the Salesforce Account ID field to identify the right company to associate with from Salesforce, while associating in HubSpot.

When you sign up for Insycle, Insycle will analyze your HubSpot CRM and generate your Customer Data Health Assessment. That report will detail common data issues in your database and track their prevalence daily.
The report automatically tracks records that are missing associations. Clicking the "Review" button will take you to the appropriate Insycle module where you can deal with the problems using a preloaded template.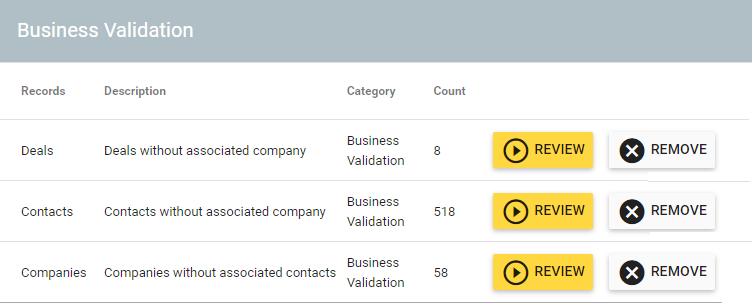 Insycle allows you to associate records on import as well, ensuring that you do not have to fix associations after the contacts are added.
Insycle Provides a Better Experience with Contact-to-Company Association in HubSpot
HubSpot contacts, companies, and deals that are missing associations will harm your marketing, sales, and support initiatives.
Insycle allows you to associate any type of record in HubSpot CRM, in bulk, using flexible rules. With Insycle's advanced matching, you'll identify and fix more records that are missing associations.
But associations are just one small aspect of a much broader initiative. Your HubSpot is likely filled with thousands of data issues—some you may know about, some you do not. Insycle is a complete data management app that enables operations teams to identify and fix CRM data quality issues in bulk and automate data maintenance. Without Insycle, bad data represents a significant but often-overlooked hurdle for marketing and sales teams.
Are you tired of having to manually associate HubSpot records? Learn more about Insycle's HubSpot association features and discover how you can associate HubSpot contacts, companies, deals, and custom objects, in bulk and automatically.