Seamless integration between different platforms is not just a convenience, but a necessity in e-commerce. However, platforms don't always play nicely together out of the box. Businesses leveraging the power of HubSpot and Shopify realize this truth all too often.
The standard integration between these two platforms creates a HubSpot deal for every Shopify order, a feature that is undoubtedly useful. But these deals are not associated with a company in the system, which is a significant gap in the integration process that can cause major complications—particularly for businesses operating in the B2B sector.
Accurate segmentation, reporting, and analysis depends on visibility into the companies and accounts connected to a business's Shopify orders. Without it, C-suite decision-making will suffer.
Speed is also critical to large B2B e-commerce orders. Customers want to hear from reps and receive proactive updates about their orders in a timely fashion. Often, their business depends on it.
But you won't be able to meet their expectations if the deals that are created as a result of your Shopify integration are not appropriately associated to companies. Your proactive customer service response times will lag, potentially damaging relationships with large accounts and hampering growth.
The HubSpot-Shopify Integration Limitations and Business Impact
The HubSpot-Shopify integration is a powerful tool that allows businesses to synchronize their e-commerce data with their marketing, sales, and service data. This integration creates a HubSpot deal for every order placed on Shopify, providing businesses with valuable insights into their sales processes and customer behaviors.
However, there's a crucial piece missing in this integration puzzle. While the system is efficient in creating deals, it does not associate these deals with a company in the system. This means that while you can see the transactions happening, you can't directly link these transactions to the companies making them. And while you can instruct HubSpot to associate deals to companies, there is no way to apply these changes in bulk.
Without the ability to associate deals with companies reliably, businesses face difficulties in tracking customer purchases at a company level. Then they will lack understanding of a company's buying patterns, which hinders their ability to provide personalized marketing and sales efforts or make inventory decisions based on order cycles.
Moreover, this gap in the integration process can also complicate customer support. When a customer submits a support ticket, the support team may struggle to view that customer's purchase history if the deals are not associated with a company. This can lead to delays and inefficiencies in providing support, impacting customer satisfaction and retention.
Current Solutions and Their Limitations
As businesses grapple with the limitations of the HubSpot-Shopify integration, there are several less-than-ideal solutions companies typically turn to, each coming with its own set of challenges.
Ignoring the Issue
Some businesses choose to ignore the issue, accepting it as a limitation of the integration. However, this approach can lead to missed opportunities for improved customer relationship management and data-driven decision-making. Without associating deals with companies, businesses may struggle to gain a comprehensive understanding of their customers' buying behaviors at a company level and find it difficult to execute account-based marketing strategies.
Exploring Other Integration App Options
Another approach is to explore other integration app options that might offer a more comprehensive solution. The primary integration is maintained by HubSpot, but there are others available on the HubSpot App Marketplace.
However, finding one that perfectly fits a business's unique needs can be a time-consuming and often costly process. Additionally, switching to a new app may require significant changes to existing workflows and processes, which can disrupt operations. While third-party apps may be able to make the deal-to-company associations you need, they will always come with other considerations and nuances that can pose other challenges.
Custom-Developing a Solution
Some businesses may consider custom-developing a solution to bridge the gap. While this approach offers the most flexibility, it also requires significant resources, including time, money, and technical expertise. Furthermore, maintaining and updating a custom solution can be a complex and ongoing task.
Using a Data Management App
Finally, some businesses turn to data management apps to help them deal with the issue. These apps can provide additional functionality to help associate deals with companies. However, not all data management apps are created equal. Some may not offer the specific functionality needed, while others may be complex to set up and use.
There is a better way. Insycle allows you to address your missing deal-to-company associations in bulk and automatically on an ongoing basis.
How Insycle Eliminates HubSpot-Shopify Integration Issues
You don't need to endure missed associations or imperfect fixes in the standard HubSpot-Shopify integration. Insycle can effectively address the issue of associating deals with companies.
Bulk Associations With Advanced Targeting
Insycle's bulk association feature is designed to handle complex data structures and relationships. It can associate contacts, companies, deals, and even custom objects as needed, including child and parent associations. This means that no matter how your data is structured or what relationships exist between your records, Insycle can handle it.
Insycle can identify associations in your HubSpot-Shopify integration in bulk, using a custom field passed to HubSpot from Shopify, such as the Shopify Company ID field.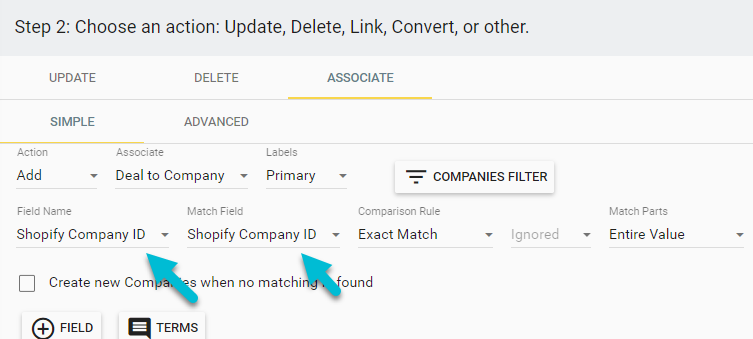 Advanced Matching and Flexibility
What sets Insycle apart is its advanced matching capabilities. You can be very specific about which records you want to associate, ensuring that your data remains clean and organized.
For example, you could ignore digits and whitespace from the Shopify Company ID field, and ensure that you are only comparing the raw IDs, to catch more associations.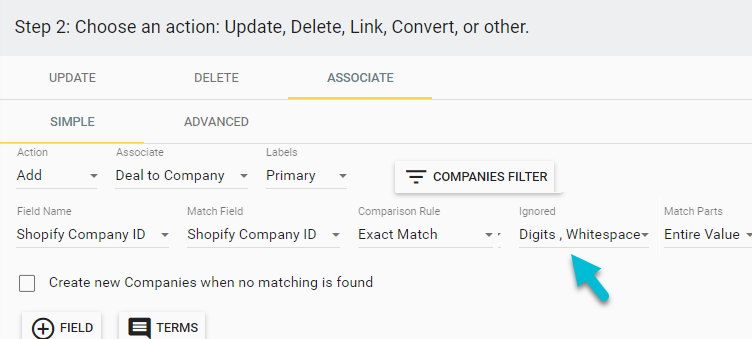 Automation
Then, with your template working, you can schedule it to run on a set schedule. For example, you could instruct Insycle to run the template automatically on a daily basis, to ensure that new orders are quickly associated with the correct companies.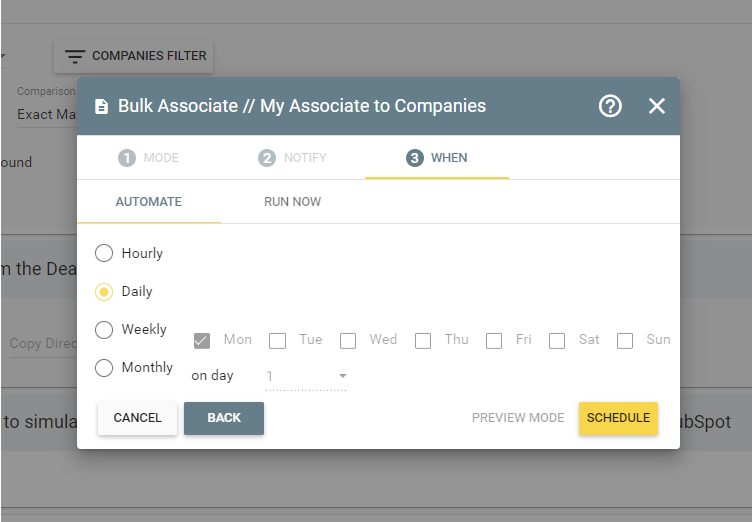 Addressing the HubSpot-Shopify Integration Gap
Insycle is a robust solution to the HubSpot-Shopify integration problem. With its ability to make bulk associations between deals and companies using any field as a potential matching field, Insycle offers a level of flexibility and control that is unparalleled. Its advanced targeting options ensure that businesses can create meaningful and accurate associations that enhance their data management and lead to better business outcomes.
A Complete Data Management Solution
But Insycle is more than just a solution to this specific problem. It is a complete HubSpot data management solution that can help businesses streamline their operations, improve their customer relationships, and drive growth. From cleaning up data and removing duplicates to importing and exporting data, Insycle offers a range of features that make managing your HubSpot data a breeze.
Discover the Power of Insycle
If your business is grappling with the limitations of the HubSpot-Shopify integration or if you're looking for a comprehensive data management solution for HubSpot, Insycle could be the answer. We encourage you to learn more about how Insycle can help your business overcome its data management challenges and drive success.