Salesforce, HubSpot, and other popular CRMs are giants of their industry. Millions of businesses power their customer relationship management, sales, and marketing through them.
They have to cast a wide net and appeal to a wide variety of potential customers. The broader that net gets, the more "holes" are left behind—data-related nuances that lead to unexpected behavior by the CRM and complicated data issues. Managing these issues often requires manual steps and complex processes.
A great example of this comes from Hubspot and Salesforce syncing. When synced, the "State/Region" and "Country" properties must contain standard values that will pass validation for Salesforce. Otherwise, the sync will break, and data updates will no longer flow between the two systems.
This is just one example of hundreds of small quirks that apply to any CRM. Companies may be tempted to handle these issues internally to save money. But it's easy to underestimate the number of data issues that you have—not to mention the time and resources required to fix them.
A customer data management platform (CDMP) helps fill these gaps and organize, cleanse, and update customer data. And if you don't invest in a CDMP, you'll still end up paying for it in the long run.
You will pay for it through additional processes to deal with data issues, reduced personalization, poor customer experiences, and less effective sales processes. Collecting data that you cannot use due to data cleanliness or standardization issues also costs you money. According to Seagate, 68% of data available to businesses goes unleveraged.
Handling customer data issues internally using CRM-provided tools may seem shrewd. But eventually the volume of data issues will outpace your ability to deal with them, and you'll have to invest in a dedicated CDMP solution anyway.
You're Already Paying for Data Management, And More Than You Think
Even if you have no budget allocated to data management, you're already paying for it. The cost of bad data is an eye-popping 15% to 25% of revenue for most companies.
Every department in your organization that relies on customer data is affected by quality issues. This can't help but impact your bottom line. Data issues that inhibit advanced segmentation and personalization will hobble your marketing teams. When your sales teams lack vital context, they step on each other's toes and miss opportunities. Your support teams won't be empowered to provide the best experience possible. Your management teams will make high-level decisions based on inaccurate reporting.
It's also important to note that manual data maintenance is definitely tying up your skilled employees' time even if you don't have an organizational data maintenance plan. Teams waste huge amounts of time fixing data issues by hand. This doesn't include the costs of lost opportunities, reduced effectiveness, and lower morale that comes with painstaking data entry work. Those labor costs are dedicated to data management, officially or not.
Data issues also impact your customers throughout the customer lifecycle. The marketing materials they receive, their conversations with sales reps, and their post-sale experience are all negatively affected by poor data quality.
This isn't something to be taken lightly. In fact, a report by PwC found that one in three customers will leave a brand they love after just one bad experience.
A CDMP will always be the most cost-effective solution. Data issues touch your organization top-to-bottom. Whether investing in a comprehensive solution or under-dedicating resources, you still pay for those issues.
Old-Fashioned Data Maintenance Methods Can't Keep up With Modern Data Growth
The larger your organization becomes, the more data you collect, and the more issues your data will have. Eventually, all companies cannot keep up with the flow of data issues into their CRM.
For example, many companies are increasing the number of software solutions that they use across their organization. The software-as-a-service (SaaS) market is predicted to grow by 16.3% per year through 2026. With each new integration comes a wave of new data into your CRM—and a set of new data issues. Integrated software will always come with data quirks: differing fields, default standardization, and validation, to name a few. Your CRM may not even offer the tools required to deal with these nuances in bulk.
Let's consider just one field for one record type and how many issues can exist. Let's keep it simple —First Name for contacts. The First Name field is straightforward, but even that field can come with many issues:
initials instead of a full name
both first and last name in the First Name field
the last name in the First Name field
typos, numbers, symbols, white space, or punctuation
first name that is missing altogether
That's dozens of potential unique issues in just the "First Name" field. Imagine the issues contained in fields like Industry, Job Title, Phone Number, Zip Code, or Address. Some fields will have more complex problems than others.
Without a CDMP, management's choices are limited.
You can ramp up your internal commitment to dealing with these issues. To do that, you'll have to hire or pull employees from their existing duties to handle data-related issues, something they may not have expertise in.
Then you have to figure out what tools to use. Using CRM-provided data management add-ons may seem like a smart choice on the surface. But, any issues you have with the CRM itself will also be present in these tools. CRMs have to cast a wide net to appeal to a diverse customer base, meaning there will be annoying nuances and issues they cannot cover. You may end up paying more and getting less.
Handling data maintenance projects isn't easy, either. You have to obtain access to all systems, gather information, weigh the needs of different stakeholders, and get management buy-in on the project's scope. Assuming all of that goes well, you'll begin the painstaking task of exporting data, keeping your fingers crossed in hopes of finding a way to fix it in Excel. Otherwise, your employees will be stuck fixing mundane data issues by hand, or using development resources.
And all of this is only postponing the inevitable. A dedicated solution will become necessary as your data issues begin to outpace your ability to deal with them. In the meantime, your decision to put it off will result in reduced effectiveness across your entire organization.
With a CDMP, Everyone Wins
Thankfully, there's a better way. Investing in a third-party solution is a win for everyone.
First and foremost, it's a win for you. Your teams won't have to identify issues and fix them using complicated Excel functions or manual steps. This means fewer headaches and better morale.
CDMP solutions have a vested interest in fixing issues that are too small for the CRM to consider but are a thorn in the side of that CRM's users. As a result, they can provide a more personalized approach, particularly to larger accounts. In the right situation, your valuable feedback can shape product development.
That makes it a winning situation for the CRM platform as well. They gain a valuable partner and resource that they can direct customers toward when they have specific problems.
Insycle Bridges the Gaps Between CRMs and Clean Data
Data management is critical. No matter how powerful your CRM system is, there will always be data quirks and gaps in its offerings that require other approaches. As your data collection grows, dealing with those issues becomes increasingly complex. At that point, an investment in a CDMP becomes a no-brainer.
Insycle is a complete CDMP that integrates with your CRM database and allows you to fix many common data issues in bulk or on an automated basis.
With Insycle, you will:
free your teams from data issues and process roadblocks
avoid manual data updates and their associated headaches and morale issues
automate your most critical data maintenance tasks
easily collaborate on data tasks with anyone within your company
reduce the costs associated with data management—and there are costs, even if you don't have a data management budget line item
keep data deduplicated, standardized, and consistent for clean integrations throughout your tech stack
make your whole organization more efficient
Insycle also allows you to identify and track common data issues in your CRM. The Insycle Customer Data Health Assessment audits your CRM data for common data issues across all significant record types. Clicking the "Fix" button directs you to the correct Insycle module and template to fix the selected issue.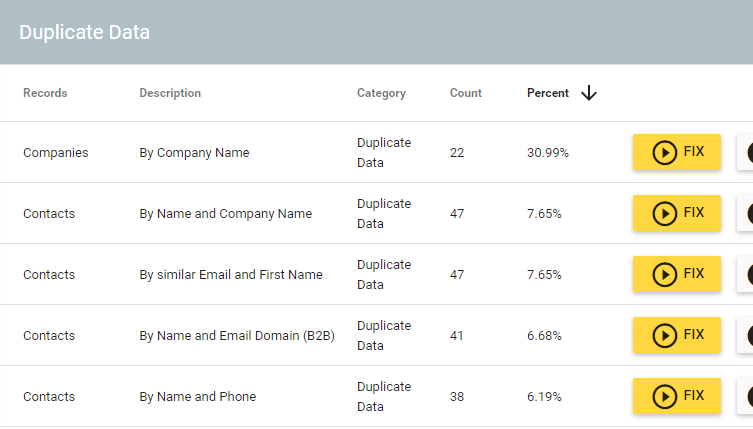 The Duplicate Data Category of Insycle's Customer Data Health Assessment
With Insycle, you can build advanced data maintenance templates. As an example, you can use Insycle to match and merge duplicates in powerful and flexible ways.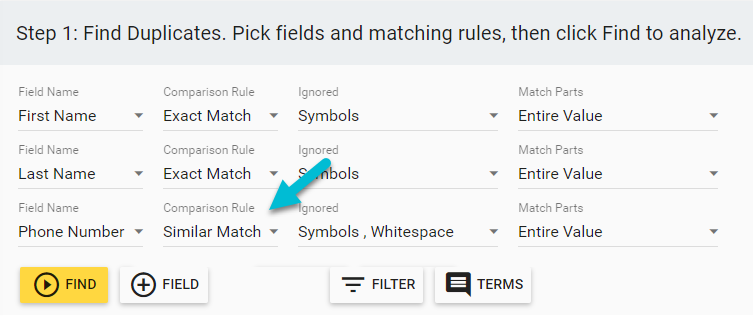 Identifying and merging duplicates by First Name, Last Name, and Phone Number in Insycle
For many of Insycle's operations, you can schedule automated data maintenance templates to run on a regular set schedule.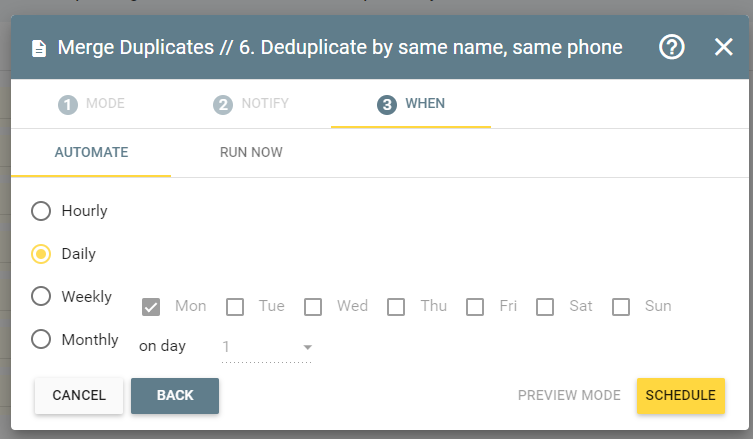 Automating Insycle templates to run on a set schedule
With Insycle, you can identify and fix more customer data issues while taking much of the heavy lifting off of your team's plates.
A CDMP Is a Necessity
Data issues quickly become complex and impossible to keep up with as companies grow. Investing in a CDMP is inevitable for most companies, who a wave of data issues will quickly wash over if they do not implement a plan for identifying and fixing them.
Insycle is a complete CDMP, allowing you to deduplicate, standardize, import, cleanse, reconcile, aggregate, and update data in advanced ways.
Insycle enables operations teams to fix CRM data quality issues in bulk and automate the data maintenance process. Without Insycle, the cost of bad data is a major blind spot for marketing and sales teams, impeding them from improving their returns, without a clear path to fix those issues.
Do you find a wave of data issues is holding you back? Learn more about how Insycle can help you improve the data quality of your CRM data, streamline operations, and improve employee morale.