It's the new way to communicate with potential customers: Conversational Marketing. As with any shiny new tool, we must make rational, data-backed decisions. It's not enough to simply pop a live chat module or chatbot onto our website.
Before getting into how to make data-backed decisions in conversational marketing, let's use data to decide if it's right for you.
79% of consumers are willing to use messaging apps to get customer service
82% of consumers rate an "immediate" response as very important when they have a question
36% of companies use live chat for marketing, sales or customer service inquiries
Look at those numbers again. If 8 out of 10 consumers are asking— begging for— immediate responses on messaging apps, why are only 3 out of 10 businesses delivering?
The Effectiveness of a Conversational Strategy
Looking at email versus conversational (and yes, email messages can be conversational, but we look at chat as the defacto tool), Smart Insights says average open rates across industries hover around 20% and click rates are around 2%.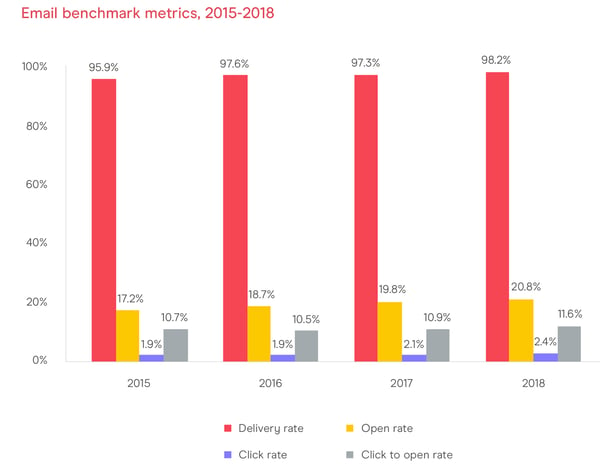 Source: Smart Insights
On the flipside, research from HubSpot says 40% of mobile users use Facebook messenger. Drift says live chat leads to more sales, with 20% of conversations going to a sales channel.
Using Data to Make Conversational Marketing Decisions
One of the biggest indicators of successful conversational marketing is your first question conversion.
First question conversion is critical when implementing a conversational marketing strategy because if your first question stinks, you won't see the success you could see.
The fact is people, which power your business, are inherently conversational. We want to interact. We crave engagement. And we don't want to just "be sold to." So if your conversion rate off the top is terrible, you're in for a difficult road.
By measuring the abandonment rate of your first question, you'll understand how welcoming your bot or live chat is. Here are three conversational marketing strategies to ensure your first question data wins.
1) Returning Visitors as Known Contacts/Customers
Those customers who have done business with you in the past want to be known and feel known. This is customer service at the next level.
We suggest starting with a chat tool that identifies your current customer base. Use your data to understand your visitors.
Customers will feel left out immediately if they have nowhere to go for answers but new users have all the tools. In other words, if your returning customers have an immediate need, they expect an immediate response. It won't bode well if your immediate answers focus solely on potential sales. Serve your current customers well, and they'll stick around and may even sing your praises the world over!
If you start with creating a knowledge base document that answers common questions, and can escalate a conversation to your support team, you'll be able to tell if your first question is working.
2) Known Contacts in Your Funnel - First-Time-Customers
Now it's time to shift your focus to conversations with new visitors, potential customers, and leads. This is where a homepage conversational strategy shines.
What does this look like? You may continue a conversation rather than starting a new conversation. You could even help connect these viewers to their sales rep,security advisor, or account manager if they have one, truly taking the personal touch to a deeper level.
Imagine a chatbot that pops up with the sales rep, saying to the viewer, "I noticed you were interested in our server security tools. Other clients who explore this track often ask about firewalls and VPNs. What questions can I answer for you?"
Directing your known contacts who aren't yet customers to the resources needed to help them make a decision will help them to feel better-served, building trust and positive connections in their minds.
3) Anonymous/Account Based Marketing (ABM)
The final tactic for great first question conversational marketing is to reach those anonymous viewers who are just starting off. You can place these in the same bucket as account based marketing (ABM) leads. We may not know who they are, but we know where they work based on data. So we can serve them up what we need to, in order to help convert them into known leads.
For instance, if you know you're going after marketing directors in Colorado and your data shows that's who's on your page, your chatbot can have a very specific message on resources for marketing directors in Denver, Colorado Springs or elsewhere in Colorado. And if they're truly anonymous and your system can't identify them, you get to have a more general, high-level conversation.
Creating a Conversational Marketing Data Feedback Loop
You're always on the fast-track to making improvements for better efficiency with conversational marketing. Review your chat transcripts and use the bottlenecks within the context to fuel future content.
For example, if you notice that your AI is struggling to find a spot to send searchers for quick answers to a specific question about your services, maybe it's time to add it to your FAQ page or set up a recognized response.
This is an ever-evolving process, continually living, breathing and needing to be supervised to continue to serve your customers' changing needs.
After time, you'll notice when it's the right time to send the chatter to a real person, and what's easiest for the bots to quickly answer.
Get Conversational and Put the Data to Work
In business, we spend a lot of time encouraging prospects to reach out, saying "email us, call us, visit our office, etc." But when a person wants answers fast, at their own convenience, a delayed response time can mean a lost opportunity.
Remember, we're not in the marketing business— we're in the relationship business. Conversational marketing helps you make those fast connections, forming an instant bond between your company and the prospect.
Bring conversation back into sales with natural dialogue. Get better qualified leads and shorten your sales cycle with live chat today.
About the Author
Dan Moyle is

Impulse Creative

's Growth Marketer. Obsessed with helpful marketing, Dan prefers to empower and build a relationship with an audience rather than convince and sell. In addition to writing, he loves creating content in the form of podcasts and videos. Outside of work he's a blended family husband and dad. Ask him about his motorcycle.