The changes to the world brought by the COVID-19 pandemic have been felt throughout every company in nearly every nation.
Some sectors, such as the travel industry, have seen their revenues dry up seemingly overnight. Restaurants have had to shutter their doors. Big theatre chains are filing for bankruptcy.
Others, such as remote work tech or some categories of eCommerce, have experienced booms that have left them stretched thin.
Even companies that seem to be "holding steady" are overcome with fear and doubt about the future.
These are uncertain times, to say the least.
That uncertainty was reflected in a recent eMarketer study on the impact of coronavirus on ad budgeting decisions in Q2 2020 vs. the second half of the fiscal year.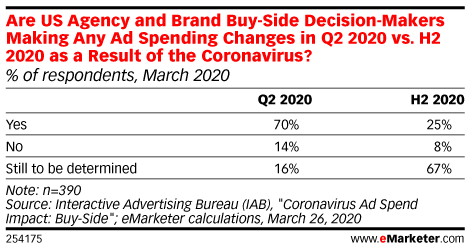 That's the issue here. No one knows how long, or how severe, the impact will be months down the line.
No one can be sure how the re-opening of the world's economies will unfold. What restrictions will be in place? How will buying habits continue to evolve? How will lawmakers react? How quickly will things start to bounce back? There are just too many variables for anyone to be certain of anything.
The digital marketing industry delivers a view through a lens that few other industries can. As partners and friends of marketers, we have front row seats to the hardships, triumphs, and challenges that this time brings.
If you were an agency owner that primarily worked with local businesses, the fallout from COVID-19 would be business-changing if you were lucky enough to survive it. An agency that primarily worked with collaboration technology companies might experience the opposite.
No matter where you fall on the spectrum, adaptability is key. Both for your own business and for the results that you are able to deliver to your clients.
So we set out to find out how businesses were adapting to the COVID-19 economic environment when it came to content marketing.
We wanted to know what they were changing about the way that they approached content.. Were they doubling down and ramping up their content production? Maybe paid ads started underperforming and they shifted budgets toward more viable long-term strategies? That seems reasonable.
But then again — so does slowing down and taking time to assess the situation. It's easy to see why an agency might advise some of their clients to pull back on the reins until they have a clearer picture.
We reached out to 6 marketing agencies to ask them this question:
"What is your approach to content in light of the coronavirus situation? Has it changed? Why? "
The responses we received were as varied and interesting as the effect that the coronavirus has had on different sectors of the economy.
As you consider what changes you'll make to your content marketing strategy, consider advice from these 7 agencies:
1) Eddis and Co. Pauses Content Plans to Focus on a More Empathetic Approach
It's easy to see how this situation could throw a wrench in the gear of even the best-laid content strategies.
Customers are overwhelmed. They are worried. Their priorities are shifting with each passing week. They might be one of the tens of millions who have lost their jobs in a very short timeframe.
In this environment, a once-profitable marketing campaign might come across as callous. Brands are expected to understand and empathize with the positions that their customers are in. Heavy-handed ads and messaging won't just fall flat, they might just harm the reputation of your brand.
Content provides the perfect platform for putting that empathy on display. It gives you the space that an ad doesn't. Whether on your blog or social media, you can show that your brand is made up of people. People that are just like your customers. That are experiencing the same emotions and uncertainty that they do.
Marion Blount, the founder of Eddis and Co., knows this. In light of the worldwide epidemic, their agency put most of their client's planned content on pause for this month, and shifted their focus toward creating empathetic content.
"Our team has scratched most content we had planned for clients this month. We are starting fresh and embracing empathy. As my team approaches new content, we are focusing our attention inward and asking how we can make our content relatable.
We have found a lot of success focusing on our client's employees. For a children's sunglasses brand that we work with, we asked the team to show us how they were entertaining their kids in order to #WFH. The content they shared was not only relatable, but it was also helpful to the brand's audience.
As we navigate the coronavirus situation, we'll continue to change content on the fly and embrace empathy in order to show up for our clients and their community."
Marion Blount, Founder, Eddis And Co
Focusing on those kind of real-world scenarios — like the challenges of working from home and keeping your kids entertained — can help customers connect with your brand on a deeper level. You understand. And they'll love you for it.
They aren't the only company going this direction either. According to the study from eMarketer, 42% of brands planned to increase spending on mission-based marketing, and 41% on cause-related marketing.
2) Canndid Media Aims To Stand Out During A Time of Increased Attention
People are consuming more content now than they ever have before.
Tens of millions of employees across the world became remote employees overnight. Many under "stay-at-home" orders to combat the spread of the virus. Nearly every non-essential business and brick-and-mortar source of entertainment in their local towns closed.
An increase in content consumed seems like a natural consequence. People don't have a whole lot to do so they are reading more blog posts, watching more videos, consuming more social media, and playing more games.
With an increase in eyeballs also comes an increase in competition. Not to mention the fact that content creators are also stuck at home, giving companies the chance to focus on ramping up output.
To get noticed, you'll have to be worthy of notice. That means standing out from the crowd. Doing something different.
Nick Cann is the Founder of Canndid Media, a video production agency from South Carolina. They've felt the impact of the pandemic and have made changes to the way that they approach video content for their clients as well.
With an increase in competition, they've shifted their focus toward how they can help their clients produce content that is more creative and unique.
"My approach to (video) content has definitely been impacted during these times. With more eyes than ever on the digital platforms we use, I have been taking extra time to plan content, be creative, and be unique. Not only have we gained more viewers but we've gained more competition. That has helped me and my team stay motivated to constantly push the boundaries of creativity."
Nick Cann, Founder, Canndid Media
3) FullScaleSEO Ramps Up Content Production and Sees Helping Small Businesses as a Civic Duty
Small businesses around the world have been forced to shutter their doors and lay off their employees. Others have been able to keep their doors open but are struggling financially, often furloughing large portions of their workforce.
The agencies that serve those small businesses are in a tough position. Their clients need them more than ever. They need original, authentic ways to connect with their customers. Their agency partners are in a position to help, but results are harder to come by than ever before.
Small businesses don't just need an agency. They need one that is sharp. One that can help them to position themselves just right, and ride out this storm.
That's the way Chris Romero, the founder of FullScaleSEO, sees it. To him, agencies have a civic duty to help their clients.
The economy isn't gone. Many have been able to keep their jobs. People are still spending, even if not the way they were before.
Chris sees it as the agency's duty to ensure they connect their client's to their customers through content.
But your duty can expand beyond businesses. The growing unemployment rate has added a lot of experience to the talent pool. There are people with decades of experience who are looking for any opportunity to use their skills.
FullScaleSEO recognized and began hiring furloughed and unemployed workers with specific experience as writers. It serves as another small way for them to give back and support people during a time when they need it most.
"If you feel the need to hold off from speaking now, stay silent in the new era.
We are creating more content than we ever have before and hiring comedians, English professors and waitresses to write. Digital marketers now have a civic duty to help. [Agencies] need to serve a higher cause.
Branch out on social platforms and other engines. Experiment with content syndication and multi-stream repurposing. Make you and your team better and sharper, if you can. Explore ways you can be of service. The internet is still working the last time I checked. "
Chris Romero, Founder, FullScaleSEO
4) Brick Media Reframes Their Messaging to Ensure Their Content Hits the Right Notes
In the COVID-19 era, companies have to be very careful about the way that they speak to prospects and customers. Audiences are understandably sensitive right now. Approaching a topic from the wrong angle or using the wrong messaging could have long-term consequences for any brand.
Companies should tone down the hard-sales messaging. Instead, they should focus on being helpful, selfless, and valuable. You want to be seen as a brand that is genuinely here to help, not one that is simply looking to pad their bottomline.
That's how Jake Kurtz, the founder of Brick Media, approached this situation.
What you do today will reflect on your brand tomorrow. The importance of your brand's reputation doesn't diminish just because people have their focus on other things — and your reputation will still be there when the dust settles.
Brick Media is advising their clients to publish content that is positive in tone and empathetic to the current environment. They want to invoke a warm feeling in their client's audiences. When you create happy engagements during troubling times, that stands out. And they know their client's audiences will love them more for it.
"At Brick Media we manage the content strategy for 15+ clients at once. The main adjustment with Coronavirus has been making sure every piece of content goes through an extra "filter". With every post, we ask ourselves if it feels too tone deaf for the situation at hand.
The entire nation is struggling with this unique adjustment to daily life, and we feel that any content we put out on behalf of our clients should be helpful, selfless, and valuable. After this is over, your brand's reputation will still be just as important, and we want to make sure our clients are viewed by their audiences in a positive light. A warm and fuzzy feeling long-term is better than short-term profits with damage to long-term reputation."
Jake Kurtz, Founder, Brick Media Group
5) With Customer Needs Changing Rapidly, Burg and Co. Advises "Quick-Win Content" and Increased Presence on Social
Customer needs are shifting at a pace never before seen in history. They don't have time to pour over information and take their time with research. They need solutions to their problems, and the sooner the better.
This is the approach that Burg and Co. has taken. They've scaled back the deep, longform content that they create for themselves and clients and instead have shifted their focus toward bottom-of-the-funnel, solutions-based content.
This is what Kelly Burgess, the founder of Burg and Co., refers to as "quick-win" content.
In changing their focus, they have also changed the channels through which they focus on engaging with users. As everyone is spending a lot more time at home on social media, they've moved away from creating so much written content and have instead shifted toward producing video content, built for engagement on social media.
You have to meet your audience where they are. With their attention divided, providing the straightest path to vital information makes consuming your content and ultimately buying from you the easy choice.
In shifting toward video, they also provide a more personal and social experience to audiences — something that many are craving as they are riding things out at home.
"Our approach to content has definitely shifted in light of the coronavirus situation because our clients' needs have drastically changed. Before this pandemic, people would often spend most of their time researching different products and marketing solutions to help grow their business. Because of this, the content we produced typically fit into the "research" section of the conversion funnel. We would provide value and build trust by empowering our readers to make the best decision for their business given all of the available information.
While we are still focused on providing value and building trust, the needs of our readers have changed. People don't have a ton of time to pour into researching solutions right now; they need a quick fix to drive business and adapt in this shifting economy.
So, we've shifted, as well. We now provide content focused solely on quick wins for our readers. We ask ourselves - what is one thing the reader can take away from this, implement this week, and find success? The articles have become less all-encompassing and more targeted and solution focused. We've also integrated more conversational videos with quick tips on how people can apply simple shifts in their marketing strategies to meet the needs of their customers.
On a more strategic note, we've moved away from heavy blog writing and focused more on videos and posts that go directly on social. That's where everyone is spending their time these days, so that has been the best platform for reaching more people.
Our strategy will always remain to provide value and build trust with our content, but we recognize that our readers are in need of immediate help so we're adapting from nurturing to problem solving. So far, we've seen a significant uptick in social engagement and content shares because of it."
Kelly Burgess, Founder, Burg and Co.
6) Demio Plays the Long Game, Focuses on Staying Consistent
Many experts are saying that COVID-19 will likely continue to wreak havoc in the world economy until we have a viable vaccine. Despite the fact that many companies are working on potential vaccines, the most rosy outlooks show that we are probably at least 18 months away from a working vaccine being publicly available.
For B2B companies, weathering this storm means playing the long game.
We're likely to see a radical downsizing of advertising budgets throughout 2020 and across most industries
As a result, many companies are shifting their budgets toward long-term strategies, such as content marketing and SEO. Many that are simply downsizing their budget and not just moving it around are still focused on staying consistent with their content publishing. That was the strategy employed by the team at Demio, a webinar tool for marketers.
There are a few reasons for this. First, results from content lag behind other channels. Even in normal conditions it can take months before content ends up ranking for its intended keyword.
Second, it is hard to gauge customer reactions during this time. Once-profitable ads could see their ROI fall off of a cliff.
"We haven't changed much in terms of our content strategy, except to double down on staying consistent. We didn't want to let up on the momentum that has carried us this far and that has been essential to attract and build relationships with our audience.
Now, our distribution strategy may need to adjust to the changing landscape, but we still want to produce the same great content that our readers have always enjoyed reading/listening to. Great content will always have its place!"
David Abrams, Co-Founder, Demio
Insycle and our response to COVID-19
Insycle is a customer data management solution that makes it simple for companies to manage, automate, and maintain their customer data in the CRM.
In times like these, many companies are turning inward, focusing on how they can better serve their customers and operationalize the customer data that they already have. Better data means better execution and better results in marketing and sales — whether you're a small business, startup, or a high-growth company.
In response to the current situation and the hardships that our customers and community are facing, we have announced a number of changes to our plans and policies to help you weather the storm.
Learn more about our relief initiatives.