This post is part of a series that explores problems our customers have fixed using Insycle. Each post outlines the challenge and shows the solution step by step.
The Problem: An Active CRM Sync Made It Difficult to Keep Company Records Clean and Consistent
An Insycle customer in the SaaS industry had duplicate companies and missing associations in both HubSpot and Salesforce. These issues made it difficult for the customer, whom we will call Jones Company, to score leads, prioritize opportunities, and connect with all stakeholders for account-based marketing (ABM). To further complicate the situation, the two platforms were synced. So Jones Company needed to deduplicate those companies across both HubSpot and Salesforce, without breaking the integration.
At the same time, Jones Company had many company records that were missing correct parent-child associations. In some cases, dozens of child companies that needed to be associated with the correct parent company were left free-floating, outside of any company hierarchy.
Because Jones Company's software was often used in brick-and-mortar retail locations, it was common to have separate deals with different child companies. This made it especially important to associate organizations properly. Otherwise, deals might be prioritized improperly or be overlooked entirely.
Jones had an active HubSpot and Salesforce sync, so it needed to ensure that these merges were consistent across both platforms. But merging duplicates in integrated HubSpot and Salesforce platforms involves many nuances, and the problems were more complicated than they seemed on the surface.
Additional Complexities
As you can see, Jones Company's problems were taking a toll on its business. But deduplicating records while associating child and parent companies correctly and maintaining the HubSpot/Salesforce sync presented numerous challenges:
The complexity of the task and the volume of records affected meant that handling the process manually was not possible.
Jones Company had to find a way to identify the parent company and associate it with its child companies before deduplicating. Otherwise, it would risk merging parent and child records together during the deduplication process.
The company had to ensure that the same record was chosen as the master record in both Salesforce and HubSpot to keep the records synced across systems.
While both HubSpot and Salesforce have a specific field to store the Parent Record ID, most records didn't have the correct information stored there.
How Unresolved Duplicates and Missing Parent-Child Associations Were Hurting Business
Both unresolved duplicates and missing parent-child associations presented a big problem for Jones Company.
Duplicates inflated Jones Company's marketing costs because customers often received multiple communications with the same marketing materials. Additionally, duplicates were causing lost productivity. Sales reps were unable to rely on a single record for all the information they needed and had to spend time digging through multiple duplicate records to gain full context for a conversation. Even then, there was no guarantee that they had all the information.
As a result, Jones Company offered a spotty customer experience. It was clear when sales reps were missing context in conversations, and no one likes to receive multiple copies of the same email. Ultimately, these annoyances added up to a negative impact on the company's brand reputation.
Accurate associations are also a critical component of ABM for Jones Company. The company needed to cater messaging to every stakeholder in an organization with which they were pursuing a deal. But because the associations weren't accurate in the CRMs, the company was missing engaging with organizational stakeholders.
Missing associations also impeded Jones Company's ability to accurately track engagement with marketing materials and sales reps, making it harder to optimize campaigns. Without those associations in place, segmenting and reporting on ABM activities was difficult and often inaccurate.
Both duplicate records and association issues also impacted the company's ability to prioritize opportunities and score leads within the system. This meant that the sales team prioritized the wrong opportunities and spent more time with lower-value opportunities.
Then there was the business impact of data issues between HubSpot and Salesforce. When these platforms were not reliably synced, Jones Company's teams never knew whether the system they worked in had the correct, most up-to-date information.
The Solution: Create Consistent Company Records and Hierarchies Across Both Integrated CRMs
Duplicates and inaccurate associations throw a wrench in the operations of multiple departments. Jones Company used Insycle to address and resolve these issues in six steps:
eliminate irrelevant company records
identify child and parent companies
tag parent and child companies
deduplicate companies
replicate templates for cross-platform deduplication
associate child companies to parent companies
Step #1: Eliminate Irrelevant Duplicate Company Records
Jones Company's CRMs were cluttered with many extraneous company records, so cleaning up the irrelevant ones was a natural first step. First, Jones Company looked for companies that were not associated with a deal. Useful, relevant companies would have some kind of deal associated with them.
To accomplish this, Jones Company first matched duplicate companies using the company name and company domain name fields.

Matching duplicates based on company name and company domain name in Insycle
Then, in the Master Selection step, the team used existing deals in multiple ways to determine the master record.
They determined that the master record would be the company that had a deal associated with it. Then matched records without deals could be merged into that master record. This didn't clean up all of the duplicates in Jones Company's connected CRMs, but was a solid starting point.
Making companies with associated deals the master record
With low-value duplicate companies identified and merged, Jones Company could move on to focus on the next task.
Step #2: Set Child and Parent Companies
After merging companies without deals, Jones Company still had to organize the remaining companies in its CRMs, all of which had at least one deal associated with them.
Because Jones Company was worried about merging companies that weren't duplicates but were parent or child companies, it first needed a way to identify parent companies through the existing data.
After diving into the data, the team identified key fields and traits that helped identify and separate parent and child companies.
Parent companies: Parent company records had the highest deal amounts.
Child companies: Child company records were associated with deals with amounts that were higher than $0, but less than the highest amount.
To identify and tag child and parent companies, the team first exported all of the companies in the database using the Grid Edit module.

Filtering for relevant companies by ensuring they have a company name
Then, they used Excel to identify the companies with the highest deal amount and populate the correct child or parent company tag in the custom child or parent company field.

Tagging child or parent companies in Excel
Step #3: Tag Child and Parent Associations
Then, with clutter cleaned up in the Excel file and child and parent companies appropriately tagged, Jones Company could re-import its company data. The company used Insycle's Magical Import module to update the child or parent company field with the data that had been added to the CSV file.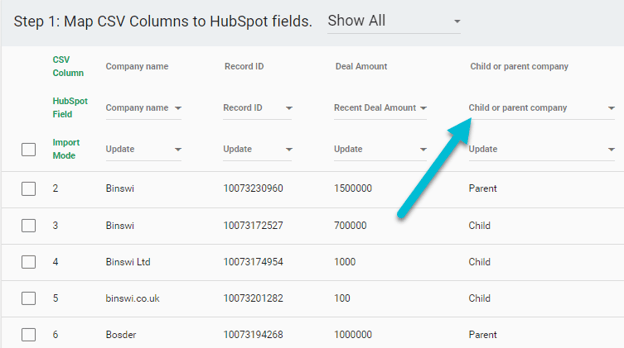 Importing child and parent tags for company records
Step #4: Deduplicate Companies
After importing child and parent company data in the custom field, Jones Company still had many duplicate companies in the system. While the original deduplication of companies had helped clean up excess duplicate records with no deal attached, many companies had eluded the matching settings or didn't meet the deal amount specifications.
To catch these duplicates, the team built multiple templates using a variety of fields—company name, company domain, website, etc. Then, they used different settings to compare, ignore and match records to catch a larger number of duplicate companies.

Deduplicating by company name and company domain name
They used a filter to remove those records from the deduplication process to ensure that they did not accidentally merge any child or parent companies they had just tagged and imported.

Filtering out tagged child or parent company records in Insycle
The filter settings stated that if the child or parent company custom field existed (i.e. had data present within it) those company records would not be part of the deduplication operation.
Step #5: Deduplicate in Both Platforms
Because Jones Company used both HubSpot and Salesforce and had a sync in place, it needed to make sure that the companies were deduplicated consistently across both CRMs to avoid breaking the sync. In both HubSpot and Salesforce, companies needed to be merged into the same synced master record.
Deduplication across synced HubSpot and Salesforce is more complex and requires several additional steps compared to standard deduplication on a single CRM in Insycle.
In short, the process for deduplicating across HubSpot and Salesforce involves:
setting up your HubSpot and Salesforce sync settings
creating custom fields to tag the master record
deduplicating HubSpot companies in Insycle
deduplicating Salesforce companies in Insycle
To do this, Jones Company replicated the existing deduplication templates it had created in Step 4 for use in Salesforce.
After completing this process, Jones Company's company records were consistently merged across HubSpot and Salesforce without breaking the sync.
Step #6: Associate Child Companies to Parent Companies
Now, Jones Company had to officially create the child-to-parent associations. The team built numerous templates using different match fields for association, just as they had with deduplication.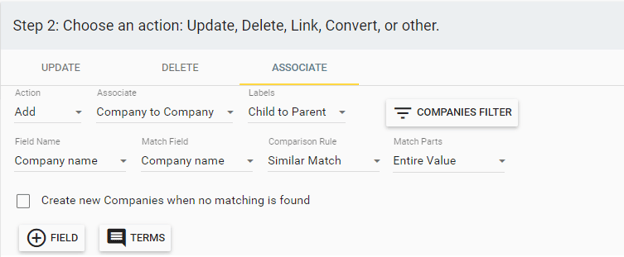 Associating child companies to parent companies by using similar matching for company names
In each of these templates, they used the Company Filter button to filter out some companies from the association process.

Filtering out parent and untagged companies
With these templates in place, Jones Company ensured that tagged child companies were appropriately associated with the correct parent companies.
The Result: Clean, Consistent Company Records in Both HubSpot and Salesforce
With this process, Jones Company was able to untangle a very complex, nuanced web of CRM data issues surrounding company records.
Duplicate company records had made it difficult to score leads accurately and prioritize work. They also forced employees to dig through the CRM for potential duplicates to ensure they were updating the correct record and had full context.
Missing child-parent associations made scoring and prioritizing leads difficult. The ensuing disorganization was very confusing when dealing with multiple layers in a company hierarchy. Knowing who to contact at which location became almost impossible without these associations.
Using Insycle, Jones Company effectively deduplicated company records and associated child companies to parent companies. This ensured clean, consistent company records across HubSpot and Salesforce—all without breaking the sync.