Email is one of the most reliable marketing channels. Unlike search and social—which can both giveth and taketh away when algorithms change—email marketing lets you build an audience that you can communicate with directly.
But even email can create hurdles for marketers. If you do the wrong thing—like sending too many emails to inactive subscribers or sending emails to invalid addresses—it can damage your email deliverability, preventing even your most engaged subscribers from seeing your emails.
To find out how you can improve low email deliverability, maintain high email deliverability, or ensure deliverability if you're just starting to build a list and send campaigns, we partnered with Databox to ask 48 email marketers how they ensure their emails land in subscribers' inboxes.
They responded with the following 23 actionable email deliverability tips.
Focus on Quality to Improve Email Deliverability
"High deliverability can be tough, but it's very doable," says Andrew Maffettone of Seller's Choice. "Just like any other content marketing approach, it's all about quality."
"If you want people to open your email, an enticing subject line and snippet are important. But it's also about the experience subscribers have when they read your emails."
Our respondents offered several tips for sending quality emails—emails that subscribers actually look forward to opening and reading.
Check out these email deliverability tips:
1. Deliver Interesting and Valuable Content
"Honestly, the best thing I've done to improve and maintain high email deliverability is providing content people actually want to read," says Jeff Lenney of JeffLenney.com.
AmpMyContent's Daniel Daines-Hutt agrees: "Only send emails when you have something valuable to send. Emailing just for the sake of it becomes noise and encourages people to stop opening your emails. And when fewer people open your emails, your spam rating goes up, so your emails that do have value don't get through."
"Only send when you have something of value to say. It's simple, I know, but we forget it."
2. Let Subscribers Choose What They Want to Receive
"We do a lot to ensure marketing emails get delivered to recipients' inboxes, but the most important thing we do is keep our subscribers happy," says Devin Beverage of Dev Bev Co.
"One way we do this is using a preference center: a simple control panel where subscribers can opt in or out of various topics and email types. It's also good to offer an option for email frequency—like daily, weekly, bi-weekly, etc.—and maybe even time-of-day."
"Send a preference center email to every new subscriber so they have an opportunity to opt in or out of whatever they want."
"Then, to maximize the value of your preference center, you also want to make sure your preference center is accessible to your subscribers on an ongoing basis."
"One way to do this is to send automated emails that are designed to check in on subscribers who haven't opened a few emails in a row—or have opened and exited without reading."
"We can do this in our email software easily by setting up automations. For example, you can create a decision tree where if three emails in a row haven't been opened, the subscriber gets an email that says something to the tune of: 'Getting too many emails? Click here to change your preferences.'"
3. Have People Resubscribe When Sending New Campaigns
"People who subscribe to your mailing list do so for a reason," says Megan Mosley of Referral Rock. "So if you're sending a new drip campaign, it's good to ask people to subscribe to it instead of just sending it to all of your contacts."
"If you send it to everyone, you might find that a lot of those people will be annoyed, won't open them, will unsubscribe, or might even block you. Plus, a clean list will help you avoid being filtered out. Having a ton of unengaged and inactive recipients can cause deliverability issues."
4. Include a Text Version
"While Gmail is popular these days, there are dozens of other email providers out there, and each has its own quirks when it comes to properly displaying promotional emails," says Emily Lawson of LogoMix.
"Microsoft Outlook, for example, is notorious for improperly displaying emails. Images are often missing, broken, or don't load; GIFs are frozen or broken; and links to PDFs don't download properly."
"Since you never know when one of these issues will arise for a particular recipient, it's important to have a text-only version of your email. This ensures everyone will be able to read your latest email no matter what platform they're using."
"In order to create a text-only version of an email, you need to make sure your email software offers Multi-Part MIME. Multi-part MIME email includes both an HTML and plain-text version that are sent together as one message."
"Multi-part MIME email is clever in that it detects which version—the HTML or plain-text—should be displayed to the recipient based on the user's settings and the email platform."
5. Segment Your Email List
"The best way to maximize email deliverability is to start with a great list, and by that, I don't mean a big list," says Juli Durante of SmartBug Media. "Instead of pulling 'big lists' for 'email blasts,' I'm a huge fan of the segmented email send: drilling into a portion of the database and sending to a select, targeted group."
IMPACT's Kathleen Booth agrees: "We have nearly 200,000 contacts in our database but rarely email more than 10,000 of them at a time. Email deliverability is critical to us as a company, so we're extremely careful not to 'spray and pray.'"
"By grouping your list by interests and other relevant factors, you improve your odds of receivers opening and clicking your emails—and not marking them as spam," says Alex Robinson of Team Building Hero.
"For example, we offer a B2B service in various cities across the U.S. We were having some minor issues with email deliverability, so we segmented our list by city: New York City, Philadelphia, San Francisco, etc."
"After this update—and since we started sending more targeted messaging to the companies on our list—our open rates increased by 12.5%, and there are far fewer spam notices. Our overall email deliverability has improved, and so have sales," Robinson says.
"It all starts with having strong data and understanding exactly who from your audience you're trying to reach," says Kelly Andersen of Wealth Continuum Group.
"Depending on the information we have stored in our CRM setup and the goal of the email, we could break our list down to target dog lovers, people who have birthdays in January, or even people who have only interacted with us by attending an event we held three months ago."
"This all stems back to what data we've captured—and making a strategic plan on how we want to use that data in order to reach our goal for that email campaign," Andersen says.
Segmenting your emails will make your email deliverability improve drastically from higher relevance and quality signals. It's the first step in protecting your sender reputation.
6. Be Human
"We're all fighting the war against spam in our inboxes every day," says Dave Alvarez of The S3 Agency. "So as a marketer who designs email campaigns, there's one rule you need to follow to get past the spam filter and your audience's spam-hardened personal filters: be human."
"Take a step beyond the filter. Yes, there are technical rules you should observe: avoid all caps, the interrobang (!?), percentages over 100%, etc. But if you're writing your subject lines to get past a robot, you're missing the larger opportunity to connect with the human on the other end."
"Ask yourself: why is this person on my list? What do I know about them? Why would they be interested in this? How would I start this conversation if they were right in front of me?"
Being human is a great email deliverability tip. Being able to present a conversational front from the subject line to the signature is important.
Stay Out of the Spam Folder
And while focusing on quality is crucial, getting the technical details right is important, too. After all, it doesn't matter how high quality your email is if it's sent straight to spam.
Our respondents provided these tips to help you keep your emails from earning spam status.
7. Require Double Opt-in
"There are single opt-in and double opt-in processes for acquiring new subscribers," says Dev Bev Co's Devin Beverage.
"Single opt-in means that after subscribers enter an email address and hit 'submit', they're on your list. With double opt-in, subscribers must check their email and follow a link to confirm their subscriptions."
Jeff Moriarty of Moriarty's Gem Art requires double opt-in for any new subscribers who aren't already customers. "The person who signs up receives an email but must confirm the email address. This helps ensure that the actual person signed up and is truly interested in our products."
"While this has cut down on the number of subscribers from day to day, engagement with our emails has almost doubled. That engagement means better deliverability for all our campaigns," Moriarty says.
"Having subscribers validate their email addresses confirms that the address is valid, that the person is able to receive mail at that address, and—most importantly—that they actually want to receive your emails," says Sitback Solutions' Carl Brown.
"The result is that you'll have a database of engaged subscribers who are keen to receive your emails, meaning higher deliverability rates, fewer unsubscribes, and deeper interactions."
8. Use a Personalized "From" Email
Devin Beverage also recommends replacing no-reply@domain.com with something like sarah@domain.com. Why?
"Big email providers like Gmail and Yahoo automatically add email addresses that recipients can reply-to to that recipient's contact list," Beverage says. "Most messages from senders in a recipient's contact list won't be sent to spam."
And SIXGUN's David Pagotto recommends "using your name and brand together in the "From" field. For example, use "David from SIXGUN' instead of just 'David' or 'SIXGUN.'"
"We've seen this reduce spam complaints, improve deliverability considerably, and also increase open rates," Pagotto says.
9. Keep Your Formatting Simple
"Use simple formatting, and stay away from fancy layouts with a lot of images," says Clint Tepe with Nexus Growth Coaching. "Those overly-branded layouts may look great, but they also tend to get marked as spam. I've seen open rates double or triple just by switching formats."
"Additionally, avoid using more than one or two images, and don't include more than one or two links. It's tempting to link to all of your social media accounts, but keep things simple with one call-to-action related to your message. This may mean removing your usual signature, but that's okay," Tepe says.
To find the best formatting, Lola's Jeanne Hopkins recommends "constantly A/B testing images versus plain text email sends. We use plain text for our customer newsletters that include our customer-driven product updates." This can be an excellent way to keep email filters from impacting your email deliverability.
10. Encourage Action
"The best tip I can give for improving your email deliverability is to get people to interact with your emails in some way," says James Pollard of The Advisor Coach.
"For example, when someone subscribes to my email list, the very first email I send not only gets them to click on a link but also encourages them to reply to the email, which is one of the highest forms of email engagement possible."
"When someone responds to your email and interacts with you in this way, it's a near-certainty that your emails will get delivered," Pollard says.
Several other respondents offered more suggestions for getting people to act on your emails.
Online Optimism's Flynn Zaiger says it's all about the subject line. "The subject line can make or break an email because it's the first (and sometimes only) thing readers see when your email pops up in their inboxes."
"Create a sense of urgency while sparking curiosity in your readers' minds. Ask a question or provide an important statistic that gets the reader wanting more. Let them know that something exciting is right around the corner if they would just click on your email."
"You want your subject line to be concise while addressing a specific concern or thought your intended audience may have."
"For example, for a car dealership pushing a specific model, the subject line could read, 'Caught a Glimpse of the Limited Supply Honda Passport Yet?' This subject line asks a question to pull the reader in, implies that time is running out to see the car, and addresses a specific need that those targeted with this email will appreciate," Zaiger says.
"Include an image or video thumbnail image when possible," says Kristen Craft of Tettra. "Ideally, the image contains a person's face. We've found that an image of a person's face drives a much higher click-rate than an image without a face or an email without an image."
"To stand out from other emails in a recipient's inbox, use emojis," says Kent Raju of Folderit Ltd. "But only use emojis if makes sense to do so. It's easy to go overboard with emojis!"
Consider encouraging action directly in the subject line.
11. Send an Engaging Welcome Email
"Marketers often overlook what email service providers (ESPs) care about to determine inbox placement: engagement signals," says Ignite Visibility's Dustin Baly. "How many times was the email opened? How many links were clicked on? Was it shared with anyone?"
"These are all positive signals of engagement that help you maintain high levels of deliverability. If email recipients send signals that your emails are boring, ESP's will listen and place your messages in the spam box."
"One of the top ways to ensure consistent inbox placement is to start with the email that has the biggest potential for engagement: the welcome email. Welcome emails typically have the highest open rate, but too often what you find is a plain thank-you email with nothing to click on. Recipients and ESPs both see this as a boring email."
"Your welcome email should include things that are worth clicking on: a click-to-call to reach your sales team, a recorded webinar, or some blog articles. Recipients will click, and ESP's will see the engagement data. These positive engagement signals will prove you are worth keeping in the inbox."
12. Or Create an Entire Welcome Series
"Once a user subscribes to your email list they should immediately be added to your welcome series," says Eric Tyler of Innovate House Buyers. "A welcome series does a few things:"
"It establishes a relationship with the subscriber."

"It gets them used to your writing."

"It conditions the subscriber to receive emails from you."

"It promotes your content."

"It educates your audience."
"The initial email should thank subscribers, let them know what type of content you'll be sending, let them know how often they'll receive emails, and ask them to whitelist your email address. Additionally, it should include a call-to-action link."
"Then, send a new email to the subscriber every 3-6 days for 2-5 months to build rapport—and always provide value. You should focus on giving 2-3 pieces of valuable information before every ask."
13. Make Unsubscribing Simple
"A lot of email marketers hate unsubscribes," says Vital Dollar's Marc Andre. "And although the goal is to grow your list, it's not really a bad thing when people unsubscribe. If they're not interested in receiving your emails, there's really no reason to have them on your list."
"One thing I do to maintain high deliverability rates is I make it really easy to unsubscribe. Make sure there's an unsubscribe link in each email you send and don't try to hide it."
"I get emails from some marketers that use tons of blank lines at the end of their emails to hide the unsubscribe link so people will really have to scroll down to find it. In my opinion, that's asking for people to mark your emails as spam, and that will hurt your deliverability."
14. Avoid Using Spammy Words and Symbols
"There are different spam triggers that could significantly affect the deliverability of your email," says Fisher Unitech's Jackie Tihanyi. "Avoid dollar-sign symbols, percent symbols, and the hashtag symbol, as well as words like 'act now,' 'affordable,' and 'cheap.'"
"If the density of money-related words is too high, your email is going to end up being sent to spam," says CrazyCall's Jakub Kliszczak. "In general, your emails should be free of words like 'sales,' 'money,' 'promotions,' etc.—especially in the subject line."
"Including numbers, emojis, or unusual punctuation or capitalization are immediate red flags to most email platforms," says Red Olive's Paul Larsen. "Even shortening an email subject line can have positive effects on deliverability. A longer subject can raise red flags about keyword stuffing."
"There are words that spam filters may consider spammy that you would never guess, such as 'satisfaction,' 'request,' 'take action,' and even the exclamation point," Smallpdf's Hung Nguyen says.
15. Test Before You Send
"Before sending out a mailing to your list, it's important to test several variables of your email," says Srish Agrawal of A1 Future Technologies.
"Make sure your title doesn't get cut off; check both desktop and mobile. Then make sure that your emails are going to the inbox and not the spam or unimportant folder. To check this, send test emails out to multiple accounts and see where they end up," Agrawal says.
"When sending campaigns, we've found that running your emails through a testing tool like SendForensics can help to identify potential problems so you can eliminate them," says Jumpfactor's Zamir Javer.
16. Aim for a High Domain Reputation
"When you send an email, you actually serve two recipients: the actual subscriber, and the email provider or tool that the subscriber uses to receive your email," says Solid Marketing's Ruba Aramouny. "Email providers look at the sender's reputation, the content of the email, and your subscriber engagement."
"Email service providers used to rely heavily on the IP address that emails were coming from," says Mike Donnelly of Seventh Sense. "However, this has changed in recent years, and the number one factor they focus on today is your domain's reputation. To increase your domain's reputation, make sure it's authenticated properly with DKIM, SPF, and DMARC."
17. Warm Up Your IP Address
"If using a dedicated IP address, you need to introduce it to email service providers," says Mark Pratt of ClickSend. "This is known as 'warming your IP' and is essential for maximizing delivery rates."
"To warm your IP, you need to batch send emails while the email service providers evaluate how healthy your email list is and the quality of the content you are sending. It's much simpler to establish a rapport with email service providers through warming than to fix problems later."
"If you think your sender reputation has taken a hit, you can find out how ISPs really feel about you with Sender Score."
18. Send Emails From Your Domain
"Authenticate your emails so that they're sent from your own domain rather than a generic domain," says YourParkingSpace's Ryan Underwood. "Gmail and Outlook take an authenticated email as a sign of a legitimate email campaign from a legitimate company."
Signal Media's Lee Murray agrees: "Whichever email platform you use, make sure to verify your domain inside the platform. A verified domain looks the best in the eyes of spam filters and will help get your emails delivered."
19. Monitor Your Opens, Clicks and Unsubscribes
"If your email deliverability has gone down, that means you've probably been ignoring your key metrics. Low deliverability is almost like a punishment for sending emails that your subscribers don't open, don't click, don't respond to, etc, etc," says Databox's Director of Marketing, John Bonini.
"So, one of the best things you can do with email is to simply monitor and improve your email marketing KPIs over time."
Prune Your List
"Cleaning your email contact list is one of the most critical things email marketers can do," says DDI Development's Alexandra Zelenko. "While keeping old, non-existent, or inactive contacts may seem like a good idea, it can hurt your email engagement rates and your overall deliverability."
"We clean our email list every 3-4 months," says Pupford's Devin Stagg. "But we send specific reactivation campaigns before unsubscribing people. This has helped keep our deliverability high because we only email engaged subscribers."
Our respondents offered several tips for pruning your email list.
20. Start by Building Your List the Right Way
"Purchasing contact lists from third parties, or more nefarious methods, is almost always a bad idea," says Sitback Solutions' Carl Brown.
"These usually result in a high number of bad email addresses, ranging from out-of-date information (e.g. the person no longer works at the organization you have an email address for), to spam identification tricks like email honeypots (i.e. the email address accepts email, but if you continually send to it, you get blacklisted)," Brown says.
Yaniv Masjedi of Nextiva says a better way to build a list is with lead magnets: "Engaging lead magnets are the foundation for successful email marketing campaigns. Sure, you can hire list scrapers to deliver thousands upon thousands of rows in a spreadsheet. But it's highly probable that 15-35% of those will bounce on you."
If you want a high delivery rate—as well as higher open and click-through rates—develop a steady stream of signups with valuable, gated content. Then, if you continue to provide value in your emails, you'll also enjoy a higher open rate. Start with interest and continue to provide engaging content, and that interest only grows," Masjedi says.
21. Verify Subscribers' Emails
"If you send marketing emails to non-existent users, you will ramp up your bounce rate and potentially destroy your credibility overnight," says Ollie Smith of EnergySeek. "By starting out with a pure, quality list that's free of non-existent users, duplicates, typos, and bogus addresses, you will maximize the deliverability of your email marketing campaigns."
So how do you ensure your list is quality and free of bogus email addresses? Many respondents recommend running your list through an email verification service.
"We recommend leveraging an email verification service pre-send," says Validity's Henry Briggs. "By identifying invalid and accept-all addresses prior to sending a campaign, hard bounces are minimized and your sender reputation is protected."
"Email verification services are typically priced at fractions of a penny per email. And for those using a volume-based email service, removing invalid addresses reduces both the upfront cost of deploying a campaign and the back-end costs of tracking and removing emails that have bounced."
"For reputable vendors in this space, consider NeverBounce or our tool, BriteVerify," Briggs says.
Nettly's Thorstein Nordby also recommends NeverBounce, as well as Mailgun. "These tools will identify invalid contacts in a few minutes, and they can verify addresses when you have imported your contacts into marketing automation tools like HubSpot or Marketo."
"After years of wasting money sending emails to undeliverable addresses and struggling to find a service to accurately and affordably verify our email lists, our company decided to build our own email verification service: Blaze Verify," Sean Heilweil says.
"Blaze Verify will categorize your lists into deliverable, undeliverable, risky, unknown, or duplicate, allowing you to easily export a clean list and make sure your emails can be delivered."
"If you aren't keeping your list verified and cleaned up, you could be sending messages to far fewer actual active recipients than your list implies" says Sujan Patel, Voila Norbert.
22. Purge Inactive Subscribers
"One of the tricks I have been using for years is deleting inactive subscribers," says Tamas Torok. "This way I can maintain higher open and click rates for our newsletters."
"Here is how to do it (using Mailchimp):"
"Set up a segment that contains only subscribers who didn't open the last 10 emails you sent. To make sure I don't delete new subscribers, I add a filter that filters out every subscriber who joined after a specific date. That way, I only delete subscribers who joined before the latest 10 campaigns were sent and haven't opened any of them."

"After saving the segment, you will see the list of inactive subscribers. Select all and delete them."
"Your total number of subscribers is a vanity metric. The metrics that matter are open rates and how many of your subscribers click and check out your content," Torok says.
BrandPacks' Adam McIntyre agrees: "Don't be afraid to delete inactive subscribers. Many marketers fall into the trap of thinking bigger is better, but when it comes to email marketing, list engagement is much more important than overall size."
23. Send Reconfirmation Opt-in Campaigns to Inactive Subscribers
While you could just delete inactive subscribers, Growth Hackers' Jonathan Aufray says it's good to send one last reconfirmation opt-in campaign first:
"If someone hasn't opened any emails you sent him/her for six months, chances are that person will never open an email from you again."
"If that's the case, send one last email to this subscriber with a huge discount they cannot refuse—or tell them they will be removed from your list if they don't read the email. If no action is taken on that last email, remove this person from your list."
"You can do this manually, but most email service providers have an automated system to help you do it. If you do it manually, try to do it every month," Aufray says.
Gigworker's Hamna Amjad agrees with this approach: "Regular reconfirmation opt-in campaigns let you clean your lists with minimal impact to your deliverability. You can remind unengaged subscribers about your business, and if they don't opt back in with this email, it means they are not interested and should be removed."
Choose the Right Email Marketing Platform
Choosing the right email marketing tool can make it easier to adhere to these tips. Our respondents' favorite tools include Mailchimp, HubSpot, ActiveCampaign, AWeber, Salesforce Marketing Cloud, Marketo, Klaviyo, and Drip.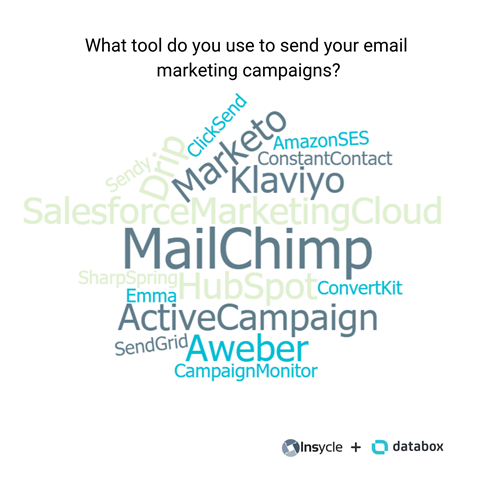 "We send our marketing emails through HubSpot," says Altiva's Morgan O'Mara. "HubSpot makes it very easy to exclude unengaged contacts when sending emails. This allows us to have higher deliverability and engagement rates and gives us a better idea of who a good prospect is." Nextiny's Gabriel Marguglio agrees, "We use HubSpot in combination with SeventhSense to do send-time personalization. Send-time personalization allows us to send a campaign to each individual at the time they are most likely to open it. This increases our engagement, which helps us keep our sender reputation high, which helps us with delivery for all of our emails."
"I've used Mailchimp for many years, but recently they added a 'resend to non-openers' button to the analytics section of their app that has been a total game-changer for me," says Christy Murdock Edgar of Writing Real Estate.
"Because people in real estate generally work weekends, I send my email on Thursday afternoon when they are just gearing up for the week. Then, on Saturday morning, I quickly and easily resend to non-openers who are out meeting buyers or putting up signs for open houses."
"It almost doubles my already-healthy open rate and gives me a much better sense of who is interested in my work—but just missed the email the first time around."
Stacy Caprio of Deals Scoop recommends "a combination of Amazon Simple Email Service and Sendy. It's one of the cheapest options available with a very effective and intuitive user interface."
And Tim from SFA Marketing says, "We've used a variety of marketing automation software to send our campaigns, including Mailchimp, Constant Contact, and HubSpot."
"But when we have the choice, HubSpot is our preferred software because it integrates with other marketing automation tools that can take your campaigns to the next level."
How Insycle Can Help
Insycle is a suite of tools for managing and working with data in HubSpot and other apps. For example, if you're concerned about sending the same email to the same person multiple times, you can remove duplicate contacts with Insycle and avoid harming your brand reputation. With Insycle you can find duplicate contacts by name, phone, or any other field and then merge them all in bulk using rules, first in preview mode to spot-check the logic and then in update mode.
Ultimately Insycle is about enabling you to work more efficiently with data to achieve better results with your marketing platform.
Ready to get started? Learn more here about how Insycle can help you cleanse data and improve email deliverability on the whole.