How can you get the best ROI on your investment in HubSpot CRM/Sales?
If you are asking this question, you're not alone. After all, HubSpot CRM and Sales has a ton of features. It is hard to know where to start.
So, we teamed up with the research team at Databox to ask 25+ HubSpot experts for their advice. We started with the question, "What features do you find most useful in HubSpot?" As you can see from the graph below, there are some features you should get setup right away (the ones at the top of the chart) and some you might ignore completely (at the bottom of the chart).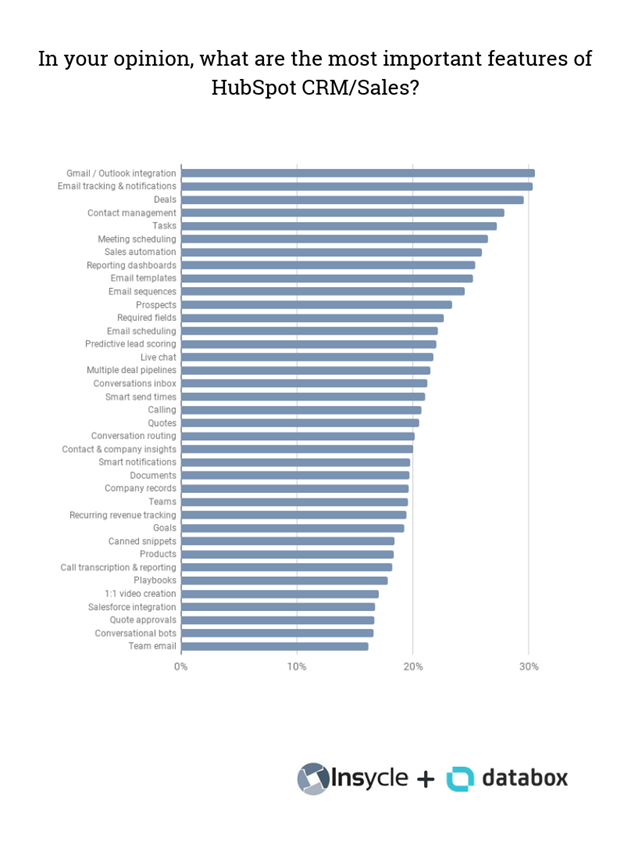 We also asked our experts, "Which of these features do you plan to start or continue using?"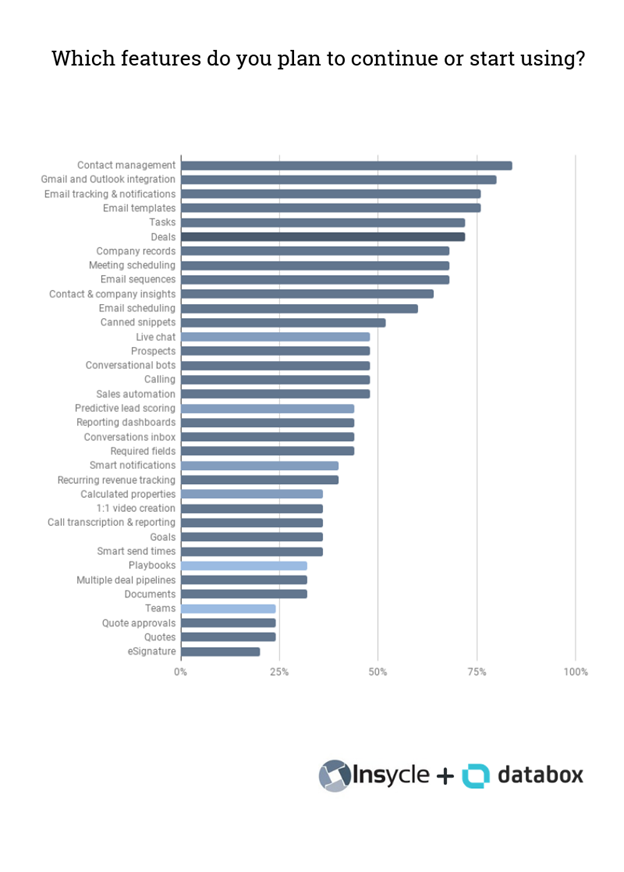 As you can see, even the experts don't or don't plan to use all of the features in the product.
So, when you're setting up your HubSpot CRM or sales software, what should you consider doing, in order to make your team more organized and efficient? Where do you start?
Here's what the experts recommended.
Customize the CRM To Your Sales Process
"The biggest mistake I see companies making is to jump right in and set up as they go, with no clear plan for implementation or adoption," says Shannon Howard of You Need a Shannon.
"Any software transition is difficult. But, it's especially difficult when you're moving to a software as robust as HubSpot. Make sure you think through how you want to use the software and, more importantly, WHO is going to use the software."
Define Your Life Cycle Stages
"Team alignment on how you're going to use the CRM is the most crucial element of success," says Verblio's Kali Greff. "One of the typical biggest barriers to entry for a CRM is the alignment around terminology and architecture with respect to the buying funnel—what do MQLs, SQLs, and different form conversions really mean to your company?"
"Luckily, HubSpot has this architecture ready out-of-the-box. Getting buy-in from both sales and marketing folks on these definitions has proven critical to our success. By having different lifecycle stages defined upfront, we can quickly determine ways to improve our lead nurturing effectiveness."
Set up Deal Stages and Deal Properties
Howard continued, "How are they currently working Deals? What deal stages need to be set up? What deal properties need to be created? At what point will the sales team start using HubSpot to track sales deals? What will the training include for your salespeople?"
Set up Custom Fields For Reps To Store Important Information
"A CRM is only as good as the data that goes into it," says Niklas Sluijter of Zero Keyboard. "So make sure that you have thought out your data models well beforehand!"
"Speak with the teams about which data is instrumental for their success, and find out how data correlates across departments. Once you've figured out what data to collect, make it as easy and painless to actually enter it into the CRM."
"So minimize your forms, rely on automation as much as possible, and only ask the information you really need, at the time you need it. If you stick to your guns on this, the value of the CRM will start showing itself to the users in no time. And they'll love it!"
Organize Your Prospecting with Custom Fields
"I am a District Sales Manager with a territory that covers 25 counties, which are a mixture of rural and urban settings," says ENECON's Andrew Nichols. "I call on many types of industries, including: manufacturing, power plants, water treatment facilities, schools, hotels, and others."
"During my prospecting, I identify businesses that I can cold call by phone or on foot in a targeted area. If I can't identify the specific person with a company from the internet, I will create a company/contact in HubSpot under the name 'John Doe' and title 'TBD' so that the record exists and will serve as a reminder the next time I am in the area or going to be in the area."
"Since some of my territory is 3+ hours away, I don't want to drive that distance for a single meeting. It was important for me to find a way to group my contacts by territory so that I could easily access all of the contacts in a specific area to schedule multiple meetings or make cold calls."
"I created a property in my contacts database called "county" and whenever I create a contact, I enter the county in which they are located. I have also set up saved filters for each county name so that I can quickly access those in a particular county from the HubSpot webpage or mobile app. I frequently use the phone app and saved filters while I am in the field and have free time to make cold calls. This aspect of HubSpot has greatly improved my efficiency so that I can spend more time meeting with clients."
Joe Delbridge shares how GeekSmash uses custom fields to organize their outreach too: "One thing that I've done on Hubspot that's helped me navigate different types of clients or social media influencers is creating a custom property entitled, 'Tag.'"
"As an influencer marketing agency who works with a variety of different types of influencers, finding the right fit for a brand had us frequently combing through thousands of Instagrammers or YouTubers manually. After adding the Tag property, my team can now search within Hubspot CRM more efficiently and find great influencers for our clients in shorter time."
Use Filters to Organize Your Prospecting Time
Stephanie Riel of RielDeal marketing says "Filters can set you up for success. All the data HubSpot CRM collects is amazing for your sales process—but organization of this data can help you (and your team) work smarter. Filters allow you [to] do just that."
"I typically work with my clients to survey their current client data to scan for patterns or themes within their client database that would be helpful for searching later on. It could be by industry, by source of lead—or by many other criteria. It really depends what makes sense for their business."
Use Custom Fields to Track Your Meetings
Fairmarkit uses custom fields for setting up initial meetings and demos, says Tarek Alaruri:
"To track that field you have to set up a meeting field type under settings. This allows us to see daily who sets the most meetings from our sales development/account executive team, it also allows you to determine how long you've been engaged w/ a company from the start of the deal to close."
Use Tasks to Remind Yourself of Next Steps with Prospects
Digital marketing consultant Mike Khorev recommends using the Tasks feature: "it lets me be able to never forget a prospect for our company. It helps set up what I need to do to interact with a potential customer and what I'll do to convert them to our next client. This also uses automation to save me time."
Automate Everything You Can
"Leverage Automation," says Cassandra from Square 2. "There are so many things that salespeople tend to do one-off because they feel it provides a more personal experience for each prospect. However, with the ability to create email templates, add personalization tokens and build workflows to automate actions, HubSpot allows you to save time without losing the personal touch."
"Talk to sales every week and talk about what you could automate and start building sales automation flows," says Dallas Antwerp's Dominique Verniers. "We have over 30 automations set up now. As a result, the sales team's CRM work is way more fun than it used to be."
We received lots of tips with different ways you can automate with HubSpot:
Let Prospects Book Time on Your Calendar
"HubSpot calendar links are a powerful tool that Hubspot Sales users should take advantage of," says Divvy's Chandler Hansen.
"By using group calendars with bots, and setting calendar links to ask pre-qualification questions, our reps are able to get on the phone with more context and our prospects enjoy greater availability to reach our team. It's a win-win-win."
ContractSafe has "automated the appointment-setting process," says Randy Bishop.
"Customers enter their lead information and then receive a sequence of automated emails with a link to schedule a meeting. 40–50% of our leads choose an appointment time themselves. This saves us time and delivers a better customer experience. It allows us to set appointments 24x7. We love it."
Jen Lombardi from Kiwi Creative suggests creating "custom meeting links to eliminate the dreaded 'when can you meet' email chain.
"I have a default calendar link where someone can pick between 15-, 30- and 60-minute slots, a round robin link for trade show appointments, a job interview link with availability outside of working hours and a group link that schedules time on two internal calendars."
Assign Leads Automatically
"With workflows, companies can automatically assign and qualify leads based on certain triggers," says Mohamad Bozo from StarTex Software. "For example, if a lead requests pricing information or a free trial, HubSpot auto sets their lifecycle stage to a specified stage (i.e MQL, SQL), and can also route leads to sales reps."
"Automation has helped our department eliminate mundane tasks such as manually notifying sales reps of new leads/manually assigning leads to reps. The workflows function has helped my team reduce their time in half and has empowered us to focus on day-to-day strategy."
Ignite Spot uses a similar method for qualifying leads, says Eddy Hood:
"We get between 200 and 300 leads a month from our website which is too many for our Sales Manager to follow up on. So we use the HubSpot software to look at things like IP address and size of company to weed out leads that don't meet our qualification criteria. For those that don't, we use the Hubspot sequences tool to send them a series of emails to foster a relationship, but not push for an appointment."
"As for the leads that do meet our qualified requirements, they're added to a Hubspot list and workflow which sends my sales manager a text message with the person's details. We call all qualified leads within 10 minutes. Having these real-time texts sent to us allows us to do that."
Another HubSpot partner suggested segmenting leads by intent for similar reasons:
"One tip for setting up or using HubSpot CRM or HubSpot Sales effectively that I have implemented is making sure to segment leads that make sense for your business," says Megan Ramey of Sixth City Marketing. "If a particular lead fills out a specific form that shows high intent to purchase and you know they are interested in your business, then that lead would be segmented differently than a lead filling out a form to download something that shows less intent."
"The key to success is knowing and mapping out how your leads think and how your sales team can speak to those leads at certain times. The bottom line is you must set up your HubSpot CRM and utilize HubSpot Sales to meet your goals and set up goals/benchmarks in order to speak to your leads to accomplish your sales goals."
Automatically Close Inactive Deals
"A simple change we made to our Deals in HubSpot a few months ago that had tremendous time savings was marking inactive Deals as closed at the end of a quarter," says My IT's Perryn Olson.
"As individual deals develop momentum, we move the close date of the deal to a specific date that isn't at the end of the quarter. This allows us to easily sift through deals and separate active ones from the cold ones and prioritize them by closing date. Also, we close the deals that haven't moved in a quarter so our team can focus on engaged prospective clients."
Use Custom Fields to Automate Task Assignment
Emily Hulstein from Denamico gives similar advice: "The most important part of setting up HubSpot CRM and Sales effectively is to align the custom build, at every level, with the day-to-day responsibilities and needs of both leadership and reps. Custom properties need to be created for contacts, companies, and deals to pull out the information that matters most your team and process—these should be easily accessed in the about sections of each."
"Filtered contact lists should then be created and saved to help reps quickly access lists of leads based on criteria that they frequently need to access, or that have time sensitivity. Templates and documents should be created in HubSpot to provide reps with quick access to the information they are sending prospects or clients most frequently."
"The possibility of automation should be considered for tasks that take up reps time day-to-day or at specific points in the sales process—for example, are there specific tasks that need to be completed at specific stages of your sales process? If so, can you pull people in and automate [communication] and follow up on these stages using workflows?"
Automate Syncing Using Zapier with Your Other Tools
You can use other tools to automate sales tasks too. Here's what David Altemir from Altemir Consulting did:
"One of the issues I ran into is figuring out how to sync my contacts between HubSpot, Outlook, and Google Contacts," says Altemir. "To solve this, I use Zapier to automatically sync contacts to a single master list."
"I use Outlook for email and calendar scheduling, Google Contacts for storing contacts' information, and HubSpot for tracking sales prospects. When it comes to managing contacts, I regard Google Contacts as the master 'system of record because it gives me quick access to my contacts from email, phone or web.'"
"Since I want to make sure everything is in Google, I opened a free account on Zapier to set up an automated process that copies any contact entered in HubSpot or Outlook to Google Contacts to make sure it contains all contacts' data. Zapier is flexible enough to copy and sync data in any direction for any system in case you want to use HubSpot or something else as your master."
Clearly, based on all of these tips, there are lots of things you can automate, and a wide variety of ways to do it with HubSpot.
Integrate Other Tools with HubSpot CRM
HubSpot makes it easy to keep working with the tools you already use. Experts recommended HubSpot's native integrations with Gmail and Linkedin Sales Navigator.
Because of their commitment to partnering with other software companies via the HubSpot Connect Software Marketplace, there are also a lot of 3rd party tools that integrate with HubSpot that can help make your team even more efficient.
Integrate HubSpot with Your Email Client To Avoid Bouncing Back and Forth Between Interfaces
"The feature that has made the most difference to our company is being able to capture all communication with a customer through the integration with Gmail," says Carl Brown of [Sitback] Solutions.
"This enables us to easily track and log emails that our team sent out, see when customers open and interact with these messages, and capture the responses from the customer. It also serves as an easy way to send notes about a meeting or offline interaction to the CRM so that if another member of the team has to pick up the conversation for whatever reason, they can quickly see an overview of the customer's interactions with our business."
"As a result, the customer experience feels more seamless and personalised and our team doesn't have to ask questions twice or risk looking unprofessional."
Cloudlead's Moaaz Nagori also recommends the Gmail extension:
"We actively use Hubspot and having the Gmail extension makes the whole process really organized for our whole sales team. It has helped us in the following ways:
Saves time with CRM update: The extension integrates to your Gmail inbox. This way you can add leads you're following up with directly into your CRM, create tasks, reminders and more!

Leads get auto-assigned: If you're the head of sales, you need to rejoice! If your sales team is sending emails and/ or calling them then all that information will be tracked and logged into your CRM. This way you will know who is dealing with which lead and what information is being sent as well.

Send emails at your convenience: Since we deal with clients all over the globe. The 'send an email later' and tracking feature will further save you time when reaching out to future prospects. At Cloudlead, we use this feature 40–50 times a day."
Integrate with Linkedin Sales Navigator to Prospect More Efficiently
Steve James from Stream Creative uses a different integration with HubSpot:
"Integrating LinkedIn Sales Navigator with Hubspot CRM has been really helpful to keep from bouncing between the two. Sales Navigator can now be inside of the contact record in the Hubspot database. This provides you an efficient way to look at your prospects mutual connections, common interests/groups, and related leads without leaving your HubSpot CRM."
Even though HubSpot has a ton of features, they may not enable something you need.
That's where HubSpot's Connect program comes in.
Use Advanced Sales Playbook Software to Enables Sales Conversations
Doug Davidoff from Imagine Business Development recommends setting up sales playbooks. But, instead of recommending HubSpot's sales playbook tools, he uses Costello integrated with HubSpot.
"We have never had data about which questions and soundbites are the most effective on a sales call… until now. CRMs are great for keeping salespeople organized, but they are not good at helping sales reps improve their sales calls. By building interactive sales playbooks with questions, soundbites and branch-logic to enable different conversation paths, we can not only guide sales reps during their calls, we can gather the data that helps companies gradually improve their sales process -- and their results."
Use Send-Time Personalization to Time Calls and Emails
Davidoff also sets up every client on SeventhSense, "Salespeople usually send emails and make calls when they have time or at similar times each day. But, with SeventhSense, we help them make a call when the prospect is more likely to be available and send an email when a prospect is more likely to read it."
Maintain Quality Data in Your CRM
Poor data quality is a huge killer of sales productivity. As data gets collected via forms on your website, entered by sales reps or uploaded by different parts of your team.
A few of our experts shared some tips for ensuring your data does not get messy.
Use Custom Filters to Keep a Clean Database
"Before Hubspot, my CRM was like Frankenstein's monster," says Wavelength's Chris Gibson; "so many odds and ends hacked together. When I set up HubSpot, I wanted to start off right. I wanted a clean contact database that I could segment and be confident in its accuracy."
"I used Hubspot's custom filters to clean my data. I saved 'Contacts to Delete' and 'Contacts to Update' filters and used them as a task queue. For instance, 'Contact to Delete' included all contacts without any activity in the past year and 'Contacts to Update' were ones with incomplete data fields."
"By creating these filters, I segmented my database into manageable pieces. Every month, I check if any contact falls into one of these two filters and update them accordingly. I clean and maintain a robust Hubspot CRM using these custom filters."
Keep Your Database Clean with Insycle
"Our organization typically will reduce duplicates and fix incomplete data in our CRM once every quarter to keep the database clean and reports accurate," says Colton De Vos from Resolute Technology Solutions.
Nextiny uses Insycle to avoid creating a messy database when uploading new data and to reduce the inevitable mess that marketers and salespeople make. Gabriel Marguglio shared, "We use Insycle to keep our and our clients CRM data clean, standardized and organized by doing things like:
More easily upload new Contacts, Companies and Deals with required fields populated, and proper formatting of data based on our clients' custom requirements.

Fix and standardize formatting of data in fields that have been collected via website forms and manually entered by salespeople.

Deduplicate records based off of phone numbers and names, not just emails."
Track, Analyze & Improve Your Marketing & Sales Results
For sales leaders and executives, one of the biggest benefits of getting your team to use a CRM is to have visibility into performance, so you can figure out how to improve it.
Set Up Marketing ROI Tracking
"One thing we love about HubSpot's CRM & Sales Tools," says PlanBeyond's Laura Troyani, "is how implementing them in conjunction with HubSpot's marketing solution makes it so much easier to track the ROI of particular marketing efforts."
"For instance, we had a client that wanted to test how effective sponsored content was at driving worthwhile leads. We set up unique content with links directly to the client's site, and made sure the links were tagged with trackable codes. These codes could be read by HubSpot's marketing cookies and were stored in the marketing database once someone gave us their information and became a lead. Essentially, it let us know that a lead came directly from the sponsored content campaign."
"However, by then also using HubSpot's Sales tool, these codes stayed with the lead as they moved down the sales funnel. As the Sales Team entered information about these opportunities in the database, especially things like deal size, we were able to see if these top-of-the-funnel efforts were generating valuable deals."
"After several months, we were able to pull raw data from the sales database on deals closed, deal size, and the marketing activity that initiated the opportunity. It made it very easy to compare the amount of money we spent on the sponsored content efforts relative to the deals we closed because of it. In case you're curious, it showed us that the efforts were pretty much a breakeven in terms of business ROI."
Track and Analyze Your Offline Marketing Too
Marcus Sanford of Element recommends the "use of custom fields that match up against outside promotions such as field marketing events, specific paid social ad campaigns, trade shows, or other industry events."
"An example of this would be identifying the crossover between prospects met at technology trade shows and those that then interact with LinkedIn native lead generation ads; when/if they also come into the company website to consume more content, we have a trifecta of effectiveness measurement."
"Offline, off-site, and on-site, all pointing back to the lead's needs, yes, but also the efficiency of marketing spend and the number of touches necessary to convert a prospect to lead, and a lead to opportunity."
Set & Track Sales Goals
Andi Graham, Founder and CEO of Big Sea, said they use HubSpot CRM in conjunction with Databox to track and report progress to goals:
"We track progress year over year. If we have a revenue goal we're trying to [help a client] hit, that's also on the cover screen of our reports that we send.
We have to track all kinds of different metrics tied to revenue. So we start by just sitting them down and talking about the "why", which are the big hairy audacious goals. These are the goals behind what they are trying to do with their business.
When we set goals, we categorize them into awareness, affinity, and action. If we want to grow brand awareness, that includes goals like search volume, fans and followers or even email open rates if we're doing cold emailing.
Then we start looking at affinity, which include metrics like time on the site and other engagement metrics.
We get the revenue numbers from the client's HubSpot CRM account. If not, we have to get them to manually share revenue numbers with us.
We plan all of our work quarterly. So we send monthly reports that show progress to quarterly targets."
Maximizing Your ROI of Your Investment in HubSpot
HubSpot is a massive product with lots of features. With 3 "Hubs" that cover marketing, sales and services functions, there is so much more you can do with it. Even just considering the 30+ features of HubSpot CRM and Sales, it can be overwhelming.
Hopefully, the advanced tips shared in this article from the 25+ experts above help you prioritize what to do first, second, third and so on.
If you are just getting started, try these 9 quick tips for getting up and running quickly. After that, follow the 4 major steps in this article:
Customize the CRM to your needs.

Automate everything you can.

Integrate other tools to further improve your sales effectiveness and efficiency.

Improve your sales effectiveness through goal setting and performance review.
If you've done all that and are now considering using the rest of the features in HubSpot Sales, here's a nearly 2-hour review of all of the features in HubSpot Sales Enterprise.
Whatever you do, make sure you plan out which features you will use and how you will use them. Clearly, it can get overwhelming if you do not have a plan.
But, if you combine a smart CRM setup strategy that leverages the unique automation and integration capabilities built into HubSpot's tools you'll create a powerful system that helps your company close more deals, more efficiently.